This Tour Group Is Using Mobile Tech to Make Museums Awesome Again
Scales of the Universe ©AMNH/D. Finnin
Thrillist and Samsung have launched a content series to celebrate the power of mobile technology. More than just a tool, mobile tech has become the central force driving how the world operates today. This new normal is why Samsung engineered the Chromebook Plus -- a 360° convertible device combining the power of Chromebook and versatility of a tablet with business apps and optimized, HD display -- to help the mobile generation travel, and slowly take over, the world.
Museum trips can be ruined by thick barriers of tourists, that one friend who lingers in the video installation for three hours gawking at a 7-minute loop, or, worst of all: You stumble on a work you like, initiate meaningful mental discourse, and just before achieving enlightenment, an artsplainer appears. As they natter on about how certain brush strokes laid the foundation for Marxism, you vow to swear off museums forever. Luckily for your continued cultural development, the folks at Museum Hack have changed the game.
How to hack a museum
Instead of going into a museum unarmed and hoping for the best, the Museum Hack tour guides zero in on the most interesting, obscure, and unexpected information about each piece. While their expert knowledge of the details and backstory would be good enough, they will keep your interest and attention centered with fun games and challenges relating to what you've learned. They're there to engage you, inform you, and possibly make you a better human being.
Will you come out knowing everything there is to know about the Dadaists? Maybe. But you might also learn about 12th century drinking games and erotic pottery from Antiquity, then compete with the rest of your group in a storytelling contest about the weirdest guy hiding in the background of a painting. If that sounds like your kind of people, Museum Hack might be your ticket to accidentally enjoying the museum again.
Theodore Roosevelt Rotunda ©AMNH/D. Finnin
It was sort of founded by accident
Its founder Nick Gray used to share your pain and knows its cure. He doesn't have an art history background, but in 2012 he went on a date to the Metropolitan Museum of Art. His date focused on her own favorite parts of the museum, telling him stories around and about the art without making it an art history class. Her excitement infected him that night, and stuck with him -- so much that he started doing this very kind of tour for his friends over and over again.
Eventually, a blog profiled Gray's "Hack The Met" tour, and suddenly he had a thousand requests for an outing in his inbox. Gray's tours were about to become a business. "It was very much bootstrapped from that first ticket sale," says Michael Alexis, Director of Marketing for the company. "I think that first ticket cost about $20 -- Nick felt bad and he gave it back to the person!"
After finally keeping some of the money that people were throwing at him, Gray officially founded Museum Hack. It began to expand rapidly, becoming his full-time job in 2013.
"He doesn't come from the museum world," says Alexis. At the outset of his new career, Gray would just bring his tablet to the museum and research interesting details about pieces that caught his eye.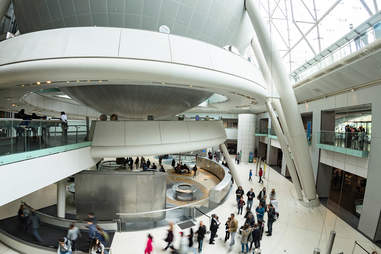 Andrea Izzott / Shutterstock
Museums themselves are catching on
A funny thing has happened amid Gray's reinvention of the traditional tour -- museums aren't just tolerating the program, but starting to fully embrace it. Several institutions confer directly with the company on their tour offerings, and Museum Hack has even launched a "Boot Camp" to train museum workers around the globe in the ways of its audience invigoration.
Though Alexis notes that "there is certainly skepticism at first," institutions quickly see the advantage of encouraging and even learning from Museum Hack. With museum attendance and membership decreasing overall, this is a way for 21st century folk to engage with science, art, and history on their own terms. And that benefits everyone.
Advertisement
Courtesy of Samsung
Checking in on your staff across the country requires a versatile tablet -- and since the Samsung Chromebook Plus is the first Chromebook made for Google Play -- apps like Google Docs and Evernote help managers collaborate with staff everywhere. It's a 360° convertible that goes from laptop experience to a tablet for however you feel like working.

The Metropolitan Museum of Art / Gift of Edward S. Harkness, 1917
It's expanding, both geographically and in scope
Starting with New York's Metropolitan Museum of Art, then on to The Museum of Natural History, Gray assembled his army of eager and eye-opening guides across multiple cities. The group has now conquered San Francisco, Chicago, Washington D.C., and Los Angeles as well. Daily tours now regularly patrol the halls of dozens of elite institutions, breaking up the usual quiet groups of patrons with a small mob of selfie-taking, song-writing, mini-book report-writing groups of atypical museum converts.
The tours themselves have also expanded in scope -- in addition to their, uh, "traditional" tours, they now offer team-building tours, "Badass Bitches" tours with a feminist slant, and even "proposal tours" for the romantic who thinks that getting down on one knee in front of "Christina's World" and 15 friends is the way to secure their partner's love for eternity.
"We've done about 15-20 now, and I'm happy to say that everyone has said 'yes' so far," says Alexis.
Whether they work with corporate groups, bachelorette parties, or the museums directly, the onus was and is always to make the exhibit come alive for their tourists. Museum Hack finds the part of the exhibit that anyone can relate to, and uses it as the cornerstone for the lesson.
Milstein Hall of Ocean Life ©AMNH/D. Finnin
Only the best get to be tour guides... eventually
"Even though now some of our guides actually do have academic qualifications to talk about art," says Alexis, "most of them are actually performers -- most are actors, singers, comedians -- people who connect at a very human level. The focus is on telling the story -- so they do their research on the things that are personally interesting to them."
Museum Hack has expanded dramatically since that fatuous date. Amid all the expansion, the organization has a rigorous method of quality control. Alexis says for each new museum the first thing they do is recruit and train new guides… for months.
"Last week, we brought a group of potential guides into Whole Foods and said, 'Okay, you have 15-20 minutes -- go find an object in this store and do some research, and tell us a great story about it,'" says Alexis. "And if this person can make a can of beans fascinating, then they're probably going to do pretty well on a museum tour."
What that means is that each guide -- and each tour -- can be completely different. Maybe one guide makes you all compete in a selfie contest against a famous statue. Maybe another teaches you about every affair they can find between an artist and their subject. One guide may lead you to a tiny wind-up statue that zips around the table -- and whomever they land on, bottoms up! (17th-century drinking games were lit.) Maybe you've seen this piece of pottery before -- but did you notice the wife spanking her husband before the guide pointed it out?
Eileen_10 / Shutterstock
They have fun... but only to focus on what matters
Museum Hack doesn't just want to be the people making dirty jokes while the other patrons squint in displeasure. Their motto is "Museums are F***ing Awesome."
While that might sound a little crude, they like to think of it as being a wolf in sheep's clothing -- doing what they have to do to break through to the precious attention spans of modern visitors. What's the best way to get someone to not check their phone for sports scores or work emails while they're supposed to be interacting with art? Make them use their phones to do it.
"One of my colleagues puts it like this," says Alexis. "We want people to be actively engaged in producing the meaning of their own experience. The idea is that people are part of the tour -- they can push and prod and poke and get their own unique experience out of it."
They've taken their engagement online, as well. The group has made audio available on its website for scavenger clues. Or they'll have guided audience members research a flash report on characters in the background of one of the paintings, and then have them pair off and make a story about them. It's little, silly stuff -- but it makes mobile devices into an ally instead of an obstacle.
And if our phones get us into museums, then they're doing what they're supposed to do: Bringing the world closer to us instead of tuning it out.