22 Netflix Hacks You Aren't Using (But Should Be)
Get the most out of your binge.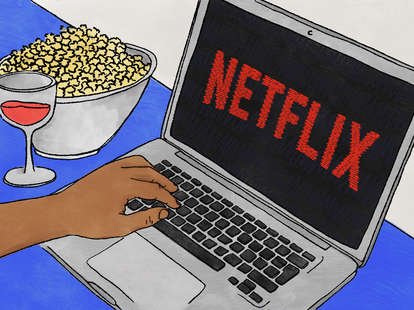 Emily Carpenter/Thrillist
For nearly 200 million global subscribers, Netflix is more than just a streaming service where you catch up on the latest original movies, check out the newest buzzed-about series, or relax with an old favorite for the hundredth time. No, for certain truly dedicated Netflix enthusiasts, the service is like a LEGO set to be tinkered with and improved upon. By using the latest hacks, you can truly make Netflix work for you.
How exactly do you optimize your Netflix experience? Besides reading all of our genre-based recommendations and keeping tabs on what's added to the site every month, the best way to get the most out of Netflix is to trick it out with the latest, sometimes hidden, features you'll find below, which shouldn't require too much technical know-how to carry out. May you never leave your house again.
Remove embarrassing titles from your viewing history
Maybe you don't want your significant other to know you got caught up on Cobra Kai without them, or you'd prefer that your late, late-night decision to watch a more scandalous movie not interfere with the subsequent recommendations served up by Netflix's algorithm. Not to worry—you can selectively delete your history. Head to this page (accessed by going to your Account > Drop down your profile menu > Viewing Activity), where you'll see everything you've watched in chronological order, and remove any and all of your misdeeds. And if those unwanted watches extend into the great streaming beyond, here's how to cover your tracks on YouTube, Hulu, Amazon, and more.

Add IMDb ratings and other features using Chrome extensions
If you want to instantly improve your bingeing, we suggest checking out some of the special features available as Chrome extensions. IMDb Ratings on Netflix is a good example of a simple, straightforward extension that does exactly what it promises: adds IMDb ratings for shows and movies in a pop-up in the right-hand corner of a thumbnail when you hover over a title. It's that extra data point that might help make your viewing choice easier.
There are countless other Chrome extensions out there—including ones we'll point out in other entries below—but watch out for some that haven't been updated in years. If they haven't kept up with Netflix's changes, it might not be useful anymore. It's often best to stick with ones that deliver a small improvement rather than one that promises to "transform" your experience. Keep in mind that the Chrome extensions will only work for browser-based viewing, so if you're watching via a streaming device connected to your TV, they won't do you any good.
Download movies and shows to watch when you're offline
One of the biggest streaming obstacles is the necessity of a high-quality internet connection. In 2016, Netflix changed everything by rolling out the ability to download select movies and TV shows, which means you can take some of your queue with you without worrying about whether your flight's Wi-Fi will be up to snuff. You'll need to snag the mobile app and factor in that downloading requires a bit of time and storage space, but soon you'll be watching great movies and shows on the go.
Let Netflix decide what you're watching
Instead of scrolling for hours to find something new to watch (before you inevitably choose to rewatch an episode of Community again), let Netflix have a hand in picking something for you with its Shuffle feature. Shuffle Play is exactly what it sounds like, although instead of shuffling through your iPod library to play a random song, Netflix uses its algorithm to instantly play something you might be interested in based on your watch history and watch list. For the indecisive (and the trustworthy), it definitely beats browsing.
Or use the "Netflix Bible" to find exactly what you're looking for
Netflix's bland categories like "Action" or "Romance" just don't cut it, which is why we've taken it upon ourselves to sort our own damn categories: We've got the best thrillers, best documentaries, best horror movies, and so many more. But if you want to get even more specific, check out What's on Netflix. It has a veritable encyclopedia of 20,000-plus weird, wild, and interesting sub-genres. They even provide ID codes that can be added to the end of your Netflix URL, sending you straight to the promised land. Try 6384 for "Tearjerkers" if you're looking to have a nice cry.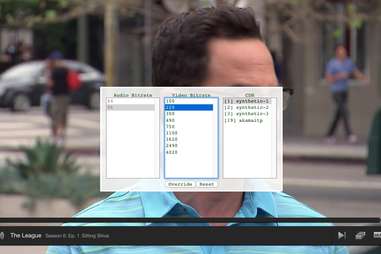 Put an end to buffering
Buffering time is the scourge of bingers everywhere. How can you survive that testy confrontation with a drug dealer on Ozark if your video keeps freezing up? There are some workarounds here if you're watching on a computer: While playing a title, hold down Ctrl+Shift+Opt/Alt+S to open up a "hidden" menu with buffering fixes and other streaming options. If you're streaming on Xbox 360 or PlayStation 3, use the directional pad and click up, up, down, down, left, right, left, right, up, up, up, up to access the same menu. If you're watching on an Apple TV or other streaming device, head to the Playback Settings section of your account page, and select "Auto" or "Low," which should load your content (albeit in lower quality) when your connection dips in strength. Or, if you're not into all that "secret menu" stuff, you can just make sure your settings and internet are optimized for the best streaming possible.

Watch Netflix at off-peak hours for better video quality
Another way to improve your video quality is streaming during less busy hours (like early in the morning, late at night, etc.), according to a Digital Trends report. During the study, they found video quality and speed improved significantly during hours when fewer people were logged in and watching. Finally, a legit excuse to quit your job and watch some high-quality Bridgerton all afternoon.

Kick the moochers off of your account
If you've unwittingly shared your Netflix password with half your social circle and all of your former flames, their terrible taste and viewing habits may be totally screwing up your algorithm. If you want, you can ban them all from piggy-backing on your subscription in one fell swoop by going to My Account > Sign out of all devices.

Binge-watch without judgment
There's something slightly passive-aggressive about that "Are you still watching?" message that pops up during an hours-long binge. The handy Chrome extension Never Ending Netflix prevents that from appearing in the midst of your glorious eight-hour marathon, letting you reach the end of The Queen's Gambit in one sitting.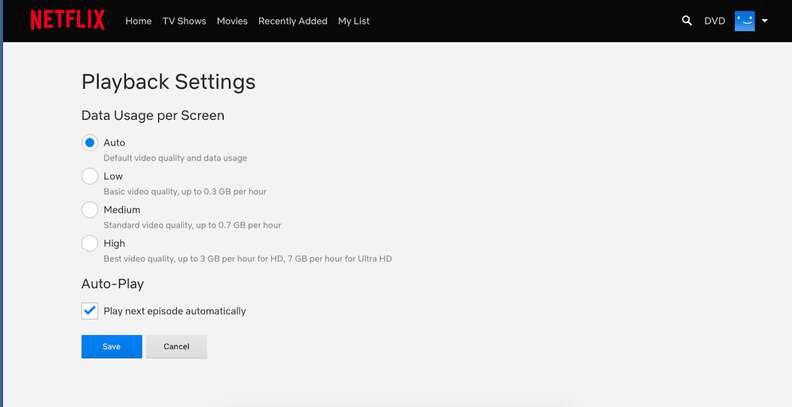 Make sure you're optimizing for HD or Ultra HD
Wouldn't you be embarrassed if the plan you were paying for included HD or Ultra HD streaming, but you weren't even using it? This is the case for many Netflixers who neglect to check out their streaming settings—just go to Netflix.com/HdToggle to make sure you're always set up for HD viewing by selecting "High." WARNING: If you have a bad habit of getting Netflix outside of Wi-Fi zones, this will seriously destroy your data plan (HD videos use up 3-7GB of data per hour). If you're watching on your phone without an unlimited data plan, opt for "Low." Also, if you're looking to disable the "play next episode automatically" function and learn who did what in the credits of each BoJack Horseman episode, this is the page where you can do it.

Disable dubbing on foreign-language shows and movies
As Netflix has introduced more excellent foreign language shows to its ever-expanding library, dubbing has become more of an issue. If you sit down to watch an episode of Lupin or Élite, you will be given the dubbed version by default—and the dubbed version is often very, very bad. Netflix insists that their data supports the idea that viewers prefer the dubbed version, but if you're reading this list, we hope you hate the dubbed versions as much as us. Turn on the subtitles by clicking on the audio and subtitles button in the bottom right hand-corner and select the audio in the "original" language and choose subtitles in your preferred language.

Customize your subtitles
Now that you've got the dubbing off, it's time to optimize your subtitles. Even the biggest supporters of Fellini and connoisseurs of Kurosawa might not realize you can adjust the default Netflix subtitles to change color, size, font, and more—based on your preferences, and what fits the title you're viewing. All you need to do is go to Your Account > Your Profile > Subtitle Appearance, and prepare to soak up all that delicious culture.

Or learn a language while you stream
Get even more cultured while streaming cinema than you intended with this Chrome extension that allows you to learn a language as you watch. Like the other Chrome extensions, this hack only works while watching on desktop with the browser, but once it's installed, it allows you to brush up on a foreign language in what's possibly the easiest, most enjoyable way possible. It works by pulling up subtitles in not only the language you're learning but your first language so you can compare the audio with the two. A pop-up dictionary is built in to really get the most out of your "lesson," and you can even slow the playback down, or listen to subtitles one at a time, to really master the language (or find out how to say the crudest jokes on Big Mouth in French).
Know all the computer shortcuts
These five keyboard shortcuts will make your laptop-viewing more efficient. Learn them, live them, love them:
- F will give you full screen; Esc will take you out of it.
- PgDn pauses; PgUp will play.
- The spacebar will also pause and play.
- Shift + Right Arrow will fast-forward; Shift + Left Arrow will rewind.
- M should toggle your mute button, depending on your computer.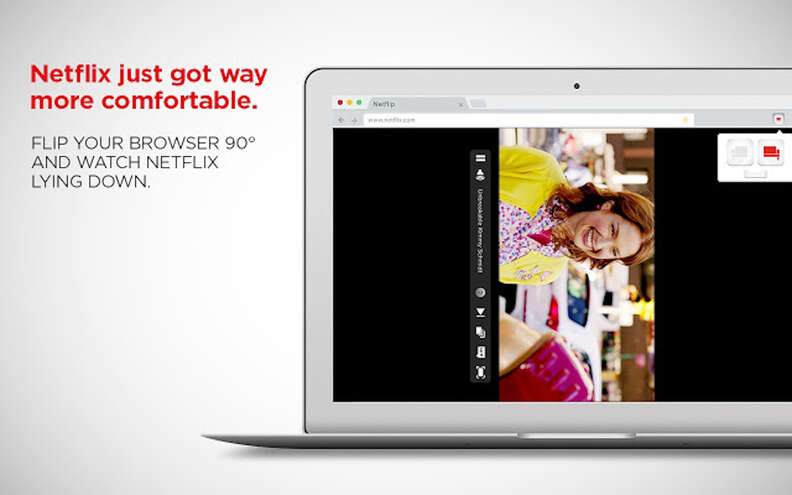 Flip the screen so you don't hurt your neck watching in bed
This one might sound like a solution for a fake problem, but "streamer's neck" can be dangerous for people who binge in bed with their computers. Netflix Flip is a Chrome extension that turns the image 90 degrees so you don't have to arrange your pillow in a weird way or use your hand to hold up your head. Say goodbye to neck pain!
Become a lab rat for Netflix to test
The technology team at Netflix is always looking for new ways to improve the service by experimenting with new elements and carrying out extensive A/B testing. If you want to see some of those new features before your friends do, you can opt-in to the testing that they're doing behind the scenes before the big public roll-out occurs. All you need to do is go to "Account," then "Settings," and adjust the "Test Participation" toggle in there. Think of yourself as a brave Netflix explorer.
Use profiles to curate your recommendations
Netflix features more than 100 profile icons, which allow users to give their profiles a funny mustache or make them look like a Strangers Thing character. It's a goofy adjustment, but if you don't share your account with other friends or family, the profiles can also be useful if you want to trick the algorithm into thinking you have different personalities. It's especially useful if you sometimes use Netflix to watch "bad" movies, but don't want to see how that changes your home page. Maybe you use one profile for horror movies? Maybe one is for rom-coms and documentaries? We're not here to judge.
Don't miss special features for your favorite shows
While it's a far cry from the special features extravaganza of the DVD era—seriously, when will Netflix let filmmakers put up audio commentaries?—there are ways to access little behind-the-scenes features, trailers, and other ancillary materials about some of your favorite shows. Click on the "Trailers & More" option, and you'll find interviews and recaps on shows like The Crown and The Witcher.
Binge with friends
If you're in a long-distance relationship and waiting to finish Dead to Me until you and your significant other are reunited or desperate to connect with friends and family in an alternative way, services like the Chrome extension Netflix Party and the platform Kast are effective alternatives to FaceTime and Skype. If you download Kast onto your desktop or mobile device, or launch it in Chrome, the service allows you to open a window that can be viewed by multiple parties. Inside that window, you can do whatever you wish, like stream your favorite shows and movies while connecting with one another. Essentially, you latch onto someone else's viewing, with another window open to video chat and message in real time.
As for Netflix Party, after you download the extension, click the "NP" that will then appear in your browser once you decide on what title you and your friends want to watch, and it will generate a unique link to send to whomever gets an invite to your "party." As soon as everyone joins, a text chat sidebar will appear so you can gab away while your movie plays.
Turn your shows and movies into audiobooks
If you're tired of staring at a screen or you want to watch without really watching, this might be a game-changer. Next time you're watching your preferred title, hit the subtitles icon on the utility bar, move over to the audio tab, and select "Audio Description." This will prompt a narrator to describe the action happening onscreen—in a way that's surprisingly not as distracting as it sounds—and you'll be able to multi-task, sleep, or even take a walk outside while not missing a beat of your favorite show or movie. Not all titles offer this feature, but you can view a list of the ones that do here.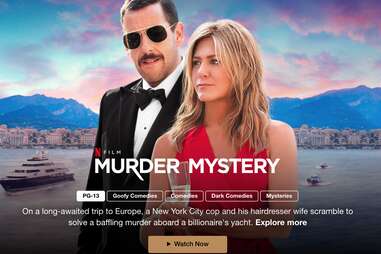 Stream Netflix originals for free
This one's more of a Netflix hack for people who don't actually have a Netflix account. With their Watch Free collection, Netflix offers a handful of original titles that are totally free to stream without an account. You don't even have to register: Just head over to the Watch Free page on desktop or Android and select whatever movie or series you want to check out. The offerings change every so often, too. Just take note that only the first episode of the series are available, as the plan is meant to hook you on the streamer's originals and get a new subscription out of you. For the time being, though, if you're Netflix account-less or locked out of whoever's account you've been mooching off of, it's a convenient way to get in some free bingeing.
Need help finding something to watch? Sign up here for our weekly Streamail newsletter to get streaming recommendations delivered straight to your inbox.
Follow the Thrillist Entertainment editors on Twitter: @ThrillistEnt.