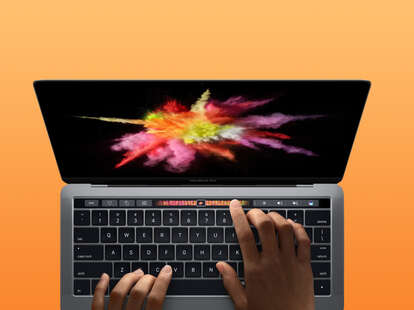 Apple/Cole Saladino/Thrillist
Apple/Cole Saladino/Thrillist
Apple fans have been anxiously awaiting a new version of the MacBook Pro for years, and the time is finally upon us. During their scheduled event today in Cupertino, Apple unveiled major upgrades to their signature laptop. Of course, we all got a sneak peek a few days early when the company accidentally leaked an image in an update to the new Sierra OS (whoopsy!). But that didn't answer the biggest question on everyone's minds: Will it have a headphone jack? Now we know -- here are all the changes and updates.
The function keys have been replaced by the Touch Bar
As was rumored, the most noticeable change has been made to the top part of the keyboard, which now features an OLED panel that changes based on what you're doing on the screen. The functions shift based on the app you're using -- for instance, if you're in Safari, it displays icons of your favorite web pages for quick access. In iMessage, you can easily browse and select emoji, and it makes it incredibly easy to format your text while composing messages in Mail. It also toggles back to the basic functions whenever you want -- so you can still easily change the volume or brightness. The panel also supports multi-touch input, which means editing in programs like Final Cut Pro and Photoshop is now easier and more intuitive.
Additionally, the upper right corner is equipped with Touch ID, meaning you'll be able to use your finger print to buy stuff from sites that support Apple Pay, and quickly sign in to, or switch between, user accounts if you share a machine.
Apple's ditched the regular USB ports
Instead of dedicated ports for USB, display, and a power cord like before, Apple has simplified things by equipping the machine with four identical USB-C ports. Any of these ports can be used to charge the computer -- plus, you can insert a USB-C with either side facing up, which is nice. The bad news is you'll now need adaptors to use your USB-connected devices -- yes, including your iPhone charger. This may seem obnoxious, especially since these adapters aren't cheap ($20 and up), but in true Apple fashion, it's a bold move to nudge us into the future. USB-C is the future of connectivity because it allows for incredibly fast throughput between devices, and will eventually become the industry standard for everything you'd ever need to plug into (printer, monitors, cameras, hard drives, etc.).
The trackpad is twice as large as before
The new Macbook Pro's trackpad is force touch-enabled, and seriously enormous. It's literally twice as large, so you have plenty of space to gesture around.
It's thinner and lighter than ever
Both the 13in and 15in versions have been slimmed down and dropped a bit of weight. The former clocks in at 14.9mm thick and 3lbs, while the latter is 15.5mm and 4lbs.
They're available to order right now
Although they won't be shipping for two to three weeks, you can order both the models right now. The 13-inch Macbook Pro starts at $1799, while the 15-inch starts at $2399.
Yes, there's still a headphone jack
The biggest question on the table was whether or not Apple's commitment to our wireless future would extend to the new MacBook Pro lineup. Rest easy, friends, the answer is no... (not yet.) They're still packed with the standard 3.5mm headphone jack.

Sign up here for our daily Thrillist email, and get your fix of the best in food/drink/fun.
Joe McGauley is a senior writer for Thrillist who desperately needs a new laptop.