Everything You Can Do With Snapchat's Huge New Update
Nina Gonzales & Molly O'Brien/Thrillist
Nina Gonzales & Molly O'Brien/Thrillist
Like a digital present under your cell phone tree, Snapchat just gifted us a brand-new update with a long-awaited feature: group chat! Yes, you can now snap everyone in your squad at once and maintain them as a group for future snapping. But that's not all, folks. There are quite a few sweet new features bundled up with this update (spoiler: SHAZAM!), proving that Snapchat still has the proverbial leg up on Instagram Stories (for now). Let's break it down.
Send group chats and snaps to multiple friends at once
In the past you could only snap one person at a time, but now you can get snappy with up to 16 friends with the new group chat feature. Personally I don't have 16 friends who'd want to talk to me all at once, but it's convenient if you tend to snap the same handful of people over and over -- or, if you want a neat way to separate squads from each other -- so you're not scrolling through a gigantic friend list every time you send a snap.
How to form a group, Option A: From the main screen, swipe left to the text chat page, tap the "new chat" icon in the upper left corner, then select all the friends you want in your chat. Then, you can name the group by tapping "Name Group" at the top -- e.g., "Mah Gurlz," "Awkward Work Friends," "Guys Named Steve," whatever you want. This saves your group so you can quickly text-chat with them again, or send them photos and videos through the camera interface.
Option B: Take the photo or video you'd like to send, tap the blue send arrow, and then start tapping names of your buds you want in your snapping crew. An icon in the upper-right corner that sort of looks like the Blue Man Group appears, which takes you to the "Create Group" menu, where you can finalize it and save it for later.
And like all things Snap, nothing's permanent. Chats sent to the group disappear after 24 hours, so don't let those purposefully awkward selfies from your college buddies linger too long before opening them.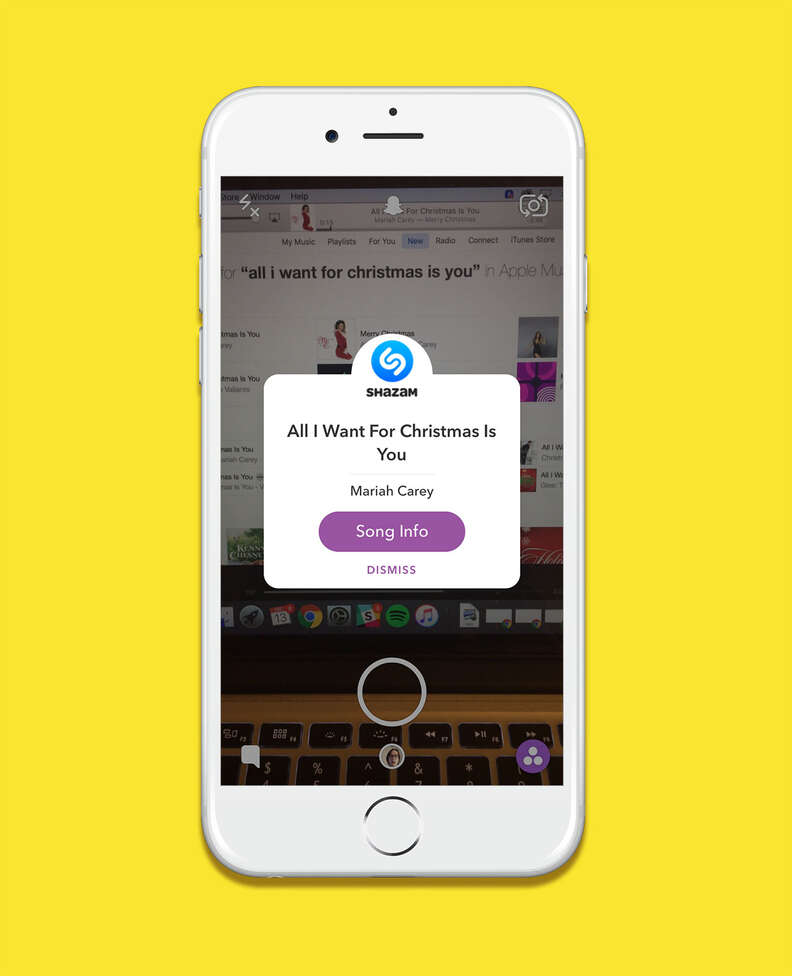 Shazam songs straight from Snapchat
We're super excited about this one: When your ears perk up at a groovy tune and you want to know the song title and artist, you no longer have to swipe through all your apps frantically looking for Shazam. You can Shazam from Snapchat!
When the song in question is playing, tap and hold on the screen when it's in camera mode, and wait until a little Shazam blurb appears with all the info you need. You can find out more information about the song right then and there, or look at your Settings page (that's the little gear icon on the top right corner of your profile page screen) later -- every song you Shazam will be saved for you there, so you can revisit that catchy Scandinavian jazz tune or obscure the Weeknd b-side whenever you want.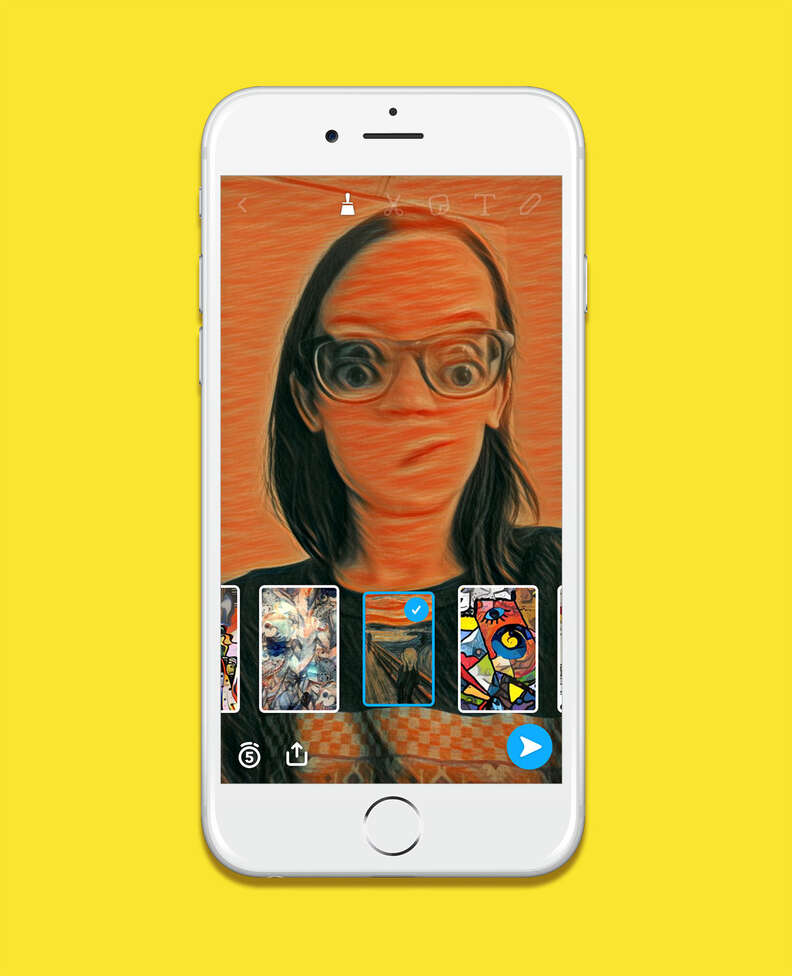 Use the new "Paintbrush" tool to add artsy effects to snaps saved in Memories
Also included in this update is a cute editing feature called "Paintbrush" that lets you add funky effects to snaps saved in your Memories. Tap into your Memories, select a still photo (it looks like the paintbrush doesn't work for videos yet), tap the paintbrush icon, and you'll see a bunch of swatches of effects from famous paintings (Starry Night, The Scream) that are then transferred onto your photo, giving it a pop art-esque pattern. Paintbrush seems like it has a lot of potential but right now is mostly useful for novelty -- sort of like the Photo Booth effects from late-'00s Macs that everyone used to use to death.
"Scissors" lets you create your own moveable stickers
Take a picture of yourself, tap the new scissors icon, and draw an outline around whatever you want to cut out. Then, you can turn that into a new sticker. It'll show up as a movable image (similar to emojis and the stickers they already have), and will live in the sticker library for you to use whenever you want. The obvious function for this is to turn a variety of your facial expressions into human emojis, so start practicing your exaggerated eye rolls and side-smirks.
Note: Don't have the scissors or paintbrush icons yet? Snapchat's support team tweeted that these features are part of a "slow roll out," so they should be available to you eventually.
Sign up here for our daily Thrillist email, and get your fix of the best in food/drink/fun.
Molly O'Brien is a Snapchat associate producer at Thrillist. She will not apologize for her use of the dog lens, no matter how basic it may be. Follow her on Twitter and Snapchat @missmollymary.