It's hard to believe it's only been 10 years since Steve Jobs walked on stage to introduce the first ever iPhone. The mobile revolution it kicked off earned Apple a seat at the table as one of the most influential and important (not to mention profitable) companies on the planet, with industry insiders and techies alike anxiously awaiting the drop of every new device.
However, with iPhone sales down and questions rising over whether the brand has lost its edge, many are wondering what the notoriously secretive company's next big innovation might be, and when it'll be revealed.
It turns out, we may not have to wait much longer. That's according to piping-hot Apple gossip from a few well-placed sources, which suggests we may be on the precipice of yet another game changer, this time in the form of augmented reality-equipped glasses.
Pokémon Go was just the beginning of something much, much bigger
Augmented reality is still relatively nascent technology, and many of us have only been introduced to it in the context of Pokémon Go or some other novelty phone app that merges our real world with a virtual one. However, AR is capable of being used for so much more than catching Pikachu in the park. In fact, it will be at the core of the next tech revolution.
Unlike virtual reality, which replaces the physical world with a simulated one in a way that can isolate a person, AR modifies and enhances a person's physical environment by layering real-time digital intel (via screen, lens, or other device) onto it. Eventually, it will advance to a level where there's an AR component to just about everything we interact with.
Whoever wins the AR race wins big -- like iPhone big.
Walk down the aisle at the grocery store and you'll see prices, promotions, even recipes popping out in front of particular products. Get behind the wheel of your car and you'll see speed limits and dynamic hazard warnings on your windshield. Go to a football game and stats and graphics will display above the field, or over individual players -- finally making the in-stadium experience as good as the TV experience again. Augmented reality is going to fundamentally change our expectations of what information is available, and where.
The race is on to develop the ecosystem of devices and software that makes AR easy and cool for us all to use. And whoever wins the AR race wins big -- like iPhone big.
The Apple/AR rumor mill is swirling
It's no secret that Apple is interested in augmented reality. After all, Tim Cook acknowledges it's the future, and the company has poached top talent from the likes of AR-centric companies like Oculus and Magic Leap. Now, thanks to some intel gleaned from popular tech blogger Robert Scoble, Apple's vision looks a bit clearer. In a Facebook post from CES, first reported by Apple Insider, Scoble claims to have confirmed with German optics company Carl Zeiss that the two companies are working on a pair of lightweight augmented reality-equipped glasses, to be released potentially sometime later this year.
As some other outlets have noted, Scoble's track record with tech rumors isn't perfect, but this intel does track with some other Apple rumors that've swirled in recent months. Back in November, Bloomberg reported that Cook and co. were exploring the idea of expanding into the digital glasses space via eyewear that interacts with your mobile device, and had even ordered "small quantities of near-eye displays" from an unnamed supplier to presumably test it out.
What's more, in the last few years, Apple has acquired a number of AR-centric apps and software startups, and built a team of hundreds of augmented and virtual reality researchers, a signal that it's been prepping for something like this for some time.
Of course, the iPhone set the bar unbelievably high, and striking gold like that again would seem nearly impossible, especially with a technology that giants like Microsoft and Google have already brought to market in various forms. However, Apple may be uniquely poised to one-up the competition.
If you believe Ming-Chi Kuo, the so-called "best Apple analyst on the planet" who's accurately predicted a staggering number of Apple's past moves, the company's AR strategy may help it "leapfrog" the competition's technology by three to five years. He's predicting it will roll out an AR-specific device while simultaneously integrating AR into all of its core products, and even to other fields, including cars.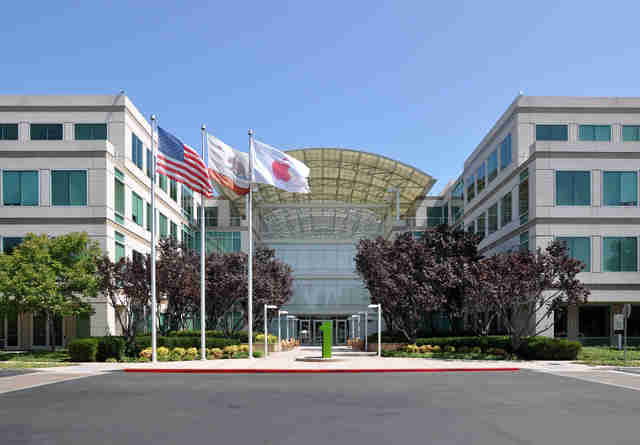 Why Apple has a distinct leg up in the AR race
Even if Apple's tech isn't years ahead of its rivals, there are other factors that still make it uniquely qualified to jumpstart the AR revolution.
For one, it has mastered -- way better than anyone -- the art of developing a fun and friendly user experience. The Jobsian mantra that Apple only makes things that are clean, simple, and intuitively easy to use is a tremendous asset when dealing with a new technology as complex and potentially confusing as AR. To bring AR mainstream, it needs to be introduced in a way that's equally accessible to early adopter gadget geeks as it is to their parents. And frankly, that's Apple's bread and butter.
To make AR eyewear sell, the product not only needs groundbreaking functionality, but also the sex appeal that will make people actually want to be seen wearing it.
Another way Apple is uniquely qualified to lead the AR revolution is in its ability to transform utilitarian gadgets into trendy accessories. The early failure of Google Glass was mostly due to aesthetics -- it was dorky, and those who wore them were "Glassholes" -- a pitfall Apple won't fall into.
Remember how, in the early days of the iPod, those now-signature white earbuds became a subtle yet distinct signifier of cool? And still after 10 years the iPhone, instead of being one more clunky thing to carry around, bestows a certain elevated status -- if, of course, you're carrying the latest version.
To make AR eyewear sell, the product not only needs groundbreaking functionality, but also the sex appeal that will make people actually want to be seen wearing it. The only other company to rival Apple's success in that combination of functionality and cool factor -- Beats by Dre -- is, not coincidentally, now owned by Apple.
It's only a matter of time until augmented reality becomes an integral part of our daily lives, and there is no company better positioned to deliver the game-changing must-have product that breaks through. Say what you will of the Apple Watch and its modest success relative to the iPod or iPhone, but it's an incredibly important stepping stone product, in addition to being a sexy wearable that speaks to the brand's ability to make technology that people will feel comfortable prominently displaying on their body. Stay tuned for much bigger things in store for the not-too-distant future.
Sign up here for our daily Thrillist email, and get your fix of the best in food/drink/fun.