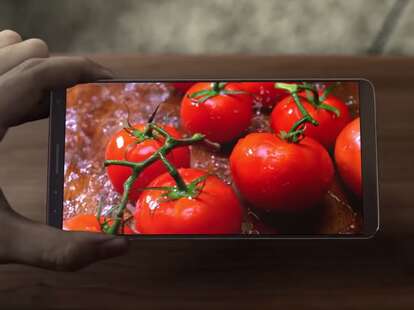 Samsung's had a rough time of it lately. Its Galaxy Note7 was plagued by a couple violently explosive battery issues that not only got it banned from airplanes and warranted two separate recalls, but resulted in the company eventually discontinuing its top-tier smartphone altogether.
However, if the number of diehard users willing to risk life and limb to keep using their dangerous devices is any indication, the Galaxy leads the way on a lot of important features that matter most to users -- superior battery life and durability, expandable storage options, and an industry-leading camera. And if leaks about the brand's forthcoming new phone are to be believed, the Galaxy S8 may pack in enough fresh hardware, flashy new features, and practical improvements that could convince even Apple loyalists to make the switch. Here are some of the rumors we've been reading that should get iPhone users pumped about Samsung's next flagship phone.
The bigger (and better) screen will be more efficient with space
According to several sources, including The Guardian, both the small and large models of the S8 are expected to feature a bezel-less display that stretches edge to edge, nearly eliminating the letterbox-esque black bars along the top and bottom (much like is expected in the forthcoming iPhone 8). That will likely lead to dropping the Samsung logo from the front, and moving the fingerprint sensor to the back of the device, like it is on Google's Pixel. Both models will also feature the brand's signature "edge" display, which curves down on both sides, and likely boast top-notch AMOLED screens -- a feature that will likely only be available in the "premium" version of the new iPhone.
It will have a better front-facing camera and will unlock by scanning your eyeball
While the S8's screen will stretch the full length and width of the handset, it will still feature a selfie camera embedded in the display. In fact, VentureBeat has reported that the front-facing camera will improve significantly, going from 5MP to 8MP (besting the front-facing camera in the iPhone 7). It's also expected that it will have a security scanner that can read and identify your eyeball before unlocking the phone. The Note7 had a similar feature, adding a layer of security that Apple is rumored to be working on for the iPhone 8, but hasn't successfully implemented in any of its devices yet.
It will have a traditional headphone jack
For those of you still reeling from Apple's "brave" decision to remove the 3.5mm headphone jack from the iPhone 7, it's time to celebrate. According to VentureBeat -- which obtained alleged leaked photos of the new phone -- the S8 is expected to retain the precious port, meaning you won't have to shell out an extra $160 for fancy new wireless 'phones or connect an unsightly dongle adapter to listen to your tunes.
It'll charge up in just five minutes and have faster load times
According to both The Guardian and VentureBeat, the processors in the S8 will enable faster performance overall and improve energy efficiency by 20%, thanks to a new fabrication method. That means that even though the battery capacity will remain unchanged, it won't drain as quickly. Battery issues on the iPhone have been one of Apple's biggest problems.
Depending on sales region, many S8s will also feature Qualcomm's Snapdragon 835 chip, which is not only equipped to handle a glut of new and advanced smartphone features like augmented and virtual reality, but is also capable of providing a full five hours of battery life on a five-minute charge.
It will come equipped with a smarter virtual assistant
Not to miss out on the virtual assistant frenzy, it's expected that the S8 will arrive with its own baked-in version. The Guardian speculates the assistant will be called "Bixby," based on Samsung's acquisition of the AI startup Viv Labs late last year. The site SamMobile is also reporting that unlike Siri, it'll be capable of conducting visual searches using the camera, thanks to advanced text- and object-recognition software. It's still unclear whether the S8 will come equipped with Google Assistant as well.
It will be capable of functioning as a desktop PC
According to The Guardian, the S8 will be designed to easily connect with a monitor, keyboard, and mouse via a special HDMI adapter, and essentially transform into a desktop PC on demand. This would make it somewhat similar to Windows smartphones, which can be set up to run as desktop PCs via Microsoft's Continuum feature, but unlike any iPhone we've ever seen before.
It will go on sale in April
While many speculated the S8 would be announced ahead of the Mobile World Congress, as has been its tradition for Galaxy S models in the past, the Guardian reports it will wait until March 29 for the big unveiling -- presumably to sidestep the spotlight after such a rough year. It will likely go on sale two to three weeks later, as early as April 14 -- or a full five months before the next iPhone is even officially announced.
Sign up here for our daily Thrillist email, and get your fix of the best in food/drink/fun.