20 Hacks to Be Better at Slack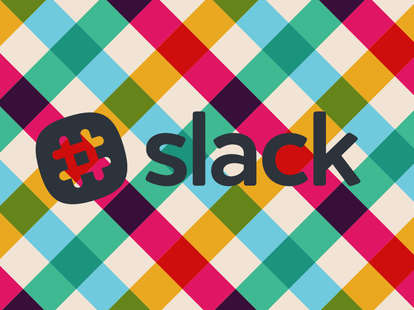 <a href="https://www.flickr.com/photos/guspim/16301915201" target="_blank">Flickr/Gustavo da Cunha Pimenta</a>/<a href="https://brandfolder.com/slack" target="_blank">Slack</a>
Anyone who's used Slack before can easily explain why the workplace messaging app has been so wildly successful in the mere three years since its inception. For starters, it's killing off the soul-crushing slog of back-and-forth work emails, making it easier than ever to work remotely, and revolutionizing how co-workers talk and collaborate on group projects. But also, it makes work actually kind of... fun.
Even diehard power-users probably don't know all of the coolest features and productivity tricks, so whether you're a Slack vet or just taking it for a test drive, brush up on these 20 tips.
Send GIFs on demand
A GIF is worth a thousand words; make them part of your Slack vocabulary by integrating Giphy. Doing so will send your team members a GIF whenever you type "/giphy" followed by a tag. For example, type "/giphy cat" and Slack randomly pulls a GIF from the Giphy library tagged with "cat." Of course, this opens up the possibility for some very NSFW GIF action. You can filter them by MPAA-style ratings, or take your chances on the unrated batch.

... and collapse all GIFs at once
As wildly entertaining as all those GIFs can be, it can all-too-soon become very, very distracting. So if a flurry of GIFs is blowing up in your Slack window, type "/collapse" in the message field and they'll all disappear at once.

Make your own custom emojis
If the library of standard emojis just isn't cutting it for you and your Slack mates, it's easy to upload your own little icons. Click the emoji icon on the right side of the message box, scroll to the bottom and select "add custom emoji" and go crazy.
Make voice calls
If you need to hash out some stuff in actual conversation, you can now actually call other team members Skype-style from inside Slack. To do this, go the Team Directory, tap on the person's name and tap "Call." If you don't pay for Slack, you can only conduct one-on-one calls, but Standard and Plus users are free to go wild and crazy with conferences calls.
Use keyboard shortcuts
Get familiar with a handful of keyboard shortcuts to whiz through unread messages, toggle between channels, upload files, switch teams, see recent mentions, and dozens of other tasks without touching ever your trackpad. To see a pop-up with a full breakdown of commands, hit "command /" while in the desktop app.

Special format your text
Don't risk sending mixed messages. Articulate appropriately using quick formatting tricks to italicize and bold individual words and phrases, or send content as a quote or in HTML code. When you start typing in the message box, a reference guide with formatting options will appear in greyed out script below.

Send a shruggie
When the situation calls for it, you can fire off the glorious \_(ツ)_/ by typing "/shrug" in the message bar.
Have select emails redirected to specific channels
Even though you're probably using Slack in order to cut down on emailing, sometimes it makes sense to let an entire channel receive emails as they come in. For example, if you work in IT you might want all "Support" emails to redirect to certain teams so they can tackle the issues as soon as they crop up. To set this up, find Email in the App Directory, and click Install. (Note, you need to pay for Slack to access this feature.)
Conduct advanced searches
No need to pore over thousands of messages to dig up that one little project detail. Instead, you can filter things down using a swath of advanced search methods, which scour your archived correspondence and easily pinpoint pretty much anything you're looking for -- even content within documents your team has shared.

Create a to-do list by starring items
When you star a specific message, it archives it in a special section accessible via the star icon in the top right-hand corner. Not only is it good for saving particularly important pieces of information, but it can also serve as a de-facto catch-up list when you use it to collect videos or articles people have been passing around that you didn't have time to read or watch in the moment.

Integrate Google Drive and Google Calendar
If your team is regularly using Google Drive or relies on Google Calendar, you can seamlessly integrate them and make it easier to collaborate on Google Docs and get event reminders sent to specific channels. If you're an administrator, it's as simple as going to Configure Integrations and selecting the relevant Google products you want to associate.
Pin documents to a specific channel
Rather than have to search to find important project documents every time, you can pin the most important stuff to the top of a channel so it's always there. To do it, hover over the shared document or item you want to pin, click "Show message actions" and select "pin to this conversation" or "pin to this channel."
Set reminders for anything
Make sure nothing falls through the cracks by setting personal and channel-wide reminders for anything. In the Slackbot message box, type "/remind"and include the who, what, and when.

Get notified when certain words are mentioned
Rather than sift through clunky conversations to pluck out important info that might be relevant to the projects you're working on, you can tell Slack to highlight specific words or phrases and ping you with a notification whenever they're mentioned. Go to Preferences > Notifications > Highlight Words and input the specific words or phrases, separated by commas. Your name is a good one to start with.

Enable and disable pop-up notifications
You can control which, if any, messages or mentions show up in clickable pop-up windows on your screen by going to Preferences > Notifications > Desktop Notifications.
Make bulleted lists
To provide better clarity, you can easily send messages as a bulleted list. To add one hit Alt + 8 on a Mac, or Alt + 0149 on PC -- and hit Shift + Enter to make a new line in a message.
Add the Lunch Train app to better coordinate group lunches
Instead of cluttering up your super-serious work conversations and GIF-offs in your various channels with back-and-forths about who wants to go grab lunch, install the Lunch Train app to automatically coordinate plans. Once you've authorized the app, you can initiate your lunch "train," which sends an automated message to other people in a particular channel about where you're headed, when, and where those interested in joining should congregate. Anyone who "boards" a particular train will get periodic updates, and a reminder when it's time to head out.
Boot people from individual channels
Is Dave in marketing being an obnoxious d-bag in the group channel? You can kick him, or anyone else, out of any channel you're a member of by typing "/remove @username" in the message bar. Wield your power wisely, though.

Quickly edit your most recent messages
Whether you just spotted a glaring typo or accidentally sent something horribly offensive in the totally wrong channel, it's easy to quickly edit your most recent message by hitting the up arrow button.

Set up Slackbot to automatically respond to specific questions
Tired of telling people the Wi-Fi password or log-in details for work-related accounts? You can set Slackbot up so it auto-responds with the right info by going to the Slackbot tab of the Customize section. You can even set it up to decide where you should eat lunch -- input a bunch of your favorite nearby spots as a response to "where should I eat?" and it will spit out a random choice for you whenever you ask.
Sign up here for our daily Thrillist email, and get your fix of the best in food/drink/fun.
Joe McGauley is a senior writer for Thrillist who's discovered that being friendly to Slackbot has its perks.