Slack Just Threw Some Serious Shade at Microsoft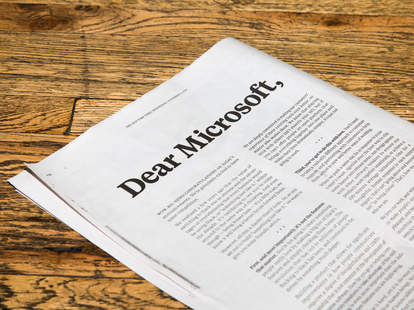 In the relatively short time it's been around, Slack has made a point to establish itself as one of the wittiest startup tech companies in the biz, finding ways to integrate clever Easter eggs and playful features into its incredibly useful workplace messaging app. And now we know it's also a masterful shade-thrower, judging by the full page ad it just took out in the New York Times, "welcoming" Microsoft and its new collaboration software tool, Teams, to the scene. 
The ad, which you can read on Slack's blog, harkens back to a similarly passive-aggressive page-long letter Apple placed in the Wall Street Journal, "welcoming" IBM to the PC market in 1981. Make no mistake, it is some seriously sly advertising. While ostensibly a friendly greeting to Slack's newest competitor, it goes on to make a point-by-point case for why Slack has been (and will remain to be) the most popular team collaboration tool on the block. 
Microsoft is the second major tech company to dip its toe into the collaborative messaging space recently. It joins Facebook and its Workplace service in an attempt to cash in on the growing number of businesses who are eschewing stodgy old email in favor of real-time chat messaging. It's a trend that Slack was first on the scene for, and it's since become a runaway success.
It was literally just launched, but early reviews of Teams suggests it won't pose much of a threat. It's primarily designed to be used in tandem only with other Microsoft products (Office, Outlook, etc.) rather than serving as a software-agnostic platform like Slack, which supports 750 different third-party apps to better suit individual teams' needs.
So chill, Slack. We know you're better. Microsoft has bigger apples to eat.
Sign up here for our daily Thrillist email, and get your fix of the best in food/drink/fun.
Joe McGauley is a senior writer for Thrillist, and a Slack man to the grave.