When Stephen Hawking has even the slightest thing to say about space, people listen. So it naturally caused quite the hubbub this week when he and Russian billionaire philanthropist Yuri Milner held a press conference atop Manhattan's Freedom Tower to announce an ambitious $100 million mission. The plan? To send tiny probes to our closest star system -- Alpha Centauri -- a whopping 25 trillion miles away, in just 20 years.
OK, a 20-year journey may sound like a long-ass time. But considering even our fastest-flying spaceship (New Horizons) would take tens of thousands of years to get there, these probes will be moving fast. We're talking whirr-past-Mars-in-an-hour, swing-past-Pluto-in-a-day fast.
So how the hell will this all work? Well, it's complicated, but here's a hint: frickin' laser beams.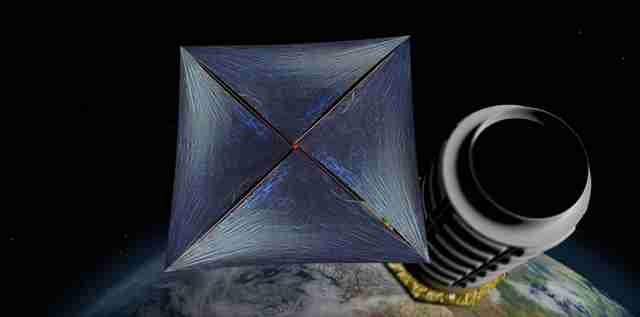 So here's the deal with this mission: it's called Starshot and it involves a mothership that orbits the Earth, housing a fleet of smaller spacecrafts (we're talking iPhone-sized, and weighing a few grams). The mothership deploys these crafts, one per day for hundreds of days. Once deployed, each craft and its reflective "sail" aligns itself with a giant Earth-based laser, and waits there in position until the laser beam is turned on.
Now for the really cool part. The laser beam would act as a powerful propeller and send the craft throttling toward Alpha Centauri at about one-fifth the speed of light, or roughly 100 million MPH. There's no telling what wild and crazy deep-space obstacles might wander into its path, but by sending hundreds out into the great beyond, the odds that at least one makes it all the way there unscathed are greatly improved.
Scientists have long dreamed of interstellar travel and the potential boon of information it would give us (what's up, aliens?!?), but actually getting there in a reasonable amount of time has always been the biggest challenge. But in just 20 years from when they get their laser boosts, these guys -- packed with tiny onboard computers and a two-megapixel camera -- would reach their destination and begin collecting data and photos. It would then take another four or five years for us to receive what they're seeing (that's how long any transmission between us would take) but what's a few extra years when we're talking to something trillions of miles away.
So who is this random Russian guy anyway? Well, he's certainly no stranger to moonshot space plans. Just last year, the billionaire tech investor (who, coincidentally, was named after Yuri Gagarin, the first human to journey into space) poured $100 million into another ambitious project: the search for extraterrestrial intelligence. Of course, throwing gobs of money at something doesn't mean it's a sure thing that we'll actually see a trip to the stars happen in our lifetime, but Milner's got quite a team in place already to help steer things in the right direction. In addition to Hawking, he's recruited Mark Zuckerberg to sit on the board of directors, and the project lead will be the former director of NASA's Ames Research Center. That's not to mention a large cast of other bold-name advisers including Nobel Prize-winning astronomers and even Carl Sagan's widow.
But let's be real, $100 million is basically pocket change when it comes to space travel, especially when it involves something as ambitious as traveling to stars. For his part, Milner says his money's merely meant to fund an initial round of research and development, and hopefully pull together enough excitement to lure in other deep-pocketed investors and possibly even international space programs. 
Sign up here for our daily Thrillist email, and get your fix of the best in food/drink/fun.
Joe McGauley is a senior writer for Thrillist. He bets New Horizons is feeling pretty insecure about its speed right now.