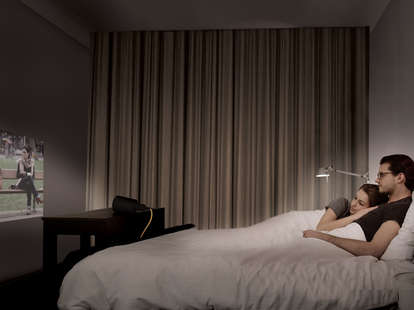 The toughest part about binging on Netflix, besides deciding what the hell you actually want to watch, is resigning yourself to staying sedentary for hours and hours in whichever room the TV happens to be in (because let's be honest, watching on a tiny laptop screen is pretty amateur). Luckily, there's a new smart lightbulb that can project a big-ass screen onto any flat surface. It's called Beam, and it's about to make your dreams of watching the latest and greatest streaming goodness on your ceiling a reality.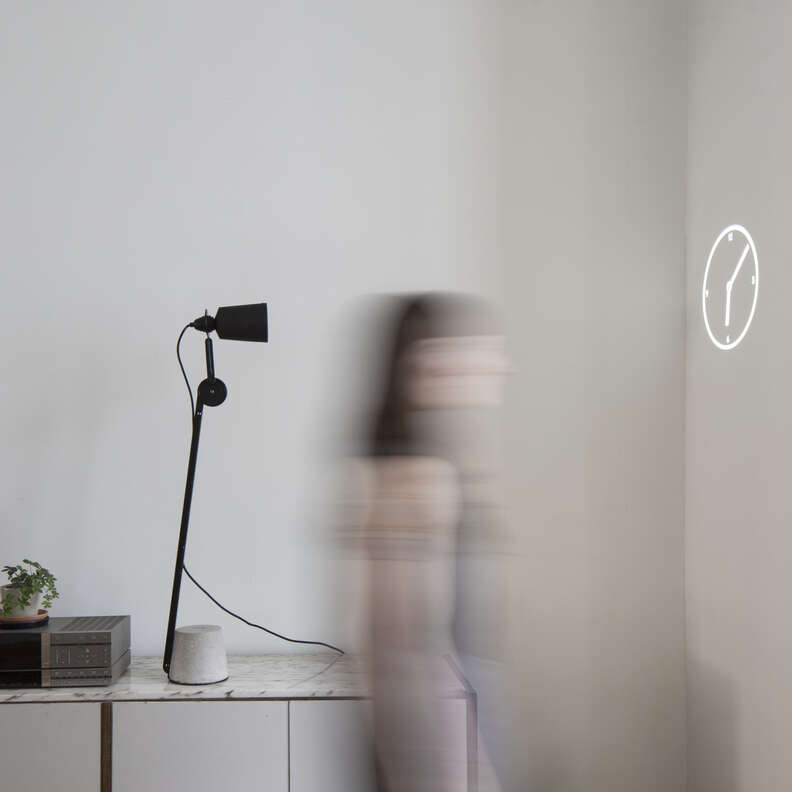 The LED-powered bulb, which is just slightly bigger than your average Solo cup, screws into any standard light socket, and easily connects to your smart devices via Bluetooth or Wi-Fi. Propped on its side on the floor or a table, it casts an excellent 854 x 480p screen on the adjacent wall, but when you feel like getting clever, there's also a special long-armed stand that makes it easy to maneuver and point it in any direction you please.
At $560, this thing ain't cheap, but it's also capable of a lot more than just projecting your never-ending Netflix queue. It's got 8GB of built-in storage, enough to load up on a number of other apps or photos, and supports both AirPlay and Miracast, so you can freely broadcast content to it from a whole slew of apps via your laptop or phone.
For instance, you could screw it into the light socket above the kitchen counter to follow along with your favorite recipes, or set it up in your bedroom as a wall-sized alarm clock that wakes you every morning with the daily headlines and forecast. Even better, it doesn't necessarily need to be hooked up to external speakers, since there's one built in.
It also comes in handy even when you aren't using it to watch Stranger Things for the sixth time. It transitions at the flick of a button into a traditional, dimmable lightbulb.
Sign up here for our daily Thrillist email, and get your fix of the best in food/drink/fun.
Joe McGauley is a senior writer for Thrillist and more than eager to usher in this new-and-improved Netflix and chill era.