Hackers Just Stole Data From 15 Million T-Mobile Users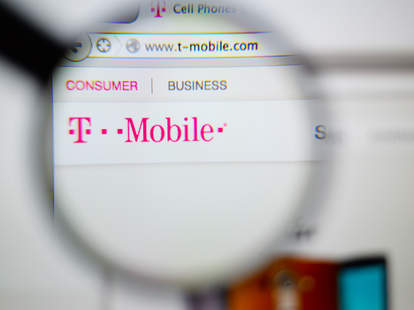 <a href="http://www.shutterstock.com/gallery-762415p1.html?cr=00&amp;pl=edit-00">Gil C</a> / <a href="http://www.shutterstock.com/editorial?cr=00&amp;pl=edit-00">Shutterstock.com</a>
Well, this isn't good: an announcement by T-Mobile's CEO on Thursday confirmed a major data breach which released a slew of personal information for 15 million of the company's customers and applicants. Yep, not good at all.
The hack, which took place from Sept 1, 2013 until Sept. 16, 2015, actually had nothing to do with T-Mobile's internal systems, instead targeting the servers of its credit partner: Experian. While Experian claims that none of its credit card or banking information was compromised, hackers were on the hunt for more than just your financial data -- namely, all the rest of your personal information, from names and social security numbers to birth dates and passport numbers.
As compensation for this unfortunate turn of events, T-Mobile's offering two years of free credit monitoring to customers who feel they've been affected by the leak. And who'll be providing those credit monitoring services? Yep, you guessed it: none other than Experian itself. When people expressed their righteous indignation at this less-than-desirable choice, T-Mobile's CEO responded on Twitter: 
 
I hear you re: Experian as service protection option. I am moving as fast as possible to get an alternate option in place by tomorrow.

— John Legere (@JohnLegere) October 1, 2015
As of this writing, that alternate option has yet to be put forth by T-Mobile. It's cool, though. We'll just sit here, waiting. No rush.
Update: T-Mobile customers and applicants can now obtain credit monitoring services through ProtectMyId. So, there's that.
Sign up here for our daily Thrillist email, and get your fix of the best in food/drink/fun.
Gianni Jaccoma is a staff writer for Thrillist, and he's actually a Verizon customer. Follow his big, red tweets @gjaccoma, and send your news tips to news@thrillist.com