Hipster Tech Accessories That Make You Look Like an Idiot
Being a hipster is tough. Despite our disdain for the digital era, we just can't seem to shake it, and our yearnings for an authentic, free-range, analog society go unrequited. The poetic irony here is that modern technology is great for solving the problems it creates. Here are nine tech accessories to help facilitate the hipster's creative, on-the-go lifestyle and aid in the noble pursuit of the Authentic.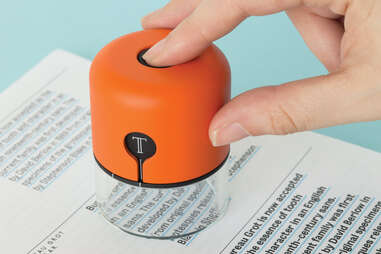 Shazam, but for fonts
Spector -- Priceless
All too often, one picks up a book and thinks, "What is this fabulous typeface?Value Serif? Apercu? How can I use this in my zine?" Well, friends, here to bridge the deeply philosophical gulf between print and digital is Spector, the Shazam for fonts. This handheld tool collects samples of typefaces and colors IRL, identifies what they are, then imports them over to InDesign, which is a computer program that hipsters, I mean designers, use. Sadly, Spector is just a prototype for now, from the mind of a former student at London's Royal College of Art. But it's just like your parents said: dream hard enough, all ye young typographers, and your dreams will make it so.
Turn your iPad into a vintage typewriter
Qwerkywriter -- $349
Not just your average Bluetooth keyboard, Qwerkywriter features shiny vintage-inspired keys and a "clicky mechanical switch" so you can enjoy the tactile delights and sensational acoustics of a well-worn typewriter whilst carefully crafting a passive-aggressive reply email to your co-worker Caitlin. Bonus if you type standing up -- that's what Hemingway would do.
An app that turns your video into grainy VHS footage
VHS Camcorder -- $2.99 in iOS and Android
Sometimes, scrolling through impeccably curated feeds and jaw-dropping minimalist landscapes "shot on iPhone 6" becomes too much to bear; you throw up your hands and lament "my God, why must everything be such high quality?" Make your next Instagram video ironically shitty with the Camcorder app, which throws it way, way back for some strong '80s vibes. It lets you shoot raw, grainy Camcorder-style video and even mimics the date stamp that graces all your precious home movies. Everyone will comment, "How did you do this?" It will be a comment shitstorm.
An app that lets you "try on" virtual tattoos
InkHunter -- Free for iOS and Android
Last time you got a Raymond Carver poem inked on your rib cage in a delicate typeface called Fortescue, but now you think you might get, like, a palm tree or something. To help ensure that this spontaneous, totally random, "it just came to me in the chair" decision is not one you will later regret, the InkHunter app uses augmented reality to let you see what certain tats will look like on various parts of the body. It has a bunch of pre-loaded designs, but don't worry, you can also upload your own original creation.
A cool backpack for your 3D printer
Ultimaker 2 Go backpack -- $69
"Guys the train was shut down so I had to bike. Don't worry, I still brought my 3D printer.* Let's do this!"
*3D printer sold separately
A bracelet that's also a subwoofer
The Basslet -- $112
The Basslet is, as the name suggests, a bass on a bracelet. Inspired by the intense vibrations you feel in the drum of your body and soul at a particularly bangin' live show, the Basslet lets you experience about 1/1,897,550th of that physical sensation via a sleek and mysterious watch-like wearable. Cue up your favorite Kendrick jam and literally feel the music.
Pretty much the most insufferable photo-editing app ever
Mextures -- $1.99 in iOS
There are many, many photo-editing apps out there, but I'd argue that Mextures is tops for hipsters -- if you can get past the fact that "Mextures," much like "moist" or "meal," is a highly uncomfortable word to read, think, or say. Instead of the run-of-the-mill filters you find on Instagram or VSCO, this app offers "textures" which are "hand-curated" and must be purchased in packs for $15 each. The packs have names that sound like any number of Brooklyn establishments serving up bespoke cocktails in a rustic-industrial setting by a dude in suspenders with a neck tattoo: "Dust & Dirt," "Grit & Grain," "Anomaly," "Grunge," and "Emulsion," to name a few.
A portable smart typewriter
Freewrite -- $499
The world's first smart typewriter, Freewrite (which was originally called "Hemingwrite") allows you to escape the distracting mires of your other 21st-century smart technologies so you can work on your next great American novel without getting sidetracked by Facebook or porn. Cloud connectivity lets you sync your drafts up to Evernote, Dropbox, or Google Drive, and that's pretty much it. There are no editing tools, so go find a nice muddy hill and bang out some Knausgård-grade mind drivel you'll just delete when you get home.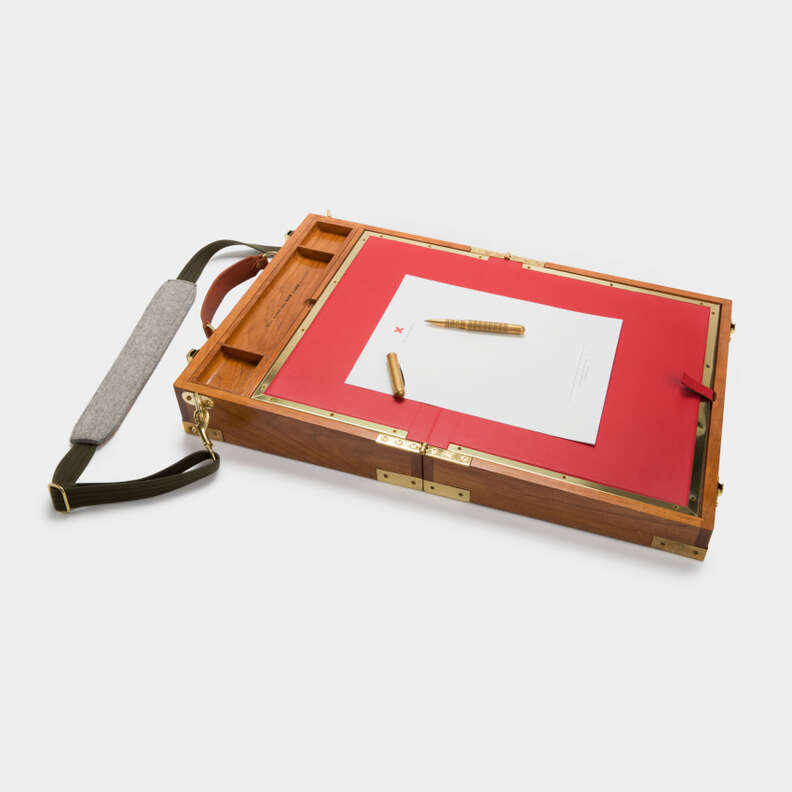 A kiln-dried, plain-sawn American cherry wood work surface
The Field Desk -- $1,850
Who needs a fucking smart typewriter when you can have this? Now I know what you're thinking -- this isn't tech. But in a delightful twist of irony, our list includes this craftsman gem because it is so anti-tech, so aggressively pastoral, it cannot be overlooked. Inspired by our nation's "greatest naturalists and expedition leaders," this modestly priced receptacle features brass hardware, a red leather work surface, and a shoulder strap so you can comfortably carry it on your next journey to Washington State, I mean the vast unknown. Don't forget your pencil!
Sign up here for our daily Thrillist email, and get your fix of the best in food/drink/fun.
Keller Powell is an editor at Thrillist. Follow her quest for bespoke cocktails and truly humbling adventures on Instagram @kellbellpow.