Paid Content For
Wells Fargo
Use These Tech Entrepreneur Tips to Get Your Finances in Order
Paid Content For
Wells Fargo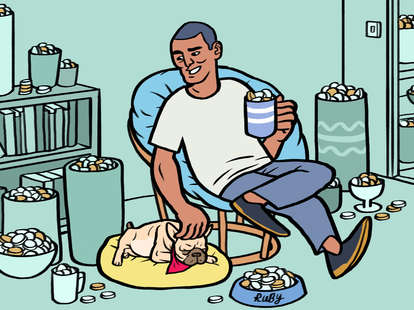 No one knows how to stretch a dollar quite like tech entrepreneurs. Launching a startup with limited funds has two options: "make it work" or "go out of business" -- so immediate success hinges entirely on squeezing the most out of every penny. But you don't need a round of venture capital funding under your belt to benefit from their experience. We reached out to several tech-savvy entrepreneurs for their best financial tips to make sure your bank account always has a little leftover for a rainy day (or an impromptu happy hour).
Carefully read your credit card bill every month
This sounds pretty basic, but it's easy to blow it off. When Roger Wu, co-founder of Cooperatize, a digital content forum, started really going over his credit card statements he saw that his company was getting charged double for SSL certificates and paying a recurring fee for a web server they were never using. "It's no joke, [it means] going through every line and deciphering what the charges are," Wu says. "The hard ones are things that you pay for via PayPal or Square since you don't get the vendor's name, necessarily."
Apply the same scrutiny to auto-payments like gym memberships, video streaming plans, and old app subscriptions and cancel what you're not using to cut fixed costs. Similarly, if you can visualize how much that take-out poke is costing you every day for lunch, you may opt to brown bag it more often.
Pay down the most expensive debt first
When Dave Renz, co-founder of Tanooki Labs, a web and mobile app development studio, was faced with the choice of paying down a line of credit or paying estimated taxes, he realized that it was cheaper to settle the former. He chose to save on interest and pay the taxes later, even though the company got dinged with a penalty.
"I've seen this principle apply in my personal life when making decisions about whether to more aggressively pay down the high-interest credit card balance or relatively low-interest student loan debt," Renz says. So even though it would feel great to get those college loans off your back, it's better to tackle that credit card bill first.
Take advantage of free services
Free is not a four-letter word. Sam Sisakhti, founder of the online fashion marketplace UsTrendy, initially pushed a lot of money into traditional advertising after he raised VC funding, but it was not producing a suitable return on his investment. So he switched to marketing on free platforms like Snapchat, Instagram, and Facebook Live. "If you do things in a traditional way, the system is set-up [so that]... there will be costs."
Take the same approach to your discretionary spending: Stream movies, music, and e-books for no cost through your public library, get a haircut (by a trainee) for free, or drop into a complimentary community yoga session over that pricey rowing class.
Have an emergency fund
Always be prepared for a downturn, advises Tobias Dengel, CEO of WillowTree, a mobile and web application development company. "This means having some dry powder in the bank that can get you through a business pullback, or [allow you to] take advantage of a market downturn to invest or even buy a competitor," he says.
Michael Alexis of Museum Hack, a creative museum tours company, swears by his "three-month emergency fund." "In an extreme case where the market completely shifts, our 'emergency fund' would allow us to continue paying our staff for three months as we work to find new revenue sources or an updated business model," he says. For individuals, that rainy-day fund can cover an unexpected job loss or medical crisis, and by using a "three-month" metric instead of a specific dollar amount, the fund grows in proportion to your expenses.
Don't be afraid to barter
Figure out what you have to give (or what you can get) without spending cash, recommends Susan Danziger, founder/CEO of Ziggeo, a cloud-based video interface, who traded a room in her basement and meals for technology development services. (The person staying there eventually became her co-founder and CTO.)
She also managed to get free office space for a year by finding a CEO who agreed to give her the desks they weren't allowed to rent out. (They just had to bring in donuts for the team once a month.) So if you need a service performed, like someone to design a website or walk your dog, consider a skill you could swap in return.
Ask for refunds
Why leave money on the table when you don't have to? Alexis says, "We work with dozens (maybe hundreds) of service providers, and when service isn't what we expect then we ask for our money back…. If the experience at the hotel or Airbnb is much lower than expected, we may ask for a refund or credit toward the next stay."
The same principle goes for your own flight delays, late deliveries, or cable outages -- companies may be more willing to credit you than you think.
Bottom line: To maximize your cash, think like a scrappy startup founder. (Except there's no harm, in your case, in trying to get some sleep.)