If you give a mouse an iPhone, he's going to want some accessories to go with it -- and ideally, something a little snazzier than a $35 Apple phone case in that unsettling sea-foam green color. Here are 10 legitimately useful, tried-and-true extras for your iPhone that you can buy for less than 80 bucks. More storage, more battery life, more likes, and more cool points are in your future.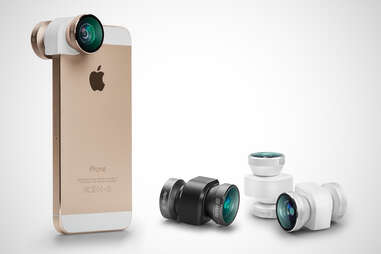 olloclip 4-in-1 lens
Price: $79.99
Why you need it: To get more likes, loves, and Insta-fame with your photos
Photogs are really into the whole "shot on my iPhone" thing, and yes, the shooter on the iPhone is pretty amazing. But let's admit, it's nowhere near as dynamic as a DSLR. olloclip's lens suite gives you the best of both worlds, delivering four advanced quick-change lenses (10x macro, 15x macro, fisheye, and wide-angle) to capture professional-style images that are sure to earn you more Instagram love.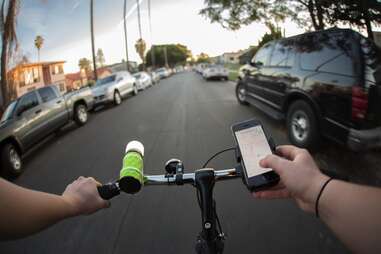 Outdoor Tech Buckshot Pro
Price:$79.95
Why you need it: To play music, charge up, and light your way all at the same time
When you're out and about, be it in the city or the wilderness, this nifty gadget checks three big essentials off the list. It's a Bluetooth speaker that sports a flashlight AND doubles as a power bank that charges your devices. A bike mount comes included, so riders can make hands-free calls. Name another portable speaker that can pull off this hat trick.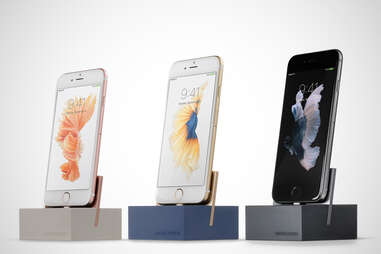 Native Union DOCK Lightning
Price: $49.99
Why you need it: To charge and show off your rose-gold iPhone 6 simultaneously
There's nothing wrong with adding a little finesse to the otherwise banal daily ritual of iPhone charging. Native Union's stand juices up all your iOS devices and looks sleek as hell on your desk.
Leef iBridge
Price:$59.99 and up
Why you need it: So you never get another "Not Enough Storage" alert again
Memory doesn't come cheap on the iPhone. If you're not spending serious coin on the 64GB or 128GB models, then you're probably paying for an iCloud plan. No more! This portable dongle expands your device's storage capacity and automatically backs up all your media including music, movies, photos, and more. Use the accompanying app to manage files. Give your Camera Roll a break and make room for more Kodak moments.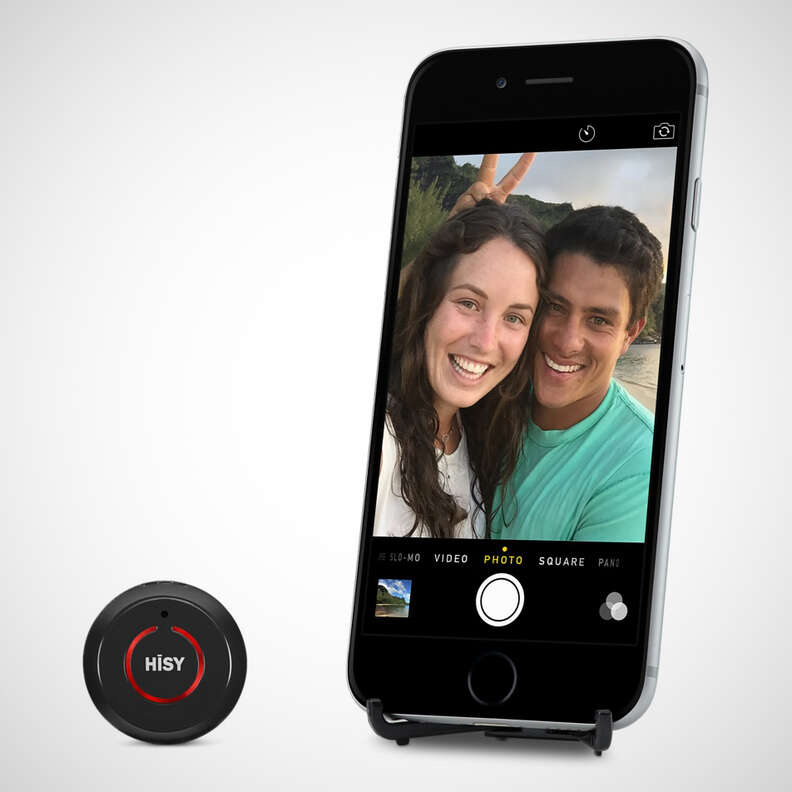 HISY Bluetooth camera remote
Price: $24.95
Why you need it: To shoot pics from a distance without the shame of a selfie stick
Selfie sticks are, and will forever be, terrible. Only tourists and your uncool parents use them, and God forbid you get put in either category. This Bluetooth remote takes a more discreet approach to capture live visuals from a distance, allowing you to snap images or record videos with the click of a button. You can mount your iPhone anywhere and shoot from up to 90ft away.
Jorno ultra-thin wireless keyboard
Price: $39.99
Why you need it: Because blogging and emailing on a virtual keyboard sucks
Typing a long email or Word document has never been the most fun-filled experience on an iPhone. Neither has carrying around a huge portable keyboard. This little Bluetooth gem is kind of genius -- it provides the "ultimate level of mobility," with spacious keys and a mini-foldable design that fits snugly in your pocket.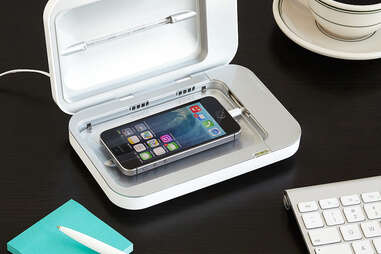 PhoneSoap 2.0 UV sanitizer
Price:$59.95
Why you need it: To keep your mobile and moneymaker germ-free
Studies show that your smartphone screen carries 10x more bacteria than a toilet seat. Just think of what atrocities your face could potentially contract when screening calls on the regular! The PhoneSoap uses two UV-C lamps to destroy gems, while doubling as a charging case to power your iPhone during the sanitizing process. All it takes is five minutes and your phone will be cleaner than when you first unboxed it.
BoxWave ClearTouch SmartButtons screen protector
Price: $20.95
Why you need it: To protect your screen and get hidden extra buttons
The cracked-iPhone-screen epidemic has only gotten worse with every new model, which makes screen protectors a no-brainer for butterfingered Apple fans. But never have you seen one this hi-tech. BoxWave's display guard not only flaunts the strongest rating for tempered glass to protect against scratches and shock absorption, but features invisible touch SmartButtons that add "return" and "confirm" options to make operating the device in one hand way easier.
mophie juice pack reserve case
Price: $59.95
Why you need it: To keep your iPhone charged when you're on the go
mophie is still the undisputed king of charging cases. This new compact, cost-efficient option doesn't compromise fashion or function -- with a low-profile design, high-impact protection, and solid battery life to get you past happy hour.
Anker lightning-to-USB cable
Price: $5.99 and up
Why you need it: So you never have to deal with a fraying cable again
Some of us can live without certain iPhone accessories. A lightning cable is not one of them. It's a daily necessity that has a reserved spot in our messenger bag or desk. Replace your aging cable with this rugged connector, which charges your iPhone at the fastest possible rate and has a heat-resistant design with 4,000+ bend lifespan. Suffice it to say it's built to last much longer than Apple's shiteous cables.
Sign up here for our daily Thrillist email, and get your fix of the best in food/drink/fun.
Alex Bracetti is a contributor to Thrillist, Complex, HOOP, Man of Many, and several others. Follow him on Twitter: @AlexBracetti.