What's the greatest smartphone of them all? Answer: not the iPhone. At least that's what Consumer Reports is saying after crowning the Samsung Galaxy S7 the top-rated phone on the market. The iPhone 6s didn't even make No. 2: that went to the S7's slightly larger sibling, the S7 Edge.
To add insult to injury for Tim Cook & Co., it looks like the Galaxy S7 and S7 Edge are selling like hotcakes, and they've only been out for a month. Consumer Reports calls out key features like the water-resistant design and a battery life that's more than double that of the 6s' -- but let's see what else makes the Galaxy S7 arguably the "next best thing" since, well, every other iPhone. We love a good underdog story, don't you?
It charges faster. And wirelessly. And holds a charge for twice as long.
Look, we all know battery life on the iPhone sucks. To be fair, Galaxy devices haven't fared any better over the years. But they recently stepped up their game with Quick Charge technology, which, as the name suggests, is engineered to boost charging times. Samsung's wireless charging dock pushes the Galaxy S7 from 0-100% within an hour (added bonus, no crappy charging cables). A bigger battery (3,000 mAH) and power-saving modes all add up to over 24 hours of talk time; more than twice that of an iPhone 6s, according to Consumer Reports. Not too shabby.
It's very water resistant
Compared to the iPhone, some people would call this thing straight-up waterproof, but Samsung plays it safe by labeling it "water-resistant." Either way, the Galaxy S7 is pretty compelling if you're one who constantly finds their phone submerged in a puddle (coughtoiletcough). Recent tests showed the device fares better in wetter conditions than the iPhone and can stay submerged in 5ft of water for 30 minutes without sustaining any damage. All the more reason to shoot emails and take calls while lathering up in the shower.
More camera controls and better photo quality in low light
There's no denying the iPhone 6s captures amazing shots. It just lacks the robust feature set and hardware of the Galaxy S7. Low-light photography is the camera's greatest strength, with the f1.7 aperture and optical image stabilization producing brighter, more detailed images in dark environments. The 12MP Dual Pixel sensor uses the same technology found in DSLR cameras like the Canon 70D to instantly focus on objects without any blur effects. Manual controls also open the lane to customize the shooting experience, with a "Pro" mode for adjusting shutter speeds and shooting RAW files.

It has a special "one-handed" mode
The struggle to hold and operate a smartphone with one hand probably takes the cake for biggest first-world problem, but hey, we've all been there. The S7 is no exception, but this is where the Samsung's "One-Handed" mode becomes valuable. Enabling the feature reduces the screen size and moves the keyboard to one side of the panel for easier use. Progress, people.
Expandable memory = no "not enough storage" alerts
Besides battery life, the other biggest beef with the iPhone is memory. You can either drop $849 on a 128GB model, settle for an iCloud monthly package, or accept the consequences of those insufferable "not enough storage" alerts. Meanwhile, Samsung continues to make the SD card slot a mainstay for the Galaxy series, granting users the luxury of expanding memory up to 200GB via microSD card. That's more than enough space for your iTunes library.

It has superior call quality
Apple's been criticized for its antenna placement on the iPhone, which has frequently led to some not-so-great issues like dropped calls and weak signal strength. Samsung incorporates Qualcomm's TruSignal Antenna technologies into its latest phones to increase call coverage and data speeds, without swallowing battery life. An improved earpiece and the addition of an "Extra Volume" mode help deliver louder, clearer calls, especially on Verizon's breakneck LTE network.
It boasts the more widely accepted mobile wallet
As you may have noticed because you haven't been living under a rock, we're moving towards a cashless future. And while Apple Pay might be the most popular name on the mobile payment block, Samsung Pay is proving to be the most resourceful. Both services support NFC, but Samsung's payment solution is programmed to work on terminals that accept regular magnetic stripe cards as well. Not to mention it's accepted at 95% of retailers, whereas Apple Pay is limited to certain stores.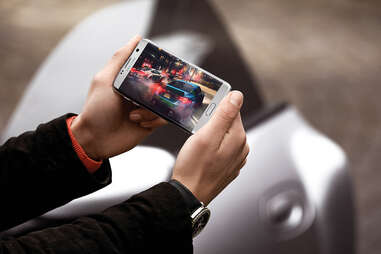 It features optimized tech for gamers
The Galaxy S7 isn't built to replace your Nintendo 3DS or PS Vita, but it's definitely loaded with tons of tools to enhance on-the-go gaming. Samsung's introduced the Game Launcher, a sandboxed area that stores all your mobile titles and offers built-in screen recoding, while temporarily blocking notifications so nothing interrupts your gaming sessions. It even doubles as a battery-saving mode, optimizing titles to use less juice by lowering the frame rate and processing power.
Samsung's still beating out Apple in VR accessories
Hate it or love it, virtual reality is here to stay. We're seeing more VR content rolling out onto mobile platforms with Samsung spearheading the movement. The company's Gear VR headset remains a consumer staple thanks to its integration with the latest Galaxy smartphones. Then there's the upcoming Gear 360, a golf ball-like action cam that wants to redefine the way we record home videos and stream that footage onto the Gear VR and Galaxy S7. Neato!
Sign up here for our daily Thrillist email, and get your fix of the best in food/drink/fun.
Alex Bracetti is a contributor to Thrillist, Complex, HOOP, Man of Many, and several others. Follow him on Twitter: @AlexBracetti.