Behold, the Future of Your Saturday Afternoons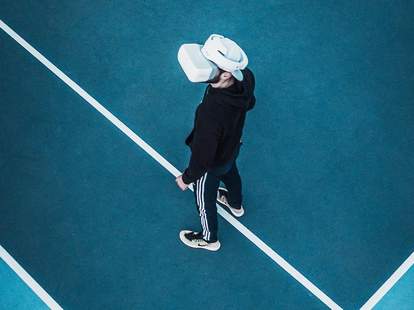 These days, the future of entertainment is synonymous with the future of technology. From live events to museum exhibits, the folks behind our favorite weekend outings are getting even more creative thanks to the limitless possibilities of advanced innovation.
While algorithmic online dating that predicts your relationship's longevity is still a sci-fi concept (but thanks for the terrifying idea, Black Mirror) we do have a taste of the future of entertainment and hobbies. With a lot of virtual reality, a good amount of sweat, and one extremely cool wave pool, these destinations will make you think twice the next time you buy a ticket to a concert as you know it.
Shoot your way out of a virtual zombie attack
Love retro hangout spots but hate being subjected to their sticky floors? Meet the future of arcade gaming at Vrbar. Unlike the pinball and claw crane-filled arcades of your childhood, Vrbar's state of the art gaming center allows patrons to enjoy games, films, and other experiences through virtual reality headsets. So whether you want to climb around an enormous candy landscape in Sweet Escape or fight back a zombie uprising in Brookhaven, experiencing an alternate reality is easier than you think.
Race the clock on the rocks
Rock climbing is getting a much-needed refresher thanks to state-of-the-art gym Brooklyn Boulders. The folks behind the gym's virtual climbing game took a regular analog rock wall, but outfitted it with projections like a stopwatch to race the clock, a scoreboard to keep track of how you're doing in real time, and challenges like racing against friends to collect virtual medallions placed around the rock wall. It's one of the few video games that will leave you sweaty.
ARA1129 / Shutterstock
Golf the planet's best courses without going outside
Premier Indoor Golf's PGA-backed all-digital golf course in New York allows for golfers to use real clubs with the unlimited possibilities of a virtual course to perfect their game. Without the inconvenience and physical limitations of the outdoor setting (like no more walking to all 18 holes), this virtual pitch lets visitors see how they play in real time thanks to generated video analysis and individualized performance charts. Best of all, thanks to VR, you can play some of the most famous courses in the world, like Pebble Beach Golf Links, Merion Country Club, and Oakmont Country Club.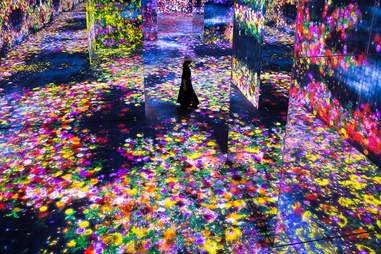 Tomohiro Ohsumi / Getty
Spend the afternoon in a neon forest
Finally, a museum where you're encouraged to touch the art. The newly opened teamLab Borderless at the MORI Building DIGITAL ART MUSEUM provides visitors with 10,000 square meters of space in which 3D art exhibits are displayed on 520 computers and 470 projectors. The exhibits allow you to touch and feel glowing forests and oceans throughout the museum's Borderless World installation, which look like what we assume computers see when they dream.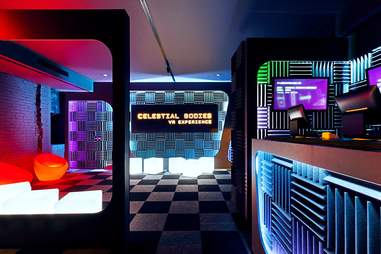 Pixy Liao
Go on a cyber date
Leave it to The Museum of Sex to create a tech-infused art exhibit aimed at couples. Set to Diplo's "Set It Off," "The Couples VR Experience" allows visitors to fully immerse themselves in a sensual installation, which features a virtual dance pole, live performers, and "3D sound" thanks to vibrating sensors that react to the scene you're experiencing. Not exactly a trip to the Met.
Surf pro-level waves in a pool
"Wave scientist" Adam Fincham unveiled Kelly Slater's Surf Ranch in Lemoore, CA, signaling a new era for wave-obsessed surfers. With the help of water generators, finely tuned software, and a sophisticated cable system to pull an enormous hydrofoil -- basically a big wing -- around a pool, surfers are able to test their skills on engineered waves that you'd otherwise only see in nature during perfect conditions. If you've ever wanted to know what it's like to surf on a perfect day, this is the way to do it.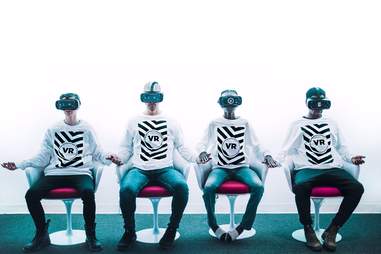 Courtesy of VR World Entertainment LLC
Become Daft Punk for the weekend
Thanks to its augmented reality-equipped facilities, New York's VR World offers an ongoing roster of virtual reality experiences, ranging from art to film to gaming. Get the all-day pass so you can spend your entire afternoon building songs as a DJ in Electronauts or slash through a stream of rhythms at Beat Saber, which is like Dance Dance Revolution, but instead busting moves with your feet, you're slicing beats with a lightsaber
Experience the apocalypse in the movie theater
China's Wuhan Wushang Mall International Cinema takes the typical, sit-in-a-big-box theater experience and turns it into something where the atmosphere of the room feels like the film on the screen. If you're seeing a space movie, the theater might be designed like the interior of a ship. If it's a movie based on a young adult book, it'll probably look like a post-apocalyptic landscape. Either way, the designers behind the project wanted to build something where the theater is just as much a part of the experience as the movie itself.
Watch your next concert from the stage
Known for putting on some of the biggest live events on the planet, Live Nation is, naturally, getting into the virtual reality scene. The goal of their latest venture, Nextvr, is to allow live event enthusiasts to get as close as they virtually can to their favorite artists with the help of an online VR portal. That puts viewers in the middle of the action thanks to an array of cameras placed around the venue. Think of it this way: If you buy a ticket to see Chance the Rapper, you'll be able to watch the show from the comfort of your home, but with the click of a button, see the show from any angle in the venue -- including looking out from the stage. It's the closest any of us will get to being an international mega star.