What Happens to Your Facebook When You Die?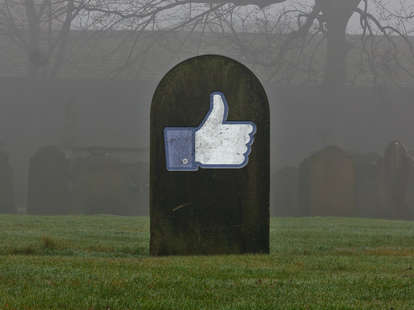 Jennifer Bui/Thrillist
Jennifer Bui/Thrillist
Even though it feels weird and morbid to think about when you're young, it's a wise move to have your affairs in order in case you unexpectedly kick the bucket. Sure, you may not have the assets to warrant a full-on will and testament, but there are a few essentials to consider -- like, who'll get your complete DVD box set of Golden Girls, and what the hell will happen to your Facebook?
There's actually an entire section of your Facebook settings dedicated to your wishes for your account once you're, um, not Facebooking anymore.
Choose to delete it forever, or opt for "memorial mode"
Head to Settings > Privacy > Legacy Contact, and you'll notice an option to have your account permanently deleted after you go. Once Facebook has been notified of your death (and confirms it with an obit or other documentation) the account will go poof -- or, you can choose something called "memorial mode." As a memorial, your page no longer shows up in public (ads, birthday reminders, "people you may know" sections, etc.), but it can still be viewed by friends, and they can still post nice things about you.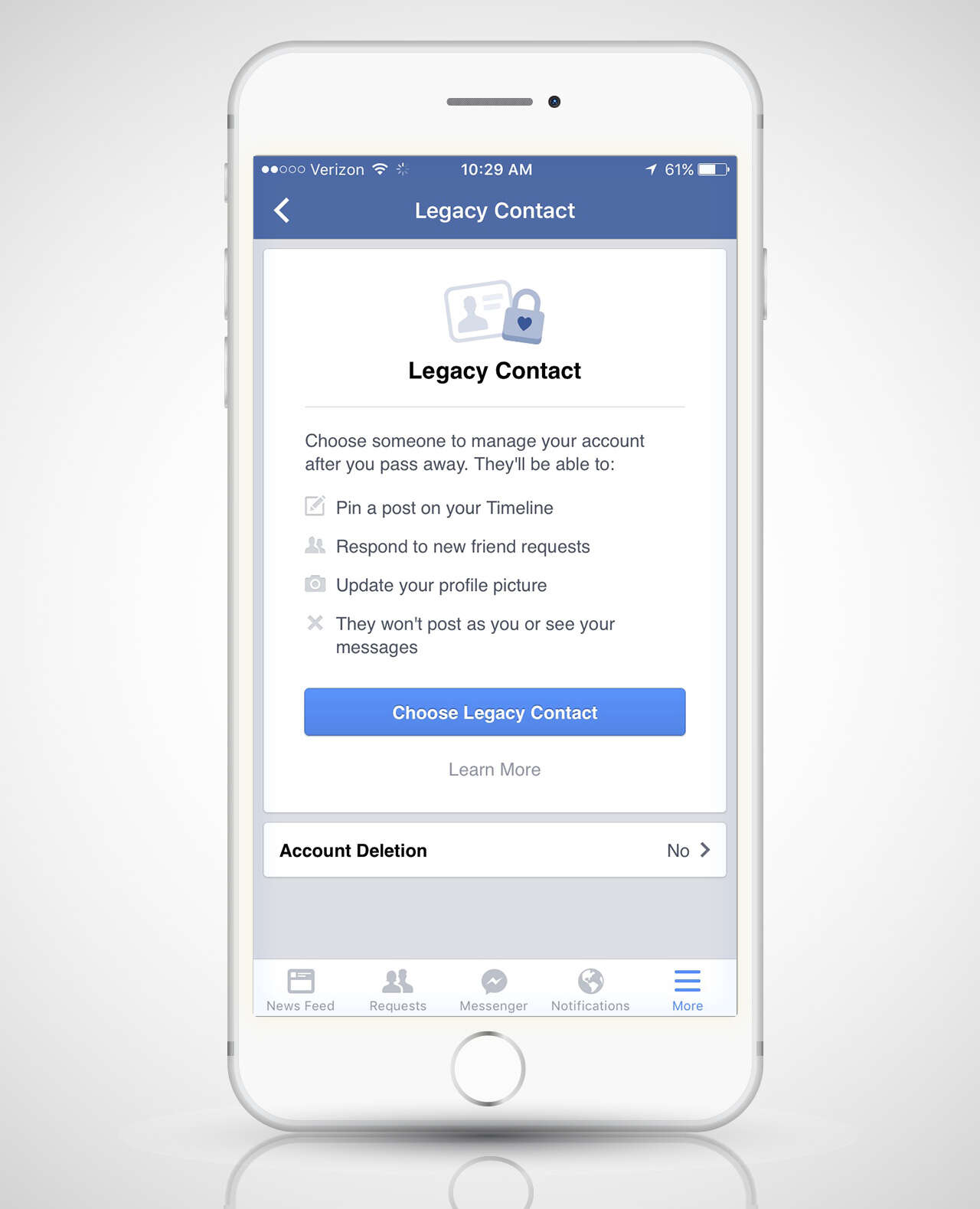 Choose your Legacy Contact wisely
So who's running your memorial? A "Legacy Contact" you've picked in advance. Think of your Legacy Contact as the person you'd want to be the executor of your will. They can't actually log into your account, but rather, they look over your final digital resting place.
Their powers are limited to pinning a post to your profile (like a final message on your behalf, or info about a memorial service), responding to new friend requests, and updating your profile picture and cover photo. You also have an option to let them download a copy of what you've shared on Facebook, if you're comfortable with that. And don't worry about having any dirty laundry accidentally aired in the afterlife: they won't be able to read any messages you sent to other friends.
You should probably give your Legacy Contact a heads-up
Facebook auto-generates a message to send your Legacy Contact once you select them, and frankly it's a little unsettling if it pops into your inbox out of the blue. Maybe let your friend/family member/significant other know in advance if you've chosen them.

If you don't change your settings, it's up to your friends and family
If you neglect to choose between having your account deleted or memorialized with a Legacy Contact, the decision becomes your loved ones'. Once you've passed, they'll have the option to request the removal or memorialization of your account, or alternately, do nothing and allow it to live on as is -- which is kinda awkward for the rest of us, but what can you do.
Sign up here for our daily Thrillist email, and get your fix of the best in food/drink/fun.
Joe McGauley is a senior writer for Thrillist and will rest peacefully knowing his Poke history will be kept private.