Between the spiked costs of satellite television and subscription cable, we're all looking for cheaper alternatives to consume our entertainment. But despite the multimedia conveniences our laptops, smartphones, and tablets provide—set-top boxes are still considered the gold standard for online content streaming.
Luckily, the consumer market has been spoiled with options, all optimized to mirror our favorite on-demand services onto any HDTV. Since shopping for one can be tricky, we took the liberty of helping you make a decision by breaking down all the top models out right now.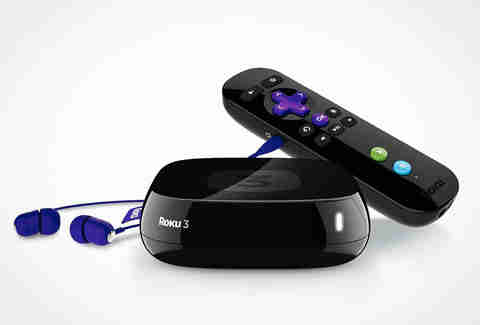 1. Roku 3
Price: $99
Pros: Customizable interface, intuitive voice search, speedy performance, and more apps than any other streaming device
Cons: Small gaming selection and higher price than the Roku 2, which offers most of the same features
Our take: The fact that it boasts the largest variety of media-streaming apps already gives the Roku 3 bragging rights. It has a dynamic user interface with a "My Feed" feature to follow upcoming movies and receive notifications as they become available on the platform. There's also the super-fast processor that pulls up titles instantly on request. Roku's even been consistent with its software updates, which always improve overall performance.
Granted there's an argument to be made over the Roku 2 being a better buy, especially since it carries most of the same features and operates just as smoothly. Just keep in mind that investing in it means missing out on the new controller and its special powers: including the audio headphone jack, motion-control gestures for gaming, "point anywhere" functionality, and voice search. All these bonuses not only make the Roku 3 worth the extra $30, but also the top TV streaming box out right now.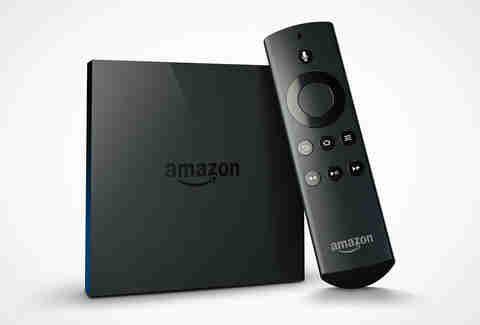 2. Amazon Fire TV
Price: $99
Pros: Easy-to-use interface, fast streaming performance, instant access to Amazon Instant, voice searching, and captive portal feature for improved dorm room/hotel Wi-Fi
Cons: Caters best to Prime subscribers, gamepad sold separately, and limited HBO GO service
Our take: Apps, games, and media streaming—the Fire TV bears many of the same facets as its competitors. The differences here lie in the customization, speedy performance, and Amazon's premium services. Its smart buffering system does a snap job of preparing TV shows in advance, which always helps when catching up on the latest episode of Game of Thrones on HBO GO. Comcast and Charter subscribers won't have that luxury. Personal profiles are also a nice touch that allows for easy parental controls. And when it comes to voice search, Amazon's proven to be king. You just need to be an Amazon Prime subscriber to get the most out of the box. Well, that and an extra $40 for the additional gamepad to indulge in its wide collection of games.
3. Google Chromecast
Price: $35
Pros: Best price point, concealable design, premium On-Demand apps, and ability to stream anything online
Cons: Limited search capability, no user interface, and small app list
Our take: One would think the MSRP is the Chromecast's strongest selling point? Foolish assumption. It's the fact that you can practically take any form of online content—illegal streaming and torrent sites being the most popular—and project them directly onto your TV set via Chrome web browser. Access to HBO GO, Hulu, Netflix, Youtube, and several other services is just a bonus. However, it's prone to crashing on occasion when casting onto other screens. The app selection is limited too as users are forced to wait till developers create new ones using the Chromecast's development kit. And that can take months.
4. Apple TV
Price: $69
Pros: Access to the entire iTunes library, high-quality video output, premium streaming services, and sleek design
Cons: No Amazon Instant, cross-platform search, or videos games
Our take: It might be the oldest player in the game, but like a fine wine, Apple TV continues to age well thanks in part to its 1080p content and seamless iOS integration. Those invested in iTunes can beam all content directly to the set-top box, all while engaging in the numerous must-have streaming services available. AirPlay connectivity gives you the chance to expand on entertainment options as well by mirroring music, photos, and videos. But like all Apple products, it's programmed to mostly push iTunes media. So if you're one who prefers buying or renting content from services like Amazon or Vudu, consider looking elsewhere. Ditto for gamers.
5. Google Nexus TV
Price: $99
Pros: Access to Google Play, bundled remote, and largest selection of playable games
Cons: Buggy performance and subpar voice search
Our take: While more of a conformed media hub in comparison to the Chromecast, the Nexus Player appeals most to Android users who seek the spoils of Google's OS. Besides offering access to popular streaming apps like Hulu Plus, Netflix, and Pandora—it allows users to enter Google Play to purchase film and TV content. But it is the Nexus Player's ability to play and cast any game from the digital store onto a television that transforms it into the most inexpensive, versatile gaming console out there. Unfortunately that all comes at the cost of Android's choppy performance and the unreliable search commands, which is quite the disappointment considering how great Google Voice works on mobile devices.
6. Roku Stick
Price: $50
Pros: Bundled remote, cross-platform search, more compact design, and access to most Roku-supported apps
Cons: Lag time on certain apps, no headphone jack on remote, and unnecessary booting when connecting USB port for power
Our take: More of an attempt to step into the streaming-stick market, Roku's HDMI dongle does offer many of the same features as its current set-top cousins. Users can browse through over 1,500 streaming channels and watch content in 1080p resolution, while taking advantage of the company's multi-platform search function. Though its compact design results in a handful of compromises such as no microSD card slot and the missing headphone jack on the remote. Gaming content is also MIA.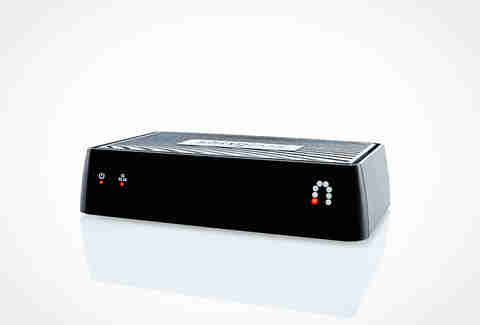 7. Slingbox M1
Price: $150
Pros: Built-in Wi-Fi, easy setup, sharp picture quality, and content-streaming from your DVR or TV
Cons: Most expensive of the batch, mobile apps cost extra, and no HDMI output
Our take: We know what you're thinking: for that price, you can just set up a cable account with Time Warner. But this is a one-time deal, not a monthly expense. For DVR fans, the benefits may outweigh the cost, as the M1 connects to your cable or satellite box, therefore making all recorded TV content accessible wherever you can gain a wireless connection. This same content can also be viewed on your browser, desktop, or mobile apps. Just a shame that those apps cost extra and there is no HDMI connector to enhance the mirroring processing.

Alex Bracetti is a contributor to Supercompressor, Complex, HOOP, Man of Many, and several other popular lifestyle outlets. Follow him on Twitter @AlexBracetti.

Want more of the world's best Tech delivered straight to your inbox? Click here to sign up for our daily email.