Midtown's chicken and waffle grilled cheesery Pullman Kitchen just unleashed its biggest, baddest "grilled cheese", probably of all time. It's called "The Beast of Midtown East", and it's a 13-layer challenge-wich stuffed with fried chicken, ham, bacon, and all kinds of other excellent stuff like kale (!!!) and waffles (actually !!!). Check. This. Thing. Out.
To the right: that's cheddar and muenster on rye (which actually holds up better than their traditional Pullman loaf). And to the left: two waffles (?!?) topped with two slices of pepperjack.
Bacon and kale are both on this thing. It totally would've been the trendiest thing ever in 2011.
They get their ham from Brooklyn Cured, and you'll get their ham on top of epic grilled cheese sandwiches.
Before the stacking commences, they crisp the pepperjack'd waffles in the oven ever-so-slightly -- apparently if you keep 'em on the griddle too long, their texture won't hold up to the rest of the sando.
So far it kinda just looks like the beginning of an awesome BLT with cheese, right?
The spicy pickled peppers add a nice, sweet kick to the proceedings.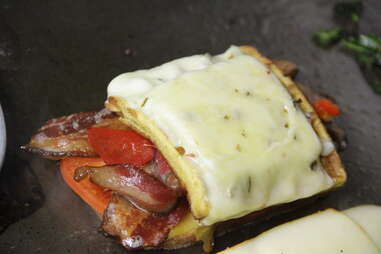 It's when the first cheese waffle makes an appearance that this thing probably starts to worry excite you.
The most important meat-gredient -- fried chicken -- goes right in the middle and then gets drizzled with a little maple syrup because, maple syrup.
No, the other waffle is not the end.
Before closing it up, it still needs that kale and ham. The kale actually adds some much-needed texture/shame-reduction.
If you manage to finish this thing all on your own, you'll win a $25 gift certificate and be enshrined in their Hall of Fame. Who knew glory felt so much like indigestion?