Thrillist Snow Guide: Aspen, CO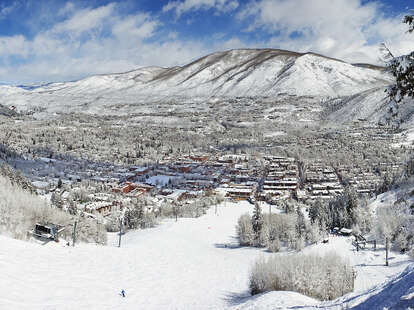 Aspen/ Snowmass
Aspen/ Snowmass
Known commonly by its superhero moniker, "The Power of Four", Aspen Snowmass refers to the combined resorts of Snowmass, Aspen Mountain, Aspen Highlands, and Buttermilk; together they amass 5,517 skiable acres, 335 trails, and 42 lifts, and loom above Aspen's quaint alpine streets like hulking giants ready to defeat ski-related crime at a moments notice. Or something like that. With terrain designed to please powder hounds, backcountry bombers, and novices alike, and a downtown full of eclectic eateries and rollicking bars, you can't help but look up at Aspen Mountain as you're strolling around and hear it whispering, "soon". But don't be creeped out, it's totally on your side.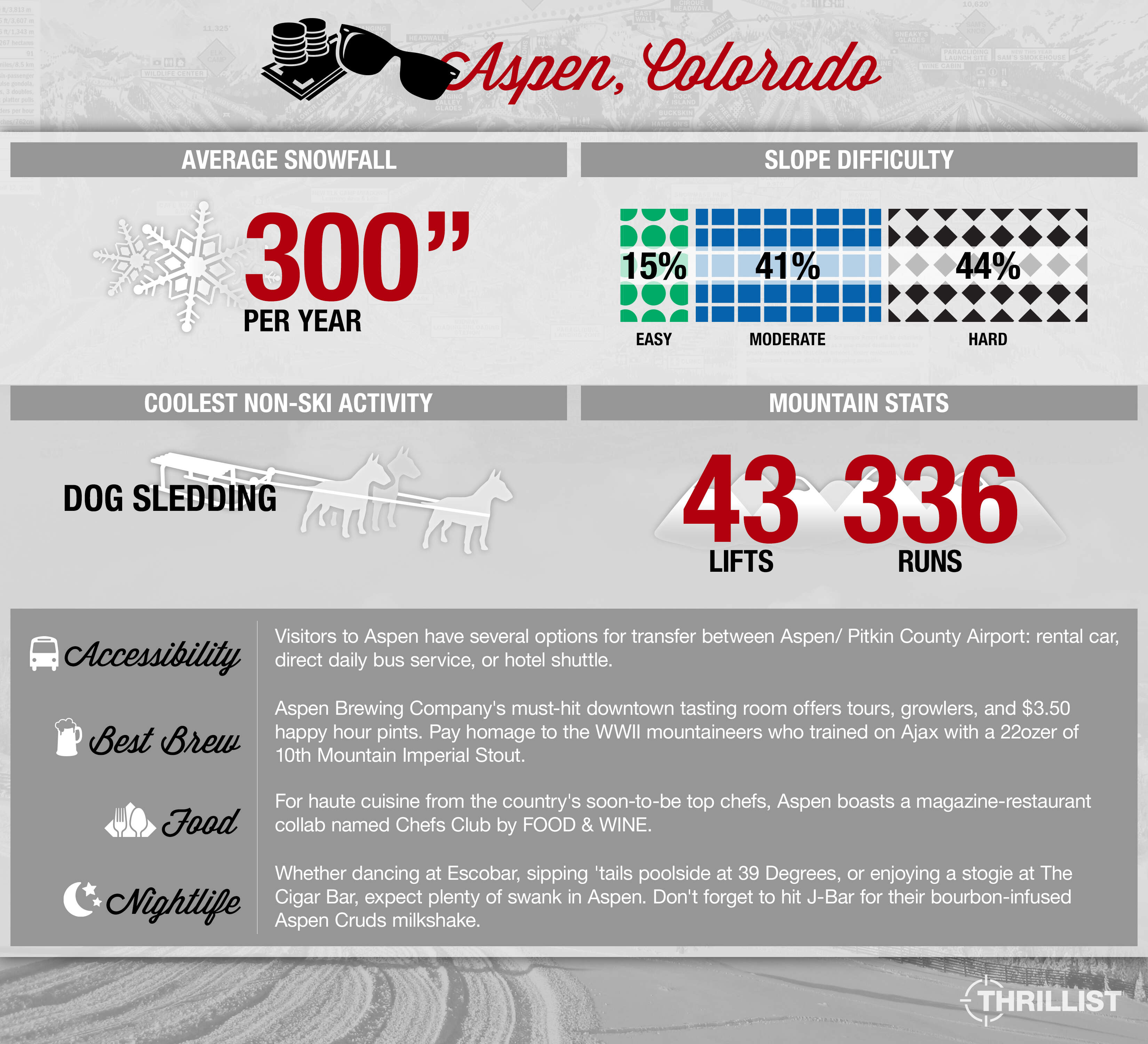 When to go: The Aspen season usually begins in late November to mid-December and runs through early to mid-April. Want to be there for the X Games? Well, they're going down at Buttermilk, January 23-26.
How to get around: Several hotels offer complimentary shuttles to the mountains. There's also a free Aspen shuttle system which takes guests to and from all four ski areas, as well as the towns of Aspen and Snowmass.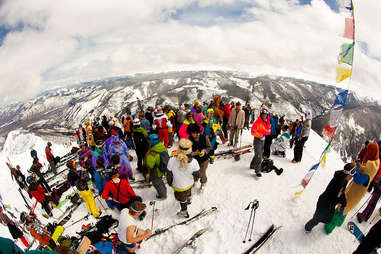 Three runs not to miss:
1. The new Burnt Mountain terrain at Snowmass is a must-hit. And when you're done, be sure to visit the Elk Camp restaurant.
2. Ski Ruthie's on Aspen Mountain -- the World Cup ski-racing course overlooks the town and provides one of the area's most iconic views.
3. Take advantage of the free First Tracks Program and hit Highland Bowl at 8a, before the lifts spin.
Dining: Like many mountain resort towns, Aspen dining runs the gamut from basic burgers to top-notch cuisine. Recently opened at the Little Nell, Element 47 showcases contemporary American cooking infused with seasonal ingredients and a Burgundy-rich wine list. Another newbie, Trecento Quindici Decano, features soulful and seasonally inspired Italian cuisine, while Justice Snow's peddles well-mixed cocktails with creative mountain vittles. For a simple pub meal (and a pint, of course), Finbarr's Irish Pub & Kitchen is your move. For an adventure, grab a cab and head out to the Woody Creek Tavern, a funky spot serving margaritas and some Hunter S. Thompson history. Finally, for the ultimate in fine dining experience, snag a reservation at Chefs Club by FOOD & WINE magazine (at The St. Regis Aspen Resort), a collab resto where guests can sample dishes made by the country's most promising up-and-coming chefs.
Local brews:Aspen Brewing Company's downtown tasting room is your go-to for local suds. Started in '08 by a University of Colorado grad, "Aspen's only microbrewery" pours a handsome lineup that ranges from their Czech-style Ajax Pilsner (a crisp lager celebrating the mountain's nickname) and super-hoppy 7% ABV Independence Pass IPA, to their Conundrum Red Ale and 10th Mountain Imperial Stout, a burly 9.3% ABV English oatmeal stout that pays homage to the WWII division that trained in the area. As always, don't leave without a growler for the condo.
Après: 39 Degrees at the Sky Hotel rocks both indoor and outdoor seating and makes an ideal spot for après antics. Settle inside and enjoy your cocktail, or join the crowd around the pool and soak in the revelry. Wanna celebrate your awesome day on the hill with shots? Cantina's got one of those 6-glasses-mounted-on-a-ski shooters, and tequila's the grain of choice (natch). For a low-key game of pool, shoot for Eric's Bar, although there's also a connected cigar bar if you're up for a stogie later in the evening. For a more relaxed après, Ajax Tavern is the place to chill out and recover from a great day of pow.
Nightlife: If there's a good band playing at the Belly Up, get a ticket. The small club hosts world-class talent, and is a local favorite. On the other end of the spectrum is the Caribou Club, a swanky private joint where they dance late into the night -- although you're probably gonna need to know someone to get in. J-Bar at the Hotel Jerome offers the opportunity to sip Aspen Cruds -- a bourbon-infused vanilla milkshake or cream-topped hot vanilla tea and bourbon -- in one of Hunter S. Thompson's old haunts, while Escobar, a nightclub/ bar/ lounge hybrid with an eclectic mix of music, is where you should close the night out.
Other than skiing/ boarding?
Hop a private snowcat and head out for either lunch in a backcountry cabin or a fondue dinner atop Aspen Mountain. Not enough action? Add a guided snowshoe trek with a naturalist. Or, wave to your friends as you glide over the slopes in a tandem paraglider with Aspen Paragliding. Although, no, you can't "jump off" the mountain. Finally, cruise across the snow with the sound of howling dogs in your ears on a Krabloonik dog sledding adventure. Guided tours are offered daily, and the price includes lunch or dinner at Krabloonik restaurant.
Where to stay: For quick access to the most trails, crash in Aspen. In fact, famed Little Nell sits right at the base of the mountain. For modern swank and proximity to the hill (as well as the après scene), the choice is the Sky Hotel. Other favorites include Hotel Jerome and the Limelight. And while Airbnb lists plenty of condos and townhomes, many aren't downtown -- make sure you check locations carefully. Finally, if you'd still rather stay away from the crowds, there're places to consider in Snowmass; the newly renovated Wildwood Snowmass and the Pokolodi Lodge are two worth checking out.