Thrillist Snow Guide: Breckenridge, CO
Liam Doran -- GoBreck
Liam Doran -- GoBreck
2,908 acres of terrain. 187 trails. Five peaks. Four terrain parks. Two half-pipes. One shot, one opportunity to seize everything you ever wanted, if you're willing to capture it -- welcome to Breckenridge, Colorado. Located in a historic mining town named for the youngest Vice President in US history, Breck, as the locals call it, is a laid-back "for the love of sport" kind of mountain boasting tons of all-levels terrain, the highest chairlift in North America, and a sweet alpine roller coaster... for reals. Best part, Breck's about to get even bigger -- as in "543 acres and 26 runs" bigger -- when they unveil the brand new Peak 6 this season. Now, "Go Breck a leg!"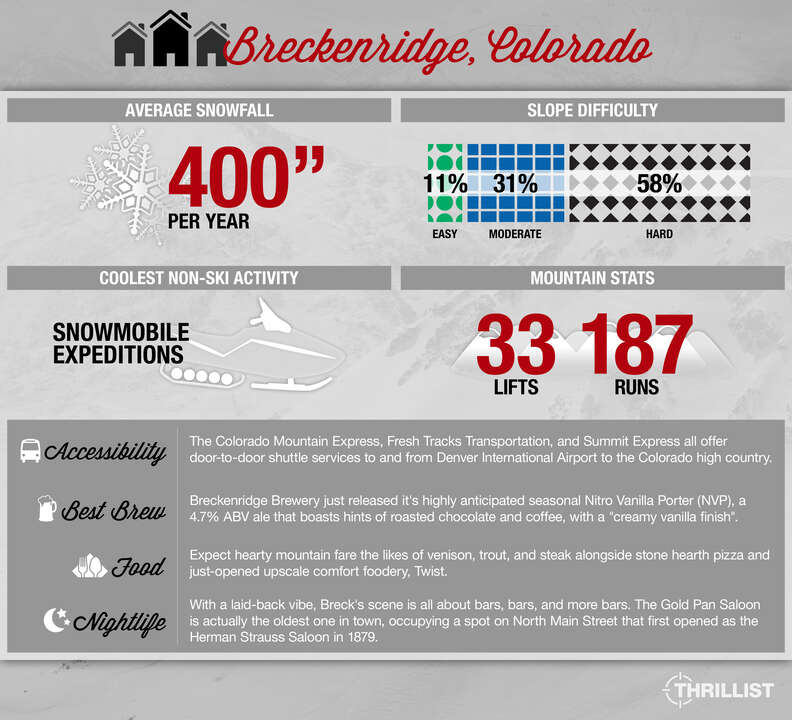 When to go: The Breckenridge season usually begins in early November and runs through mid-April. If you want to cheer on US snowboarders vying for spots on the Olympic Team, though, be here for the Dew Tour from December 12th to 15th. Or, watch teams of artists carve up 12ft high, 20-ton blocks of ice at the International Snow Sculpture Championships during the week of January 21st.
How to get around: Breck offers free transportation around town, up to the Breckenridge Ski Resort, and to Keystone Resort and Arapahoe Basin. The Breck Free Ride, meanwhile, is a transit service that provides public transportation to the town of Breckenridge and the Breckenridge Ski Resort.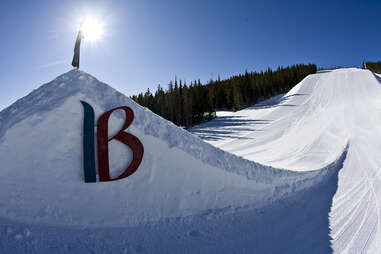 Three runs not to miss:
1. For experts, Horseshoe Bowl has some of the steepest terrain in the area. If you'd rather hike to the summit before dropping in, hit Snow White; it's an easy hike-to-bowl off the Imperial chair.
2. Breckenridge offers four terrain parks. For beginners, Trygve's (located on Peak 8) is a combination of small boxes and jumps. More intermediate tricksters, however, should check Bonanza on Peak 9.
3. For blue skiers looking for a challenge, head over to Peak 10's Cimmaron Trail. This single black diamond groomer is fast and steep with fun rollers; perfect for speed demons.
Dining: Score the best of ski-town dining (and views) at Seven's, a mixed-menu restaurant w/ a stone hearth pizza oven and full bar, inside the Grand Lodge on Peak 7. Hearthstone's a huge fave with locals, and they sling sustainably-caught seafood and local beef and game. Regional fare's the highlight at Relish, where hearty dishes like trout, venison sirloin, and Angus flat-iron steak take top billing. Finally, newcomer Twist on South Ridge Street is "putting its own spin on classic comfort food", with standouts like brie-topped veal burgers and lamb shoulder sweet potato poutine w/ cotija cheese and buffalo bratwurst gravy.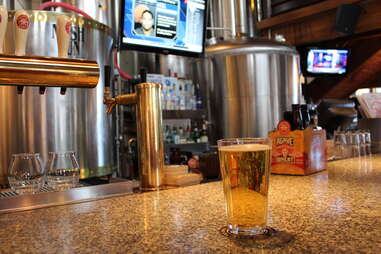 Local brews:Breckenridge Brewery was founded in the heart of town in 1990 (amazingly, they were only the state's third craft brewery). They pour a solid assemblage of 16 or so suds that run the gamut from a year-round vanilla porter and Lucky U IPA, to a caramel-tinged 7% Christmas Ale (and a happy holidays to you, kind sir!), as well as the Twenty, a double-extra-special bitter ale that's been aged six months in an oak whiskey barrel.
Après: Kick your post-ski off at the base of Peak 8's T-Bar; a longtime favorite spot for skiers celebrating a solid snow day, you can count on drink specials, small plates, and sports on the TV. Quandary Grille at the base of Peak 9 pimps cheap booze and 2-for-1 apps, while nearby (also Peak 9) Coppertop Bar & Café rocks a huge patio. Need a margarita? And who doesn't, really? Get it at Mi Casa Mexican Restaurant and Cantina, along with a few of their tasty tacos.
Nightlife: Those looking for a more laid-back vibe should hit the Blue River Bistro, with its happy hour app/ drink specials and live music. If you prefer cocktails and darts with your late-night tunes, The Motherloaded Tavern is your play. The oldest bar in Breckenridge, The Gold Pan Saloon, is a local fave, and well worth a visit. Finally, Downstairs at Eric's is your go-to for catching the game; they have 14 flat-screens, 120 beers (20 of which are on tap), and an arcade!!!
Other than skiing/ boarding?
With over 100 miles of beautiful trails to explore, it really boils down to picking your ride. As in, did somebody say snow roller coaster? Yes. Yes, they did. The Gold Runner Alpine Coaster at the base of Peak 8 stretches through 2,500ft of trails and trees, and you get to drive the two-person cars yourself. When you're done coasting, Good Times Adventures offers both Continental Divide snowmobile expeditions that climb up 11,585ft to Georgia Pass, and six-mile dog sled tours along the winding trails of the Swan River Valley. Or, if you'd rather do the work yourself (you crazy fitness guy), the Breckenridge Nordic Center opens its new day lodge this winter and provides both snowshoe trips and x-country ski lessons.
Where to stay: It's easy to find a place to lay your throbbing head (yard sale? Drink too much?) in Breckenridge, but it all depends on your maintenance level. Hardcore skiers eager to get on and off the slopes quickly will want to check out BlueSky Breckenridge for its ski-in/ ski-out convenience. Want to go baller? One Ski Hill Place is another ski-in/ ski-out property, that sports two movie lounges, a game room, bowling alley, and gondola into town. Another nicely placed spot is The Lodge & Spa at Breckenridge, which's perched atop a ridgeline, offers amazing views, and has, as the name suggests, a spa -- assuming you're, like, into that (no one's judging). And finally, the Fireside Inn is both a B&B and a hostel, which is good for you and your wallet.