The more you fly, the more you realize that going over the river and through the woods was probably a way more efficient way of getting to grandma's house. But since you chose to break your parents' hearts and move far from home, your punishment is to spend hours at airports every year, because winter weather will no doubt eff with your flight. Cheer up... It's Thanksgiving! And Boxing Day! And, because Thrillist has this handy guide on where to eat, drink, and shop at America's 10 most delayed airports, you might just find yourself happy to stay there.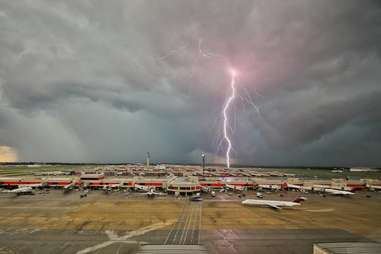 10. Hartsfield-Jackson Atlanta International Airport
Atlanta, GA
Despite not being anywhere near the Snow Belt, ATL still manages to be the 10th most delayed airport in the US. Thankfully, there's more to do than stare at the screens that scream CANCELLED.
Eats: The most commonly suggested eatery is One Flew South in Terminal E, where they're serving "Southernational" cuisine: a type of fare that ranges anywhere from waffles to sushi. For steak, hit the Atlanta Chophouse in the Northeast Atrium. In Terminal A and traveling with someone with a pressing reservation at Mr. Chow? Take them to PF Chang's for the same food. And if you aren't civically minded but rather love the hell out of delicious chicken sandwiches, there's a Chick-fil-A in Terminal C at Gate 21.
Drinks: Sweetwater Brewery doesn't miss a chance to capitalize on all those people who say "It's too bad I'm only in Atlanta for a layover, I'd love to see the Sweetwater….. WHOA! It's right HERE?", with locations at gates A25 and B11. And don't let the fact that their front office drafted Marvin Williams over CP3 (!!!) deter you from having a drink at the Atlanta Hawks Grill and Bar in Terminal A.
(VERY) Last minute gifts: Salvatore Ferragamo and Ermenegildo Zegna set up shops in Terminal A, while Emporio Armani can be found in Terminal F.
Still bored?: So you don't feel like you're that guy in the bus station who smells like mushrooms, grab a mini-room at Gate B16's Minute Suites. And while its name, The Club at ATL, might lead you to think its a regular hangout for every rapper who reps the 404, it actually sells $35 day passes that let you shower, drink, and eat pretzels for a few hours. Stuck overnight and too cheap for a mini-room? Check here for some free sleeping locales.
Escape: MARTA (Metro Atlanta's subway/ bus system) goes right to the airport, and will zip you downtown in about 20 minutes. Make your way to the North Ave stop, and you'll be rewarded with greasy chili dogs from the world-famous Varsity.
9. John F. Kennedy International Airport
New York, NY
NYC's busiest airport is also America's ninth most delayed, not to mention most difficult to traverse. Each terminal is like its own little separate airport, so whatever terminal you're lucky enough to be delayed in is probably where you're spending your time.
Eats: JFK's best new restaurants all seem to be in Terminal 5, where Deep Blue Sushi slings raw fish, 5teak serves up grilled cow, and Piquillo plates tapas so trendy you can feel like a New Yorker without having to ACTUALLY be in the city. Call that a win. If you're in Terminal 4, you can still feel like a rushed-but-always-willing-to-wait-in-line New York diner and queue up at the Shake Shack... then immediately wonder what all the fuss was about. Support medicore NFL teams and chow down on bar food while watching the game at the NY Sports Grill in Terminal 6. Stuck in Terminal 8? You've lucked out, son -- the best steaks in the entire 'port are at Bobby Van's Steakhouse.
Drinks: If you like drinking at airport bars that don't charge an extra $2 for a double, pray for a delay at Terminal 8, where you've got Vino Volo at Gate 39 and Drink Martini Bar at Gate 4.
(VERY) Last minute gifts: For all of your I'm-heading-to-Maui board short needs, there's a Ron Jon right in the middle of Terminal 5. Or regale the family with tales of your contrived Fifth Avenue exploits after stocking up at Zegna, Hugo Boss or Ferragamo at Terminal 4, pre-security. There's also a Hermes in Terminal 1, you fancy thing, you.
Still bored?: New York seems to have packed all its excitement into the actual city (go figure?) and left little for its airports. Your best bet for entertainment (other than watching the Airport Network?) is the Oasis Day Spa in Terminal 6 or Xpress Spa at Terminal 5, between gates 1-5.
Escape: JFK is NYC's most train-accessible airport; the Long Island Railroad to Penn Station takes about 35 minutes.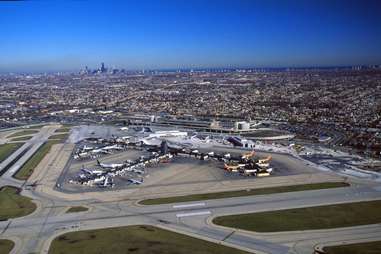 8. Chicago Midway International Airport
Chicago, IL
While O'Hare ranks much higher on the list, even the Blustery Burg's other-airport manages to clock in at #8 when it comes to major delays. Getting stuck here can be especially brutal in its own right.
Eats: The most-recommended restaurant at MDW is Potbelly's Sandwich Shop in Concourse B, which, while delicious, will kill roughly 20min of your 5-hour delay. The closest to a taste of Chicago you're gonna get is at Manny's Deli, in Terminal A. Also, not that you're in a rush or anything, they have an Express location in Concourse B. That said, the Midway Triangle Food Court'll let you do your own mini culinary tour of Chicago; hit Gold Coast Dogs for authentic Chi-town dogs, Lalo's for burritos, or Pegasus on the Fly for Greek.
Drinks: No bar is better-suited to sitting for long periods of time than one named after a guy who did it for a living, so hit Harry Caray's at that Food Court Triangle. Or, if you wanna feel like you're in one of those pubs near the place where Harry worked, try Reilly's Daughter, an authentic Wrigleyville-esque Irish bar (in that most authentically-Irish of places, the Food Court).
(VERY) Last minute gifts: If you like perusing greeting cards for hours on end, there's a Hallmark. If you're NOT a 75yr-old lady, there aren't too many other options for you.
Escape: The Orange Line train will take you right into the center of the city in about half an hour. If your delay is long, this is the only merciful option.
7. San Francisco International Airport
San Francisco, CA
Despite planes taking off and landing here for 85 years, they still have yet to find a way to do it in the fog that engulfs this city for 27 hours a day. So, the chances of your plane taking off from SFO on time are about as good as YOUR chances if you're wearing a Chiefs jersey on a flight full of Raider fans.
Eats: Ebisu, one of the most popular sushi restaurants in San Fran, has its own spot in the International Terminal. But, if you've never had a chance to eat something from an Iron Chef contestant, thank fog you can enjoy oysters, lobsters, and other stuff from Iron Chef America's Cat Cora at her namesake Kitchen. Or, try the "Famous" burger at Perry's. It's famous for a reason. Just do it.
Drinks: Anchor Brewing -- SF's best-known craft brew maven -- set up shop in Terminal 3. It's your best beer bet.
(VERY) Last minute gifts: Hit up not one but TWO Burberry stores, in the Main Terminal outside security, then again at Terminal A. And, because it's San Francisco, you can browse a whole store of Earth-friendly gifts at Destination Green in Terminal 3. Get as close to SF's great museums as you can at the Mosaic Gallery, where you can buy prints (or just coffee mugs) featuring some of the city's best artwork at Terminal 2, Boarding Area D.
Still bored?: Only in California does an airport have a designated place for you to do yoga while you wait for your plane (Terminal 2), and a place to meditate afterwards (International Terminal). Assuming you need a shower after your hour of sun salutations, hit Freshen Up in the Main Terminal by gates G91-102 -- they'll also sell you nice-smelling soaps. For the more traditional, you can tour the Aviation Museum in the International Terminal. There's also a full-on aquarium pre-security in Terminal 1. Or, take a self-guided tour of each terminal, available at the information desk; they'll lead you around all the different sculptures and artwork, and make you an instantly-annoying expert of everything SFO to your buddies, who just decided to strap one on at Anchor Brewing. We've also researched the best free places to sleep at SFO.
Escape: BART will take you right into downtown SF from the International Terminal in half an hour, for about $8.
6. Dulles International Airport
Washington, DC
DC's secondary airport moves at about the same speed as the elected body it sorta-kinda attempts to serve (Reagan National, for what it's worth, isn't even in the top ten -- note for next time).
Eats: Max and Erma's Burgers in Concourse B is gonna be your most entertaining choice, with an extensive build-your-own menu. Think of all the time-killing creativity you can channel! Alternatively, Tequilaria, also in Terminal B, has a massive selection of tequila, should you not care who's sitting next to you on your next flight (just don't lick, shoot, and suck so much you get yourself kicked off). California Tortilla is in Terminal C if you're there, and don't feel like stumbling all the way back from Tequilaria.
Drinks: Old Dominion Brewing Company in Concourse A has a good selection of craft suds, and might be the best bar ever named after a perpetual 12-seed. Harry's Taproom is your best option pre-security in the Main Terminal, and then again on the other side in Terminal B. Lastly, Firkin and Fox's in Terminal C is a good English pub, but there's also a Gordon Biersch in Terminal D if you're more of a chain kinda guy.
(VERY) Last minute gifts: Suit yourself up at Brooks Brothers in Terminal A. Then, score some really cool presents you can "only get at the museum" for all your nieces and nephews (who won't know any better) at the Smithsonian Store in Terminal B. Finally, debate buying a bunch of cool gadgets after playing with them for hours at Tech Showcase in Terminal B. Then realize you have no room in your carry-on and decide not to buy them after all.
Still bored?: Sadly, the Star Wars-looking buses that used to take you from terminal to terminal have been replaced by the AeroTrain, which is good for about a lap.
Escape: The DC Metro doesn't go anywhere near Dulles (yet), so right now it's a bus-to-train ride to get to any sights worth seeing. Unless you're stuck overnight, you're better-served taking a short cab ride to the Steven F. Udvar-Hazy Museum, where you can see the Enola Gay.
5. LaGuardia Airport
New York, NY
The smallest of New York's three airports still somehow manages to have more delays than the largest; LGA comes in right in the middle of the pack -- just like the Mets in the NL East.
Eats: There's a slew of fancy new eateries that will surely keep you occupied for a bit. The bulk of them are in Terminal C, where you can try Vuelo Taqueria for Mexican, Andrew Carmellini's Victory Grill for American (Go U-S-A!), and Custom Burgers by Pat LeFrieda for, well, custom burgers. You can also lounge like you're summering in the Hamptons, even though you're Novembering in Flushing, at Bisoux in the Delta Terminal. The Delta Terminal also hosts Taste of Prime, a steakhouse that's criticized for slow service... which is perfect, as you've got four hours to kill! Todd English's Fig's Café is outside security, but if you're in the D Terminal you can try out the whole restaurant.
Drinks: The only thing from Boston that anybody in New York will enjoy is the Sam Adams Bar in Terminal B. In Terminal C there's Slip Mahoney's Irish Pub -- not quite what you'd see in Gangs of New York, but it's also considerably safer.
(VERY) Last minute gifts: Shop for Jay Z (or your bro that likes snapback Expos hats) at Lids at the Center Food Court. Hit the MOMA store for the highest culture you're ever gonna find in a food court, and a last-minute somthing for Mom.
Still bored?: There're two Xpress Spas in Terminal C. Go relax.
Escape: If the Mets are in town, and you feel like rooting for them because no one else will (oh snap, another Met's joke), Citi Field is a very short cab ride to the other side of the tarmac. And, shockingly, good seats are pretty much always available. If the Mets are not in town (see: Holiday Season) and you have four hours or more, the Port Authority bus into Manhattan takes about 25-35 minutes.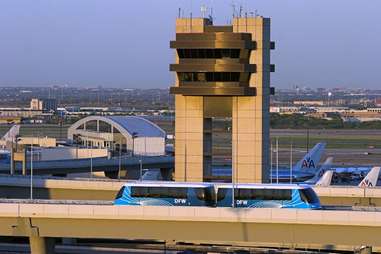 4. Dallas/ Fort Worth International Airport
Dallas, TX
"It gets cold in Texas" should be about as surprising a revelation as "There are cowboys in Texas". Yeah, it gets cold. Hell, it evens snows occasionally -- just ask Leon Lett. And since everything is bigger here, so are the flight delays -- placing DFW solidly at #4.
Eats: The best restaurants are all in Terminal D, so if you're NOT in Terminal D, slowly kill some time while getting there on the Skylink. Once you arrive, Cantina Laredo is probably your best move. You might also want to try Reata Grill. Over in Terminal C, and despite the protests of furry blue Muppets everywhere, the C clearly stands for Cereal because it's where you'll find an actual custom cereal mixing bar called Cereality. Possibly the coolest airport breakfast in the world. Outside security, you can hit the M Lounge at the Grand Hyatt for cool cocktails and small plates.
Drinks: To catch a game, look no further than the Texas Stadium Sky Box in Terminals A, B, and C, even if they haven't yet been renamed for the new stadium. The spiffy new Terminal D houses the Blue Mesa Taco and Tequila Bar -- which has a little more of the Tex-Mex you'd expect outta Dallas. Finally, the Tigin Irish Pub offers exactly the kind of Irish food you'd expect from Dallas.
(VERY) Last minute gifts: The Dallas Cowboys Team Shop in Terminals A, D, and E will probably let you get the team logo tattooed on your child's face if you pay them enough. If Children's Services already has their eye on you, roll instead with some Cowboys bottled water, or tailgate covers, or pajama jeans. If you'd like to look for some clothing that does NOT have a giant lone star on it… GIT OUTTA TEXAS!!!! Or head to Brooks Brothers in Terminals C, D, and E.
Still bored?: Though not as hip-hopperiffic-sounding as "The Club at ATL," The Club at DFW's got the same showers, drinks, and crazy snack nut bowls as its Atlanta counterpart -- and for the same $35. Terminal D also hosts a sculpture garden, which is a nice place to relax (that's not quite as sissy-sounding as SFO's "meditation room"). Just outside is the airport's Founders Plaza, where you can listen to air traffic control while looking through telescopes, learn the history of DFW, or just keep thinking to yourself "Man, it gets COLD in Texas??" If all that excitement leaves you tuckered, take a nap at the Minute Suites in Terminal D. Or shower. Or do whatever else you'd otherwise do in a hotel room the size of your closet. Alternatively, check out these free places to sleep if you're grounded and cash-poor.
Escape: DART connects to DFW via the 500 bus, which you can catch at Terminal A and take to the Belt Line station. There, take the Orange Line train into downtown Dallas.
3. Miami International Airport
Miami, FL
In a city where saying you'll show up at 9pm really means you'll be there at 11:30p, nobody should be surprised the airport also runs on "Miami Time". And while it's normally excellent to spend extra time in Miami, meh, notsomuch when it's all at the airport.
Eats: You're in Miami -- have some Cuban food. Hit Versailles in Terminal D, the airport's outpost of the Little Havana landmark that's launched 14,000 plots to kill Castro. Gloria Estefan's take on Cuban is available at Bongo's in the H-J connector hallway. If you're hungry for Caribbean food that's not Cuban, Lorena Garcia Cocina's got the goods. For the most romantic view you can get whilst under constant TSA surveillance, Top of the Port at the Miami Airport Hotel has a panoramic view of the tarmac.
Drinks: Outside security at Terminal E's you'll find Casa Bacardi, where they serve fruity drinks hitherto thought to be allowed only on the beach. Looking at your watch thinking "Man! I'd be in Mexico sipping a Corona right now if it wasn't for this stupid 'crew rest' rule"... GOOD NEWS! Sip two, or three, until that crew is good and rested, at the Corona Bar in Concourse J. And in Terminal D, Beaudevin has a vino selection that would make a lot of South Beach restaurants jealous.
(VERY) Last minute gifts: This layover is a blessing in disguise, 'cuz you can get your abuelo swag from Havana Shirts in Terminals E, F, and G, and Cubavera in Terminals H and J. Or go a little more South Beach and hit Emporio Armani in Terminal D, or Hugo Boss in H and J. Keep on going -- you're on a roll -- to the Florida Keys at the Ron Jon Surf Shop in E, F, and G.
Still bored?: The Brazilian artist whose work is on toilet seats and electric bills in the 305, Romero Britto, has a gallery in Terminal D that you can enjoy and locals can sprint past. If your delay's looking like an overnighter, and that row of chairs isn't looking QUITE as comfortable as it did when you flew to Europe in college, the Miami Airport Hotel has rooms -- and you don't even have to leave the terminal. If you wanna ditch your bags for the entire layover, there's a luggage check in Terminal E that'll take 'em off your hands.
Escape: After dropping your bags, hop the MIA Mover to the Metrorail Station and take the Orange Line into Downtown Miami or Brickell. But don't let NBA analysts fool you: Downtown Miami is nowhere near South Beach, so you'll have to jump on the Airport Flyer bus for a 45min ride there.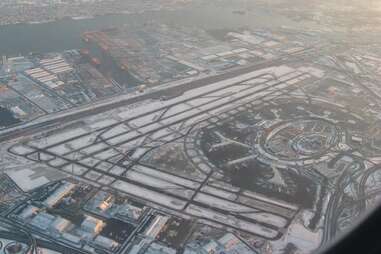 2. Newark Liberty International Airport
Because New Jersey just has an uncanny knack for taking the bad things about New York and making them worse, the delays at NYC's lone Jersey 'port are not only the worst in the Tri-State area, but second -worst in the country. Raise up, New Jersey, you finally bested New York in something other than superfund sites.
Eats: NYC classic Gallagher's Steakhouse has an EWR outpost in Terminal C, and is your best bet for a long, leisurely meal. Eat like a local and waste endless hours at the Garden State Diner in Terminal C. The Grand Central Oyster Bar is in Grand Central Station, of course, but has a spot in Terminal C as well. And it wouldn't be Jersey without some chain restos, so make sure you get the best mass-marketed ribs at Tony Roma's in Terminal A.
Drinks: Terminal B must stand for "Booze" (or Beer?) 'cuz it houses the Belgian Beer Café, City Point Bar, Champps Americana sports bar, and McGinley's Pub. Airport pub crawl!!! But if you're stuck in Terminals C or D, there's a Sam Adams for you.
(VERY) Last minute gifts: Score great presents that don't scream "I bought this at the airport" from the Smithsonian Treasures Museum in Terminal C.
Still bored?: Keep browsing that museum store.
Escape: The Air Train will take you to the NJ Transit Newark Airport Station, where you can jump on a train to Penn Station; it can often be faster than a bus or a taxi. The Port Authority also runs a bus service.
1. Chicago O'Hare International Airport
Chicago, IL
Number one on our list shouldn't come as a shock to anyone who's ever flown between coasts. Or anywhere, really, since delays at ORD often domino into delays in Maui for completely inexplicable reasons. If your travel plans call for a stop at O'Hare, prepare to be there longer than you thought.
Eats: The best chocolates in Chicago are available at Vosges at Terminal 1. Don't plan to spend a lot of time there, though, or Southwest may charge you twice. Another short eating stint can be had at Garrett Popcorn, where the Chicago Mix is not to be missed. Wolfgang Puck owns O'Hare like MJ owned the Knicks, with three locations -- Terminal 1 (Gate B7) and Terminal 3 (Gate K1 and K12). If you're the type of person who likes to eat seafood in the Midwest, try Wicker Park Seafood and Sushi in Terminal 2.
Drinks: You can't touch down in Chicago without drinking their official beer: Goose Island. Lucky for you, there's a whole bar devoted to it between Terminals 1 and 2. The Fox Sports Sky Box is hardly unique to O'Hare, but it is the best place to watch a game. Or 3, if you're snowed in.
(VERY) Last minute gifts: High fashion hasn't hit O'Hare yet. Aside from the Tech Showcase in Terminal 2, your options are limited.
Still bored?: Of the 10 most delayed airports, only the most delayed of the delayed has a gym that's readily usable. The Hilton Hotel Fitness Center's attached to the airport, and $11 will buy you a day pass so you can burn off some calories instead of consuming them.
Escape: The Blue Line CTA train goes all the way to O'Hare, but it's a roasting hot/ bone-chilling cold 45min ride into the city. Welcome to Chicago!!