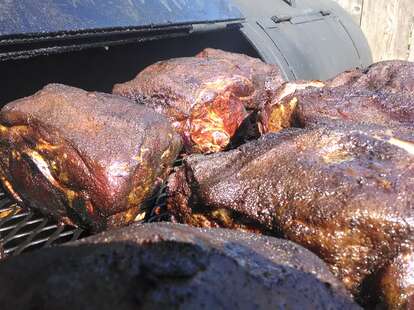 Every backyard chef needs his Everest. Or his K2. Or his Chogolisa, which is 36th on the list of world's highest mountains, but still really, really high. We got chefs from around the country to give us some of their most insanely involved meat dishes -- hunks of protein you'll be spending anywhere from 14 hours to 3 days marinating, brining, or slow cooking to perfection... and about five minutes devouring with dozens of your closest/largest friends.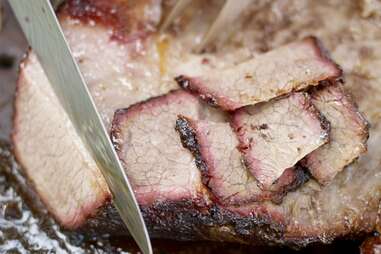 "GET A BOOK" WHOLE BEEF BRISKET
Serious Barbecue Cookbook
Los Angeles, CA
Chef Adam Perry Lang
LA barbecue by way of New Mexico, this brisket's paste, seasoning blend, wrapping mixture, and finishing sauce all contribute to its very long, worthwhile process. "I call it 'get a book' brisket, because it'll have you cooking for a long time," says Perry Lang. Total Prep Time: 13 Hours.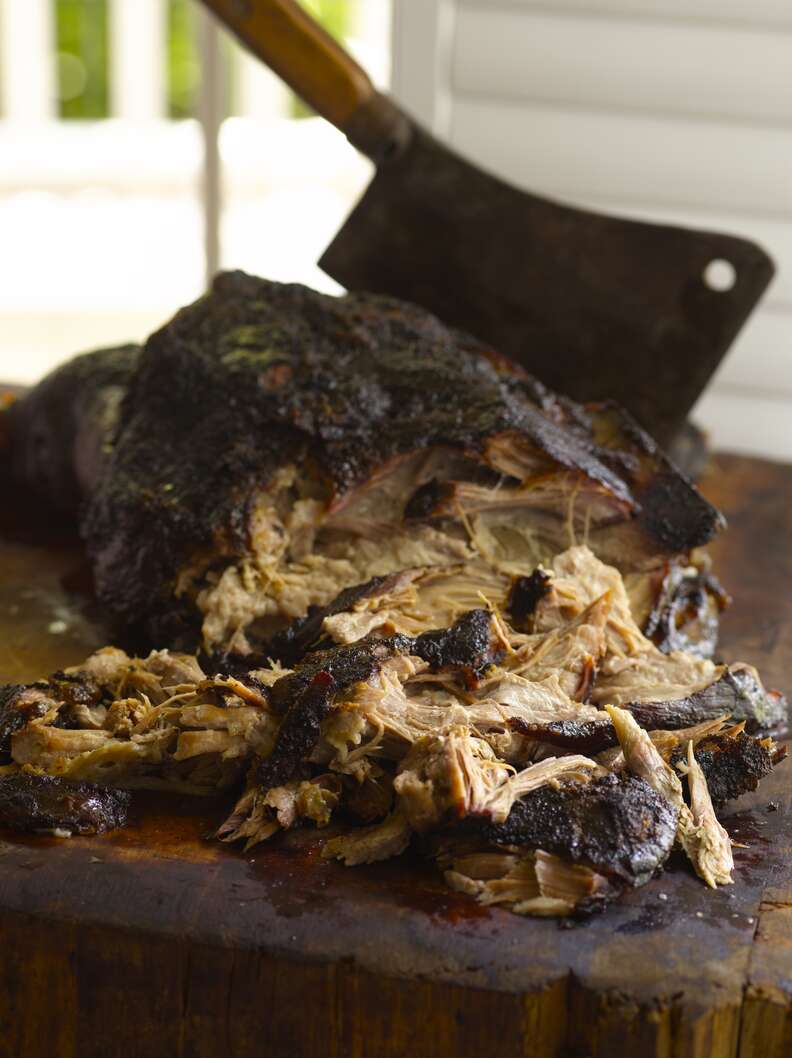 8-TIME WORLD CHAMPIONSHIP PORK SHOULDER
Big Bob Gibson
Monroe, NC
Chef Chris Lilly
Things get serious when the meat syringes come out -- the secret to this hunk is injecting it with apple juice and sugar before throwing it in the smoker until it's achieved the state of preparation technically known as "meat pulls off the bone". Total Prep Time: 14-16 hours.
SMOKED BEEF SHIN
Woodshed Smokehouse
Fort Worth, TX
Chef Tim Love
Iron Chef-dominating restaurateur Tim Love preps all ten pounds of his Smoked Beef Shin with a rub of cayenne pepper plus his signature Wild Game Rub -- a mixture of spices such as cumin, rosemary, chile powder and thyme. Total Prep Time: 18 hours.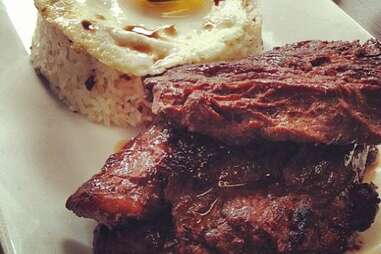 BBQ BEEF ADOBO
Jeepney Filipino Gastropub
New York, NY
Chef Miguel Trinidad
Calling for a mere 10 pounds of meat, Jeepney's flank steak recipe gets marinade-alicious for a full day before even seeing flame. The cook time is significantly speedier, but you're still going to want to snack on 8-10 bags of Combos while you're waiting. Total Prep Time: 27-51 hours.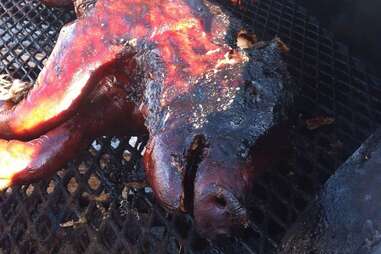 THE SUCKLING TURDUCKLING
Bone Lick BBQ
Atlanta, GA
Chef Mike LaSage
Meet a meat masterpiece: a quail stuffed inside a Cornish hen, inside of a chicken, inside of a duck, inside of a turkey, with various layers of stuffing between each bird. LaSage then takes the whole thing, wraps it in bacon, and stuffs it inside a suckling pig. Hear that? That's the sound of America's collective BMI going up 20 points. Total Prep Time: 48 hours.
PORK SHANK
Barter
Dallas, TX
Chef Andrew Dilda
Barter's Executive Chef puts a very special ingredient in his Pork Shank: Coca-Cola. "It brings a unique sweetness and color to the pork. Plus, the phosphoric acid helps break down the tough connective tissue." Dishes like this are why Dilda runs Barter town. Total Prep Time: 58-70 hours.
PORK SHOULDER
McClure's Barbecue
New Orleans, LA
Chef Neil McClure
Preparation for McClure's famous Shoulder begins by trimming the excess fat off the pork butts and submerging them in a brine including sugar, salt, soy, orange juice, and root beer. Not enough flavor? He then injects them with a Mott's-ly brew of North Carolina-style vinegar sauce and apple juice. Total Prep Time: About 3 days.
See the full recipe here, and consider hiring a meat sherpa.