You probably already know that Jamaica's coastline is home to some of the most beautiful beaches in the Caribbean, drawing millions of sun worshippers every year. But do you know which beaches are the best of the best -- the Top Gun pilots of beachdom? Well here they are, from music-blasting funfests to secluded spots few even know to seek out.
Cornwall Beach
Montego Bay
Why it's on this list: It's right next door to Doctor's Cave -- you can actually walk over –but far less crowded and just as awesome for a swim. It's a wonder more tourists don't come here, given the US$5 entrance fee is the same -- maybe because it's the missing the umbrellas?
Bonus: Cornwall Sunday afternoon parties feature a "bottomless" Appleton Rum mug option you should consider an imperative.

Silver Sands
Duncans Bay
Why it's on this list: Because the waters are gin-clear, the sand as ultra fine and pink as Olivia Newton John would've been if the Pink Ladies had given her a jacket (they never did, right? That's weird.), and the private stretch means fewer crowds and no vendors whatsoever. The catch: you have to stay a night at the Silver Sands Villas, but it's well worth it.
Bonus: Take a walk and look back to marvel at the towering bluffs above. Now marvel some more.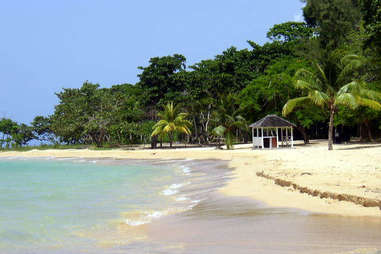 Mammee Bay Beach
Ocho Rios
Why it's on this list: Even though it's half-public and half private (courtesy of the RIU), Mammee Bay's so stunning it's a must. Set up camp at Bamboo Blu beachfront restaurant, where you can recline on a daybed feasting on grilled lobster and sipping a Cool Runnings. Feel the rhythm, feel the rhyme, get on up… then lie back down, because it's a day bed.
Bonus: The conditions on this side of the coast are ideal for windsurfing and just about any other water sport that tickles your swim trunks.
Boston Bay Beach
Boston Bay
Why it's on the list: This golden stretch is clean, uncrowded by tourists or vendors, and close to affordable hotels, like Great Huts, which don't even need pizza to live up to their name. Boston Bay is also known for its occasional wave action, perfect for beginning surfers (there's a surf shack for rentals and lessons).
Bonus: Boston Bay is the birthplace of jerk cuisine; adjacent you'll find the Boston Bay Jerk Center -- a row of shacks serving traditional jerk (cooked on open pits fired by pimento logs, the whole thing covered with corrugated zinc sheets).
Frenchman's Cove
Port Antonio
Why it's on this list: To get to this isolated swimming spot, made famous when Liz Taylor and Richard Burton frolicked here, you have to stroll past lush gardens and an emerald-hued freshwater river. Once you arrive, lie back on the white sand and ponder for a moment the fact that Liz Taylor provided voiceover work for a Captain Planet movie.
Bonus: Cool off in that glorious river (there are no piranha in Jamaica), or stroll in the park for plenty of shade.
Winnifred Beach (Fairy Hill Beach)
Port Antonio
Why it's on this list: Winnifred is golden, ultra local in flavor and fun to find off the main, cliff-top road and down a bumpy pathway. Sea grape trees line a mile of sand, and the water is the most vibrant turquoise you'll see in Jamaica (yes, there are varying shades).
Bonus: Jerk grills and craft vendors add to the flavor, as well as occasional live Reggae, but the atmosphere is above all peaceful.
Calabash Bay Beach
Treasure Beach
Why it's on this list: Because you can escape other vacationers on these wide, black sand beaches and in the fishing villages of Treasure Beach. There are only a handful of small hotels nearby, including the popular Jakes.
Bonus: You're just a half-mile from Pelican Bar, the watering hole out at sea, where you can throw back Red Stripes, swim, and snack on freshly cooked fresh catch. Make it out here, and when it comes to tourists, you're the best of the best.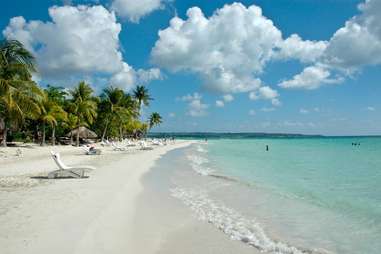 Seven Mile Beach
Negril
Why it's on this list: Because there really are seven, uninterrupted miles of fine white sand. But it's not just about that, or the turquoise sea, or fiery sunsets. Seven Mile is also a fountain of entertainment, with weekly live Reggae, a constant stream of snack vendors, and countless restaurants for when you've somehow decided a constant stream of snacks isn't a meal.
Bonus: You're a ten-minute walk from Negril's breathtaking cliff side, which should have a Stallone-themed bar dangling off the side called Cliffhanger's. Just saying.

Doctor's Cave Beach
Montego Bay
Why it's on this list: Stretching along the Hip Strip, it's Montego Bay's most popular beach, and while it's a small one, it's hard to resist with its multicolor umbrellas, frothy mix of locals and tourists, and view of jumbo jets descending towards Sangster as you yell, "Already found the cool beach, brosephs".
Bonus: The Groovy Grouper beach bar dishes out patties and other fare.