Sponsored By
Virginia Beach
The 10 Craft Breweries You Have to Drink at in Virginia Beach
Sponsored By
Virginia Beach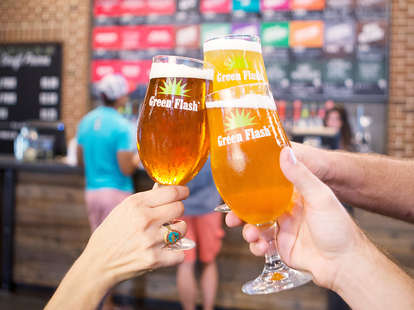 Virginia Beach may be known for lots and lots of seafood (and especially oysters), but we're here to tell you that no trip to the city would be complete without checking out its beer scene. Coastal Virginia is booming with craft breweries (the state ranks 13th in the US for breweries per capita), and there are more set to open in 2018.
Most of that growth has happened in the last five years, after Virginia made it legal for taprooms to sell beer by the glass without needing a full-service restaurant. With nine breweries in Virginia Beach alone, there's plenty of uncharted beer territory to explore (and brag to your beer-snob friends about). Plus, most of these craft brewers are paying homage to their local roots in some way, so grab your growlers and prepare to get a true taste of the town.
The Backstory: Founded in 2010 by rebellious newlyweds Justin and Kristin MacDonald, Reaver Beach pays homage to an unconventional attitude (reaver means "plundering forager"). It was the first brewery in Virginia Beach to install a "coolship" -- a brewing apparatus used to make wild ales, which have become its specialty. Made with wild yeast or bacteria, and unpredictable to work with, these ales were commonplace prior to the 1880s (when a pure strain of yeast was isolated for beer-making), and are seeing a resurgence now.
The Brewery: Reaver Beach takes an offbeat approach to its tap room, too, where in addition to the wild ales, you'll find an extensive menu of sour beers fermented with fruits like raspberry and apricot, as well as more traditional styles with oceanic names (like their Hoptopus or Hammerhead IPAs). Every month, Justin hosts a "Beer Nerd Forum" for those who want to dive deep into the brewing process. There are also regular release parties for the newest test beers, for when your palate is feeling adventurous.
The Beer You Need To Try: There are 20 rotating beers on tap, but you'll always find The Reaver sour ale available. It's their flagship, year-round brew, with a taste that's tart and funky.
The Backstory: Virginia Beach is more than sandy beaches and ocean waters, and this brewery (opened in 2011) reflects that diversity. The city's Back Bay region is home to a national wildlife refuge, first established in 1938, as well as the historic Pungo region, which contains 8,000 acres of farmland that's been producing crops since colonial times. Two of the brewery's founders, Charlie Burroughs and Josh Canada, have roots in the Back Bay area, and actually decided to go into the beer business while duck-hunting together -- then fittingly named their event space "The Blind" and VIP program "The Hunt Club" to further honor that wildlife culture.
The Brewery: The tasting room, located in the ViBe Creative District, is actually closer to the oceanfront than the Back Bay area, but the space retains roots to its namesake: the building is a converted former fish house and the tin walls come from a Back Bay farmhouse. You can usually find live music at the brewery on Saturday nights, too -- and if you're feeling inspired, they host beer-brewing classes throughout the year.
The Beer You Need To Try: For a taste of history, try their Witch of Pungo Pumpkin Ale, named for the legendary "Witch of Pungo" Grace Sherwood. The last person in Virginia to be convicted of witchcraft, Sherwood was accused by neighbors of ruining crops and shapeshifting into a cat, earning her a "trial by water" and seven years in jail. Her name was cleared 300 years later, and now lives on via this tribute beer, which has a touch of sweet potato to round out its autumnal flavors.
The Backstory: Virginia Beach is home to not one, but two military bases: Naval Air Station Oceana and the Joint Expeditionary Base Little Creek-Fort Story. That means Virginia Beach has been home to military members and their families for decades, and there's a deep military pride that runs through the town. Young Veterans Brewing Co. encompasses all that. Founded in 2012 by Army veterans Thomas Wilder and Neil McCanon, who both served in Iraq, the brewery is dedicated to military history -- World War II in particular.
The Brewery: Located just a 12-minute drive from the oceanfront, the taproom at Young Veterans is as much about the military as it is about beer. Every brew's label is designed to look like a World War II propaganda poster -- with a name to match -- and similar artwork lines the taproom. They pour seven flagship brews, plus special releases seasonally, all of which have military-inspired names (G.I. Pilsner, New Recruit Honey Blonde Ale). YVBC also hosts fundraisers for vets, as well as bi-monthly trivia nights on site. Plus, there are plans to open a second location, a brew pub near the oceanfront, this spring, where they'll have more entertainment options, like live music and bar games.
The Beer You Need To Try: Pineapple Grenade Hefeweizen is a flagship brew, and a quirky take on the traditional German style, with tropical notes such as banana.
The Backstory: Wasserhund means "water dog" in German, and its beer is likewise described as "German brewing with a beach kick." Local couple/dog parents Aaron and Christine Holley, who grew up in Virginia Beach, decided to bring German-style brewing to their area after a trip to Oktoberfest in 2012. They even strictly follow the 500-year-old German Purity Law, which states that only hops, barley, water, and yeast can find their way into your stein.
The Brewery: Besides offering German brews without the transatlantic flight, the brewery is known for having some of the best pub eats in town -- especially its unique pizzas, which are all named after dogs. (Their signature Wasserhund pie is topped with sauerkraut and bratwurst.) Besides food, you'll find regular gaming events (like trivia and bingo) as well as some oddball annuals such as an adults-only prom with a steampunk theme that would put your high school dance to shame.
The Beer You Need To Try: After dinner, skip dessert and try the Haagen Dog Ice Cream Stout -- made to taste like vanilla and chocolate ice cream in a glass, and one of their specialties.
The Backstory: Joe Curtis, a Norfolk resident who spent 20 years in the Marine Corps, opened Home Republic in 2014 with the goal of making it "feel like home" to visitors. Located a stone's throw from the Atlantic, in the Oceanfront Resort District, it's also steps from the iconic Virginia Beach Boardwalk.
The Brewery: If you're looking for a classic beach pub, Home Republic is the place. Besides the convenient locale, there's a full-service restaurant and wine shop in addition to the brewery -- plus plenty of other local craft beers on tap. There's Trivia Tuesday every week, and a weekday happy hour that offers unique drink specials and inexpensive eats (think cheese and sausage plates and the "extra smokey beer burger" with gouda and guacamole).
The Beer You Need To Try: King Kolsch is their award-winning speciality and a classic Kolsch-style beer, while their Salted Caramel Ale, a brown ale with caramel notes and a touch of sea salt, is perfect for chilly winter nights at the beach.
The Backstory: A few centuries before Pleasure House Brewing opened in 2014, residents of Virginia Beach would kick back at another watering hole: the Pleasure House Tavern. The circa- 16th or 17th century bar stood somewhere near the Chesapeake Bay -- just a short ride from the current brewery. (Its exact location and time of operation are still debated.) Soldiers even used the tavern as a lookout tower and base during the War of 1812, and letters from those stationed there indicate it may have been the area's first dive bar, way before those were trendy: "The dirtiest house I have ever seen in my life," wrote one soldier, clearly a Yelp reviewer in the making.
The Brewery: Today, Pleasure House Brewing is a bit more hospitable, and is actually designed to be as comfortable as your living room -- we're talking hook-up-to-free-wifi, get-Chinese food-delivered comfy. (Seriously. The brewery's website even recommends a few nearby restaurants that deliver.) In addition to daily tasting room hours, there are weekly events (Wednesday night trivia, anyone?) on the schedule.
The Beer You Need To Try: While the brewery's 11 taps are always rotating, their Glo Belgian Blond and OB's Wattleseed Stout are award-winners and on draft at all times.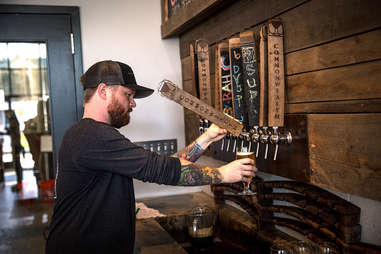 The Backstory: Every town loves a good ghost story, and Virginia Beach is no different. For years, locals believed the Chesapeake Beach Volunteer Fire and Rescue Station -- now the home of Commonwealth Brewing -- to be haunted by the ghost of Benjamin Bishop, one of the station's firefighters who died in the '70s. He would act like a practical joker, setting off sirens and alarms, slamming truck doors; because of that, the town hosted their annual Halloween haunted house at the Chic's Beach firehouse until 2013. That year, the squad moved to a new station, and the building became Commonwealth Brewing two years later. Bishop didn't stick around for the beer, though: Local newspapers say similar occurrences now happen at the new fire station, while the brewery has been poltergeist-free.
The Brewery: The old fire station was known as a community gathering spot, so Commonwealth built their taproom around the same concept. It's designed to feel like a European beer hall, so those American bar standards (free wifi, walls of big-screen TVs) are scratched in favor of long communal tables, outdoor seating, food trucks, and cornhole. In addition to 28 taps in the main tasting room, the brewery also hosts everything from a book club to yoga classes in their space.
The Beer You Need To Try: Don't be overwhelmed by the gigantic beer list (but do be sure to appreciate each can's label -- they're practically art). To avoid paralysis of choice, try the Sophrosyne Aged Saison: It's brewed with American malt, wheat, and spelt; aged for six months; and blended with a bit of their house Solera to make it slightly tart. The best part? The Sophrosyne's creation was a happy accident -- it's fermented with an airborne wild yeast strain that was unintentionally captured at the brewery.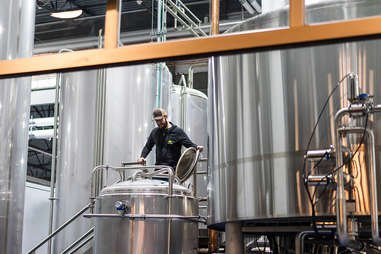 The Backstory: While Green Flash only opened here in 2016, it has a long history on the West Coast, where it was founded in San Diego in 2002. Since then, it's grown to be the 45th largest craft brewery in the country -- with the Virginia Beach location producing about 100,000 barrels of beer annually. Green Flash founders Mike and Lisa Hinkley chose Virginia Beach to house their East Coast operation in part because of the similarities between the two towns: in addition to being coastal resorts, both boast vibrant military communities, particularly with the Navy.
The Brewery: Green Flash is known for its hoppy IPAs but there are more than 30 different beers on tap, if those aren't your thing. Besides the extensive selection, head here to check out their one-acre beer garden, murals by local artists on the walls, and regularly-stationed food trucks. Tours of the brewery are held daily, too, if you want to get an inside look at the process.
The Beer You Need To Try: Beyond their flagship beers, like the popular West Coast IPA, Green Flash brews some quirky seasonal options, too. Their Cellar3 varieties are barrel-aged; for something a little different, try their Sepia Frumento -- a barleywine variety. The Sea to Sea Lager is also notable as the beer they brewed in tribute to their trek from West Coast to East.
The Backstory: Native Virginian and former attorney Porter Hardy first opened Smartmouth Brewing in 2012, in nearby Norfolk, but at the end of 2017, it expanded to Virginia Beach proper. The new location, inside an old Post Office building, is called "Pilot House" after the nautical term for a boat's bridge -- as well as an homage to a "pilot batch," as in the trial brew of a new beer (like the ones created here).
The Brewery: While the Norfolk location remains Smartmouth's main production facility, Pilot House acts as a tasting room and smaller, experimental brewery. Food trucks are usually nearby when the tasting room is open, and their event calendar is set to be filled with everything from trivia nights to local music spotlights. And while experimental brews are what's made here, Smartmouth's core beers are always on tap.
The Beer You Need To Try: Alter Ego, their flagship brew, is a farmhouse style Belgian saison named in honor of Hardy's "alter ego" -- in that he left his day job as a lawyer to make beer full time.
The Backstory: Deadline is one of the newest breweries in Virginia Beach, as in opened-its doors-a-few-months-ago new. The name plays on the history of its three founders -- Jason Marks, Erica Greenway, and Darrell Cuenca -- who all have backgrounds at news organizations. (Marks and Greenway work for local broadcast stations and Cuenca was a writer for the Virginian-Pilot, the local newspaper.)
The Brewery: Deadline is a nanobrewery, which means it's especially tiny. While there are only five beers on tap, its location, a few blocks from the beach on a hiking trail that runs through First Landing State Park, makes it worth a stop. Events are also beginning to fill their calendar, like a monthly trivia night.
The Beer You Need To Try: Being so modestly sized affords Deadline the option to make small-batch brews in unique flavors; their newest is a Persimmon Wheat. Or, if you're feeling festive, the Maple Cranberry Stout is prime drinking for winter. Better book that brewery crawl, stat.