Take an Adult Field Trip to These Nostalgic Atlanta Destinations
From the World of Coca-Cola to 21+ nights at art museums, don't miss these great experiences in the ATL.
Paid Content For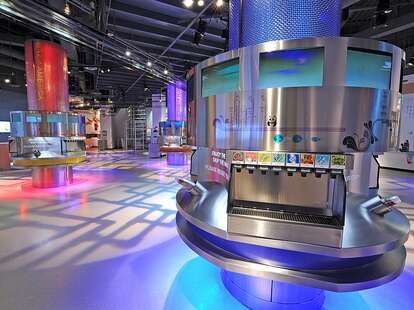 Courtesy of World of Coca-Cola
Growing up in Atlanta has its perks. You're automatically immersed into a culture that influences everything, and you're also surrounded by plenty of historical monuments, from Martin Luther King Jr.'s birth home to the lasting remnants from the 1996 Olympic Games. However, what is less than optimal about being in such proximity to so many cool monuments and landmarks is that we sometimes take it for granted. You've likely visited all of Atlanta's essential attractions multiple times by the time you reach high school, and perhaps haven't returned to many since.
Thanks to the not-so varied field trips that we all went on during elementary, middle, and high school, you may feel like there's no point in visiting as an adult, but, well, you'd be wrong. Since reopening from the initial shutdown at the start of the pandemic last year, Atlanta's attractions have come back better than ever. Some have returned to hosting special, 21+ events while others have added brand new permanent exhibitions, and of course, entirely new attractions have popped up as well. From the zoo to the aquarium, there are now several nostalgic attractions in the city that you absolutely have to experience as an adult, and to help you get back out there and experience Atlanta's attractions, we've organized an Adult Field Trip for you.
So pack your day bags and leave the permission slips at home — here are all the nostalgic local tourist destinations on your itinerary.
There's no better place to make our first stop on this adult field trip than the World of Coca-Cola. When reminiscing about the Downtown Atlanta attraction, one part of the entire experience probably sticks out to you the most — drinking Beverly for the first time while exploring the tasting room. If that's the case for you, you haven't been to the World of Coca-Cola since you were in high school, so now is the perfect time to pay it a visit.
Last fall, the beloved attraction added its first permanent exhibition since 2011, and this year, it also introduced the Coke Insider Journey. The Insider Journey is a two-hour, VIP experience that gives you private access to the entire World of Coca-Cola — meaning that the only way you'll have to put up with kids is if you bring them along. Parties of two-to-10 people will receive a dedicated ambassador to guide them on an early morning tour through the attraction, which will consist of a classic soda jerk demonstration, an Olympic torch show-and-tell, and exclusive commemorative merchandise.
Cost: Admission to the Coke Insider Journey is $50 per adult, and general admission adult tickets cost $18.
Running neck and neck with the World of Coca-Cola for bragging rights as Atlanta's most popular tourist attraction is the Georgia Aquarium, and just like the first stop on our field trip, it lives up to its hype. For adults, the aquarium regularly hosts an event called Sips Under The Sea, in which they hold a themed cocktail party for guests ages 21 and older. Although there are some exceptions, the recurring event typically happens on a monthly basis, and attendees are welcomed to come dressed according to the respective theme — whether it be an '80s throwback theme or a spooky Halloween costume party — and enjoy a night of specialty cocktails. And if you're thinking to yourself, "this may be a good idea for a date!" — it is. By purchasing VIP tickets to a Sips Under The Sea event, you typically get three alcoholic drink tickets per ticket, so you and your date will be able to enjoy three drinks apiece and explore the Georgia Aquarium for an extremely reasonable price.
Cost: General admission to Sips Under The Sea is $40, and VIP admission is $55. A standard general admission ticket is $38.
Atlanta natives may remember coming here during their school days, but Atlanta's premiere science and natural history museum is well worth swinging by for one of the best nerdy date nights in Atlanta. Every second Friday of the month belongs to Fernbank After Dark, a 21+ event that includes outdoor explorations in WildWoods, museum exhibits, live music, full bars, tapas menus, and science demonstrations. The Fernbank After Dark series aims to highlight different scientific themes, so each event features a unique variety of fun and immersive programming. The events normally run from 7 p.m. to 11 p.m., and with themes ranging from microbe brews to alternate realities, you and your curious counterparts are sure to have a mentally stimulating experience.
Cost: Admission for Fernbank After Dark is $22. General admission tickets will set you back $20.
The High Museum Of Art is one of the best local attractions because you can visit it several times over a few months and have a unique experience every time you go. The wealth of art exhibitions —which currently include Gatecrashers: The Rise of the Self-Taught Artist in America, Calder-Picasso, and more — are intriguing on their own, but the High does a great job of regularly holding events catered to its diverse audience, from teen art classes to mature Friday night events. While there isn't technically an age limit on either of them, HIGH Frequency Fridays (the first Friday of the month) and Friday Jazz (the third Friday of the month) both offer some Friday night fun for an older audience, as you can hear live music from local DJs and jazz musicians and enjoy cocktails while exploring the High's latest exhibitions.
Cost: Admission to HIGH Frequency Fridays and Friday Jazz is typically $20 and $25, respectively. General admission for standard access to the museum is $16.50.
For all the local nature lovers whose childhood was filled with exciting trips to the zoo, Zoo Atlanta hosts an annual event series during the summer called Brew At The Zoo, which gives guests 21+ the opportunity to experience the Zoo in a more adult-friendly environment. In addition to being able to see and interact with the animals, Brew At The Zoo attendees are treated to live music and beer and wine tastings. Beer and wine stations are scattered throughout the zoo, so depending on when you visit, you may find Scofflaw Brewing Co. beers at the Zambezi Elephant Center or Line Creek Brewing Co. samples near the otters. The final Brew At The Zoo of 2021 took place on Friday, August 27, but Zoo Atlanta has confirmed that the summer event series will return again in 2022.
Cost: Timed tickets to the zoo currently run from $27 per adult.
Since opening in 1976, the Atlanta Botanical Garden has been a beautiful outdoor attraction in Midtown, and Atlanta natives will definitely appreciate it as an adult, too, especially at one of its recurring Cocktails in the Garden events. From May through September, guests are invited to enjoy the sprawling botanical garden during the evening, with well-stocked cocktail bars in the cooler nighttime air. Cocktails in the Garden takes place every day from Tuesday to Sunday during the summer stretch, and you can also expect live music from local musicians. There are bars stationed throughout the garden, so you shouldn't have to wait in line too long for your drinks — choose from freshly made cocktails, canned cocktails, beer, wine, and more.
Cost: Cocktails in the Garden is included in regular admission to Atlanta Botanical, which is $23 per adult.
This is the stop when our little jaunt transitions from a nostalgic tour of the city into a "wow, this is in Atlanta?!" moment. Skyline Park wasn't around when current adults were growing up, but since it first opened in 2016, it has quickly cemented itself as one of Atlanta's go-to attractions. True to its namesake, it's literally a park perched on the roof of Ponce City Market, and certainly delivers quite a view of the city's skyline. There are vintage Coney Island-inspired games, a three-story slide, and a fully operational amusement ride called the Heege Tower. There's also an enforced no-kids cutoff, so from 5 p.m. to midnight every Friday and Saturday, Skyline Park turns into an adult-only playground for those who are of drinking age. While there, you can grab some classic carnival fare or indulge in the park's original cocktail creations, and since you'll already be on The Roof, you can also have a dazzling dinner at Nine Mile Station or hit the bar at 12 Cocktail Bar.
Cost: Admission to Skyline Park is $15 per adult, and you can purchase them here.
For the final stop on our Adult Field Trip™, we're throwing in the newest attraction to set up shop in Atlanta: The Illuminarium. If you're confused on what an illuminarium is exactly, just know that it is essentially a cinematic immersion into different worlds. Having just opened in July, the Illuminarium is currently running its debut exhibition, WILD: A Safari Experience. Thanks to its 4K laser projections, 3D audio, and scent technology, the Illuminarium teleports guests on an African safari, and if you're interested but don't want to be surrounded by shrieking schoolchildren, the Illuminarium's WILD After Dark experience was made for you. In addition to the gorgeous immersive projections from the original WILD experience, the 21+ After Dark option adds a full bar to the mix, complete with a selection of South African wine, African-inspired cocktails, and the attraction's WILD Safari Lager brewed by New Realm Brewery. The WILD After Dark experience takes place from 9 p.m. to midnight on Fridays and Saturdays, and while there, you can also visit The Bar at Illuminarium from 8 p.m. to midnight. Similar to the WILD exhibition, the cocktail and tapas bar uses similar projection technology to surround guests in ever-changing and magically immersive settings.
Cost: Admission to the Illuminarium's WILD After Dark experience is $50, and it includes admission to the WILD exhibition, one free complimentary adult beverage from the Safari Bar, and a contribution to WildArk's protection of endangered species and ecosystems. Standard flexible entry time tickets for adult cost $50 each and includes a $10 voucher to the café or gift shop.