Paid Content For

8 Vacation Rentals Perfect for Winter Weekend Road Trips From Philly
Catskills or Poconos? Decisions, decisions. Oh wait, Harrisburg is a good option, too, and…
Paid Content For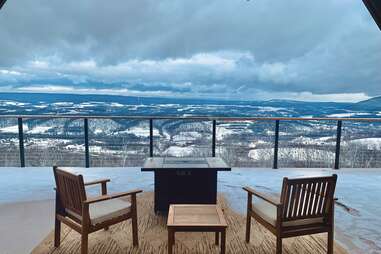 If you're looking to tack a country escape onto your cosmopolitan adventures in Philly, you've come to the right place. Ditto if you're a Philadelphian looking to skip town this December, January, and beyond. From the Catskills to the Poconos and more, we've got you covered, zen seekers. Keep reading if you'd like to swap skyscrapers and city streets for a lovely cabin rental in the countryside. Cue the crackling fireplace.
Whisk your favorites off to this mountain home in scenic Perry County and relish in a hot tub with mountain views (best enjoyed with a cup of tea or coffee on the deck), as well as a fire pit and string lights in the yard. You're less than a 10-minute drive away from Little Buffalo State Park for hiking or cross-country skiing aplenty, and if weather allows, you can play tennis on the grounds' private tennis court. All this and more, only two hours and 40 minutes from Philly, so get excited and pack your swimsuit.
Sleeps up to 10; averages $349/night; vrbo.com
eviivo Collective
eviivo Collective
Drive some two hours from the City of Brotherly Love and you'll arrive at this eviivo Collective property that comprises the main manor, The Mary Sachs (named after the one-time resident and clothier), and the Ledgestone Mansion (Sachs' primary home). If you rent out the Ledgestone Mansion in its entirety, you and your crew can take over all five suites on the bucolic banks of the Susquehanna River. Since the Manor on Front is a bed and breakfast, you'll also enjoy a deluxe from scratch-made breakfast each morning, which you can enjoy in your private courtyard. P.S.: Harrisburg is Pennsylvania's state capital, so while this house is away from downtown, there are plenty of good restaurants and cultural attractions to see there.
Sleeps up to 10; from $530/night; eviivo.com
Just north of two hours from downtown Philly, this modern manse in Pocono Pines has a gorgeous open playroom with pool table. Chalk your pool stick as you gaze out at the woods through the oversized windows, or nurse a hot cocoa to warm up from the cold. Then, cook up a storm in the kitchen before enjoying a five-minute stroll to Lake Naomi or a half-hour drive to nearby ski mountains like Jack Frost Big Boulder, Camelback Mountain, and Blue Mountain.
Sleeps up to 12; from $869/night; airbnb.com
About a four-hour drive from Philly, this home dubbed "The Lane" has been newly renovated and sits on seven tranquil acres in the Catskill Mountains. And yes, it lives up to its other moniker as the "Catskills Arthouse," as the residence is outfitted with the work of 15 artists from the Catskills and around the globe. You could easily spend a whole weekend making s'mores around the deck's fire pit, playing the Pacman retro arcade game in the game room, and staring at those stunning peaks, but skiing at Belleayre and Plattekill ski mountains is just 15 minutes away, too.
Sleeps up to 8; averages $653/night; vrbo.com
This handsome home on a pond outfitted with its very own fountain feels like a whole other universe from Philadelphia, even though it's just under a two-and-a-half-hour drive away. Under the watchful gaze of the forest and mountains, you and your nearest and dearest can play ping pong in the game room, laze by the fire pit, or soak in the hot tub. When you dream of a long weekend playing board games with your besties while the snow swirls outside, this is the exact place your mind's eye envisions.
Sleeps up to 25; averages $707/night; vrbo.com
Another eviivo Collective gem, this 18th-century Dutch Colonial farmhouse some three hours from Philly allows you to breathe in that fresh country air. Sitting on five acres, the five-bedroom abode is tucked into the scenic Shawangunk Ridge with spectacular views of the Catskill Mountains. Each day, start things off on the right note with a homemade farm-style breakfast with ingredients sourced from regional farms — this tasty amenity is built into the rental price. If you have a smaller group, consider booking the stand-alone Carriage House, which sleeps up to four guests (from $325 per night). Whichever you choose, make sure to use Zelle® to reimburse whoever booked your party's reservation safely and promptly.
Sleeps up to 16; from $1,300/night; eviivo.com
Heated indoor pool? Yes, please. About an hour and 45 minutes from Philly, this six-bedroom, five-bathroom oasis has a modern fireplace in the dining room, ping pong and foosball tables in the game room (plus Connect 4 and darts, too), and a darling reading nook with oversized windows for daydreaming between chapters. Shoppers, you're close to Pocono Premium Outlets and skiers, you're about 20 minutes away from Camelback Mountain.
Sleeps up to 8; averages $309/night; vrbo.com
It's a bit further afield at three hours and 45 minutes from Philly, but you'll be handsomely rewarded at a secluded retreat perched on 125 private acres right near Belleayre Mountain. The three-bedroom, two-bathroom vacation rental cabin has gorgeous mountain scenery every way you look, comes stocked with books and board games, and boasts a gorgeous stone fireplace that's just made for lazy days. If you've got a bluebird day, eat breakfast or dinner on the spacious wraparound deck. Even if it's freezing, it's worth it to step outside at dusk or dawn to take in the kaleidoscope of colors enshrouding the Catskill Mountains.
Sleeps up to 8; averages $309/night; vrbo.com
With
Zelle®
, money goes directly into your bank account. It's taken care of, so you can feel, enjoy, and savor every moment. It's delightfully seamless.