Many American towns are terrible once the sun goes down. Atlanta isn't one of them. We may in fact be the classiest late-night city in America, when you consider all of the options you, dear Atlantan or even visiting ATLien, have when you're here. There are strip clubs. There are truly great restaurants. There are games in both digital and analog format, and there's skating, dancing, and general revelry going on until the sun rises, so get out there and enjoy Atlanta's vibrant dark side.
Recommended Video
Please Don't Hang Up: The Best Things to See, Eat, and Do in Seattle, WA
Midtown
The one and only Midtown Bowl, which you should be more than familiar with since it's been here for five decades, lets the balls roll until 3am every weekend starting Thursday night, and has a solid snack game, including subs, breaded wings, and a weekly changing eggroll special. They also take their beer seriously, with rotating highlights from Creature Comforts, New Realm, Dogfish Head, and a few ciders and meads here and there. 
Hit a strip club
It's been part of the city's culture way longer than the Olympics came to town. You've heard of the main players: Magic City, Pink Pony, Oasis, Onyx, Cheetah, Follies, Pin Ups, and Blue Flame Lounge, among many. Give back to the local economy and support an Atlanta strip club tonight, with that same energy you'd have for a casino in Las Vegas.
Eat at a beloved diner
Atlanta has a rule when it comes to eating: We'll eat whatever we want at any time. That's why we have diners like Majestic, Landmark, and others that have survived the times and continued to thrive against the digestive tracts of time (heaven knows we should eat earlier). Also, you know this is where Waffle House originated, right? Not to mention, The Dwarf House, which evolved into what is now the third-biggest fast-food restaurant chain in America behind McDonald's and Starbucks, is still serving Chick-Fil-A-quality food all day and night in Hapeville, except Sunday. 
Downtown
Let's say you always wanted a big fish tank -- so much you wished you could be inside one for an evening. Well, the Georgia Aquarium actually allows you to sleep with the fishes, in front of one of the giant windows and exhibits. FYI, the adult version only happens a select number of times a year, so go ahead and book one, like the Sips Under the Sea Sleepover package, which offers a murder mystery and Halloween costume party with four cocktail tickets and a buffet of small bites provided by Wolfgang Puck's catering gang. 
Virginia Highland
Nothing will ever replace Metalsome. People just don't even believe there's a such thing as heavy metal karaoke with a live band until they actually see it. It happens every day except Sunday beginning at 10:30pm, and you want to arrive early as they are very strictly first-come, first-served. Don't forget to check the song lists on Facebook before you go applying too much hairspray.
Castleberry Hill
It's only once a month on the second Friday, but the Castleberry Hill Art Stroll has plenty to take in, from wine tastings to karaoke, as you walk around on a self-guided tour of the various art display rooms in businesses throughout the Westside neighborhood. There's always fresh local and global art being displayed, so be sure to stop in at City of Ink, Granite Room, ZuCot, Escape, Besharat, and other galleries along Peters and Walker Street. Anytime after 6pm is fine.
Druid Hills
While you're getting your second Friday on, go ahead and do Fernbank After Dark, where unbelievably sexy science-minded geeks like yourself enjoy adult beverages, tapas and legit scientific fun from 7-11pm. There'll be hands-on experiences and activities at the October "Weird Science" edition involving the question "Is Bigfoot real," as well as awesome iMAX viewings of volcanic eruptions and other things that happened to create Earth. There'll also be a self-described "space cowboy" alternative rock band playing trippy tunes live. For $20 a person, it's a great date night.
Westside
T.I.'s Trap Music Museum was supposed to close for good after Super Bowl LIII, but its popularity has made it necessary to bring in new exhibitions (a new area dedicated to Nipsey Hussle was unveiled late-summer). In addition to curated art representing trap music all-stars like Migos, Future, Gucci Mane, and Jeezy, and the "Escape The Trap" room experience -- a replica of a trap house that you can now visit on Thursdays from 4-10pm for "Trappy Hour," which for $20 gets you a complimentary glass of Champagne and two-for-one drinks, plus a private tour of the museum.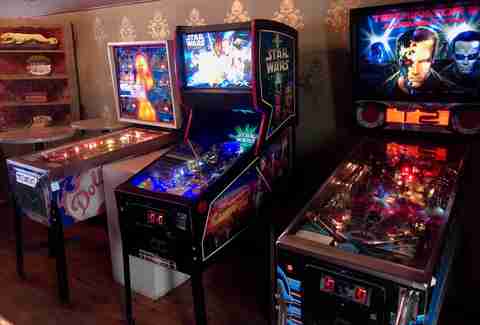 Old Fourth Ward
The original barcade, Joystick Gamebar, not only has Street Fighter, Mortal Kombat, TMNT, and other '90s-era arcade staples, but bartender Kysha Cyrus and crew sling some seriously crafty drinks (try the "Kysha's Stan": two gins, dry vermouth, lime juice, and cucumber). They've also helped quite a few new restaurants get into the business, with the latest inhabitant of their kitchen being Korean street food operation Dae ChowChow, which not only makes a mean spicy pork taco and great bulgogi but also a killer spiral-cut "tornado potato."
Drink, eat, and get your analog game on
Various locations
For those who like the kinds of games you can't plug into a wall, including bocce, basketball shooting, ping-pong, shuffleboard, billiards, skee-ball, and more, Atlanta has several options that all serve later crowds. There's The Painted Pin in Buckhead, its cousin The Painted Duck on the westside, Ormsby's in West Midtown, both the westside and Alpharetta locations of Topgolf, Skyline Park on The Roof at Ponce City Market, and Brigantine Beer Parlor and Recreation Hall, in the back of Argosy. 
Thomasville
It's not exactly news that you can see movies after 9pm, but not every city has the Starlight Drive-In, which has been around for 60+ years and routinely has films starting after midnight. At only $9 per person, and the nostalgic coolness of bringing your own food and listening to your movie's audio through your FM radio, it's a priceless piece of Atlanta history that's open all week long and is still going hella strong. Where do you think Donald Glover screened the first episodes of Robbin' Season? Yep, here. But be advised: You can't buy advance tickets, so get there early for a good parking space. 
Home Park
People to this day are still surprised to learn that you can get a Sublime Doughnut 24 hours a day. Yes, at both the Briarcliff and Tech Plaza locations you can get donuts and ice cream at any time, day or night. Don't feel too bad if you've never taken advantage of their anytime-pastries attitude -- we all make bad decisions after midnight, and not eating a donut is pretty high on the missed opportunities list.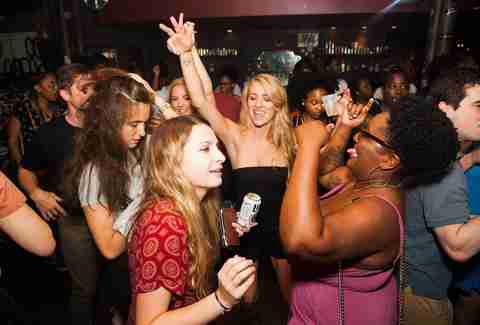 Dance all night
You're really into clubbing; it's fine. You're in Atlanta, so of course you have options. There's Havana Club, Tongue & Groove, Gold Room, Compound, and Suite Lounge if you want the super-big cosmopolitan nightclub vibe. But if you're really into dancing -- serious dancing -- you'll find that in spots like El Bar, MJQ Concourse, The Basement in East Atlanta, as well as Music Room in Old Fourth Ward, which is known for bringing in popular deejays on tour. Seriously, no judgments either way.
Brookhaven
Of course there are many, many places to eat after midnight on Buford Highway, but only one place offers you a lively drag performance along with flavorful eats. That would be Lips Drag Queen Show Palace, Restaurant & Bar, and on Saturday nights they have a pretty wild performance from "mistress of seduction" Edie Cheezburger called Taboo: The Forbidden Show. Seating is at 11:30pm, the full menu, which ranges from spicy wings to lobster ravioli, is available, and it's just $12 to get in. 
Southwest Atlanta
Sunday nights might seem like a bad choice to stay out from 9pm until 1am, until you realize there's no alcohol available for sale where you're headed. But that doesn't stop the good vibes at Cascade Fun Center, whose crowd of Atlanta's cultural avant garde shows up in skate crews and execute some of the most unbelievable rolling routines you've ever seen to songs made by some of Atlanta's greatest hip-hop artists, sporting some of the most inimitable fashion styles you'll find anywhere in the world. Roll in and roll out.
Hear live late music
While the city could always use more live music venues, we've got a few that have held us down for years and are still serving their neighborhoods some soul-stirring blues, funk, jazz, and more. If you're in the Old Fourth Ward there's Venkman's for everything from funk to yacht rock (literally, as members of Yacht Rock Revue own it). Then you can find jazz at Sweet Georgia's Juke Joint downtown on Peachtree Street, blues at either Northside Tavern in West Midtown or Blind Willie's in Virginia-Highland, and a range of rock, alternative, country and acoustic at Smith's Olde Bar.
Sign up here for our daily Atlanta email and be the first to get all the food/drink/fun the ATL has to offer.