The Best Escape Rooms in Atlanta
Complete these mind-bending challenges before time runs out.
In our bustling city, there are always fun things to do from hitting up festivals and concerts to eating at some of the best restaurants in the city. But when you're looking to shake things up a bit, there's a new way to pass the time that's popping up in cities across the country (ours included): escape rooms.
These venues challenge you and a group to solve riddles and complete challenges that will ultimately allow you to escape the room. It's an interactive test of knowledge that can be humbling—but when you're up for the challenge check out this list of the 10 best escape rooms in Atlanta.
Gwinnett
At Amazing Escape Game, you and your team will have to work together to overcome the many challenges thrown your way. For 45 minutes, you'll be enclosed in an interactive environment filled with puzzles, riddles, and clues while bringing people together for an adrenaline-pumping adventure. Critical thinking, problem solving, and fast decision-making will be required in order to ultimately accomplish the goal of escaping.
Cost: Tickets start at $40 per person
Old Fourth Ward
Nestled in the heart of Atlanta's section of Old Fourth Ward, the Big Escape Rooms offer some phenomenal challenges, with difficulty levels ranging from super easy to incredibly hard. If you can solve the puzzles and riddles and ultimately crack the code, you can open the door that leads to safety… that's if you're smart enough to figure out where that door is.
Cost: Tickets start at $20 per person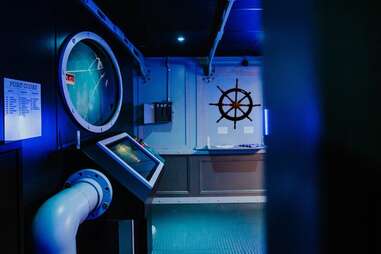 Buckhead
Breakout Games is a place for those who would rather solve the mysteries than watch someone else have all the fun. With different rooms that follow unique storylines, you and your group will have 60 minutes to escape your adventure of choice by cracking codes, solving puzzles, and following clues. Whether you decide to explore an island, find the kidnapper, or restore ancient relics to their rightful owner, you'll be put to the test.
Cost: Tickets start at $45 per person
Covington
The Clock Tower Escape Room is on a mission to provide real-life interactive adventures. Gather a group of up to 10 people and work together as a team to find clues, solve mind-bending puzzles, and ultimately escape the room in 60 minutes or less. The Byers' Mystery Escape—one of the more popular challenges—has a Stranger Things theme where you and others are split up into two groups, and you have to communicate in order to make it into the Byers' Living Room before time runs out.
Cost: Tickets start at $30 per person
Cumberland
Pull up to The Battery if you're searching for an escape room that's truly challenging. At The Escape Game rooms, you can take your pick of a specialized room that fits whatever your thrill-seeking heart desires from options like Prison Break, The Depths, The Heist, Special Ops: Mysterious Market, Gold Rush, and Playground. While all these games are tough, you'll need a higher level of gumption to take on the Prison Room and escape before the 60 minute time limit is up.
Cost: Tickets start at $39 per person
Stone Mountain
Since 1997, Netherworld has been heralded as one of the best haunted houses in the country, but now you don't have to wait until Halloween to take a visit. This new version of an October favorite features a series of exciting and challenging games with themes ranging from fighting off a beach house villain to battling the legendary vampire, Nosferatu. During each experience you and your team will have one hour to explore mysterious rooms, solve clever puzzles, and beat the game. When visiting Escape The Netherworld, players can also check out the HOUSE OF CREEPS Monster Museum, which houses rare movie props, cool monster displays, fun photo ops, and a collection of memorabilia that will make your time here even more spectacular.
Cost: Tickets start at $112 for four people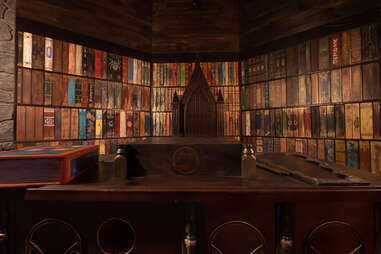 Midtown
At this Midtown establishment, you can really get lost in the game. PanIQ Escape Room plunges players into lifelike scenarios, with fully furnished escape rooms and realistic props that bring the stories to life. Return to the Middle Ages and free yourself from imprisonment in Medieval Madness. Wield a wand and accomplish a spell-binding achievement at the Wizard Trials, or show off how smart you are as you attempt to stop a rogue agent hellbent on destroying London in the Red Wire. All these challenges will keep even the most seasoned gamers captivated, while professional voice actors draw you even further into the gameworld and encourage your team with clues and hints—if you need them.
Cost: Tickets start at $32 per person
Downtown
In recent years, The Underground has experienced somewhat of a resurgence. With new businesses popping up all around, it is also now home to one of Atlanta's top escape room experiences. Take your pick from four rooms that require you to make a plan, find clues, solve puzzles, and save yourselves before time runs out. Paranoia Quest Escape offers public and private rooms, so you can stick with your crew or meet new people.
Cost: Tickets start at $45 per person
Brookhaven
With immersive room designs, in-game character roleplay, in-room actors, and unexpected reveals, this escape room levels up the suspense and excitement. Here, you can choose from eight different rooms each with unique themes and difficulties. The Time To Escape Game Guides will cater the experience to you and your people—pick between casual or competitive—so visitors will have a good time and challenge their minds. The on-site bar serves beer, wine, and has additional games to play so you can keep the fun going.
Cost: Tickets start at $31 per person
Westside
An Atlanta establishment that's truly one of a kind, the Trap Music Museum is an immersive experience that uses art to showcase the rich culture of trap music. After checking out exhibits that pay homage to the biggest contributors to trap music, including T.I., Jeezy, Gucci Mane, Yo Gotti, and several others, check out the on-site escape room. You and your team will have to put your brains together to escape by answering trap-inspired questions and completing tasks that will put your music knowledge to the ultimate test.
Cost: Tickets start at $30 per room
Okla Jones is an Atlanta-based journalist who writes about food, fine arts, and entertainment. His work also appears in
ESSENCE
,
Creative Loafing Atlanta
, and
Consequence of Sound
. Follow him on Instagram at
@coolhandoak
.