There are some cities that like to stay inside during the heat of summer, then there's Atlanta. As the weather begins to warm up, we all head outside to splash around the pool—from swimming spots in our own backyards to hotels and public pools around town. Wherever you decide to swim, just know that the options here in the 404 are truly second to none. So grab your best bathing suit and dive into one of these amazing pools in Atlanta.
Jonesboro
The all-purpose aquatic center on Tara Boulevard has become a popular place for anyone who lives in the Atlanta area. It has an open area for recreational swimming, a lap pool for exercise, and they've even got a warm water hydro-therapy pool. The center is open from 8 am to 9 pm during the week, and 9 am to 6 pm on Saturdays.
Cost: $5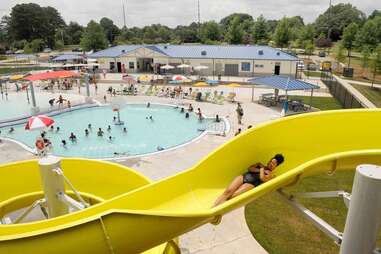 Powder Springs
If you're in Cobb County this summer, Seven Springs is definitely a spot you have to hit. This water park accommodates the young, old, and everybody in between. It features two water slides and a splash pad for the kiddies, along with a large pool area for family fun. You can also bring your appetite because the facility also has a full-service concession stand.
Cost: $9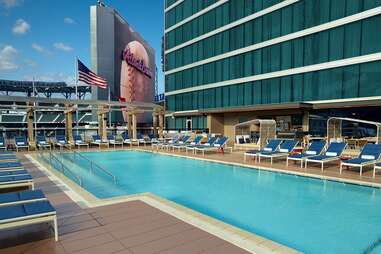 Cumberland
You can do so much more at Battery Park than just watch baseball. Along with fine dining options and retail stores, you can spend those beautiful summer evenings by Omni Hotel's luxurious pool. Sit back and relax with the establishment's convenient food and beverage service, enjoy a live DJ on Saturdays from noon to 4 pm, get your meditation on during their Sunday morning yoga sessions, and hang with friends and family at the Lawn Games starting at 5 pm.
Cost: Day passes start at $60 via ResortPass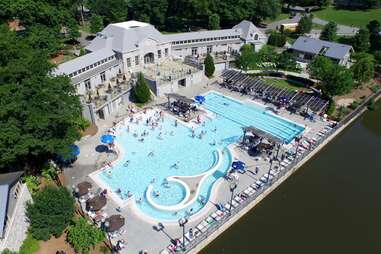 Midtown
The city-wide pastime of swimming in Piedmont Park dates back to before its original bath house was built in 1911. As the name suggests, it's located right at Piedmont Park, making for an easily accessible outdoor pool. The pristine aquatic center features four lap lanes, a little lazy river-style channel, and a large beach entry. For all the deal hunters out there, free swim takes place weekdays from 3 to 5 pm.
Cost: $5
Marietta
Sure, Six Flags White Water isn't a pool tucked away in a local neighborhood park, but it does boast one of the coolest pools in the city. In addition to several water-based attractions, the amusement park houses the Atlanta Ocean Wave Pool, a 700,000-gallon that will cool you off while hitting you with ocean-size waves.
Cost: One-day tickets start at $29.99
Candler Park
You can't beat a free trip to the pool, and that's exactly what the Candler Park Pool—as well as all of the City of Atlanta pool locations—is offering this summer. The Candler Park pool reopened for the summer season on June 10 and is open daily from 12:30 to 7 pm; so you know people are rushing to get here as the weather continues to warm up. Its surrounding golf course, playground, tennis courts, and picnic area, coupled with free admission, making the CPPC the perfect place to bring the whole family for a swim.
Cost: Free
Buckhead
Even though outdoor pools get the love during the summer; indoor pools offer even more shelter from Atlanta's sweltering heat. The Waldorf Astoria Atlanta is offering its luxurious indoor pool to both its guests and pool-deprived locals. If you fall into the latter category, you just need to purchase a day pass from the hotel and reserve a time to go enjoy a refreshing indoor swim.
Cost: $75
Peachtree Heights
On a super hot day in the summer, the last thing you want to do is stand shoulder-to-shoulder with other sweaty people in a pool. Garden Hills Pool avoids that tragic scenario by offering time-slot reservations. Simply pick a two-hour swim session and book your spot online. You'll be doing laps and splashing around before you know it.
Cost: $5
Buckhead
The fact that The W Atlanta Downtown's pool is called the "Wet Deck" should already let you know that you're in for something special. Offering unparalleled views of the downtown skyline, The W's rooftop pool is a sight to behold. In contrast to other rooftop pools, the Wet Deck is still covered to protect you from the sun, and there is plenty of lavishly designed poolside furniture. Plus, it's one of the few local hotels that is still welcoming guests to enjoy its amenities without committing to a full stay.
Cost: Day passes start at $25 via ResortPass
Various locations
While looking at any of these amazing pools, you likely at one point or another thought to yourself, "Those pools are going to be packed all summer-long." And if you did, you'd probably be right. So, if you want to avoid being around a ton of people, you can also rent a private nearby pool using Swimply. Some of your fellow Atlantans have dazzling pools in their backyard, and thanks to Swimply, you can pay to have it all to yourself for an hour or two.
Cost: Prices vary
Okla Jones is an Atlanta-based journalist who writes about food, fine arts, and entertainment. His work also appears in ESSENCE, Creative Loafing Atlanta, and Consequence of Sound. Follow him on Instagram at @coolhandoak.