Have an Ultra-Relaxing Day at the Best Spas in Atlanta
These surprisingly affordable options are the perfect way to unwind.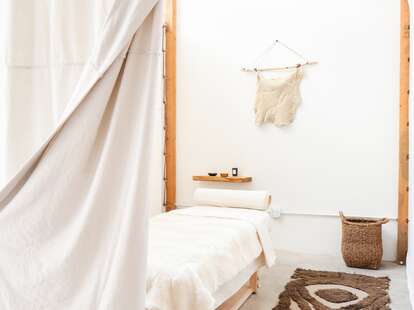 Photo courtesy of The NOW
Let's face it: All of us in Atlanta have a lot to be stressed about. From the uncertainty of being a local sports fan to the relentless traffic, there's a lot on our plates. But you don't need a reason to treat yourself to a relaxing day at one of the city's many spas.
Atlanta has a wide range of venues from ultra luxurious spas in some of the city's best hotels to more affordable options you can add to your monthly routine. Whether you're looking for a deep-tissue massage or a sauna session to melt the tension away, you'll find it at the best spas in Atlanta.
Midtown
Located inside the Loews Hotel not far from Piedmont Park, the Exhale Spa offers treatments like massages, facials, and scrubs, plus steam rooms and a coed hammam that can be used before or after a treatment or fitness class including barre, yoga, cycling, and HIIT. Locals can take advantage of a few different membership options and sign up for the email list to get 25% off a spa treatment on your birthday.
Little Five Points
In the lower level of a building in Little Five Points, FLO2S was one of the first spas in Atlanta to offer flotation therapy in massive tanks filled with salt water. If it sounds like something from an alien movie, you might be right. From the outside, the tanks look a little strange, but this type of therapy can help you disconnect with the outside world and relax in ways you never thought possible. Beyond the floatation therapy, the spa also offers infrared therapy and traditional massage treatments starting at $90.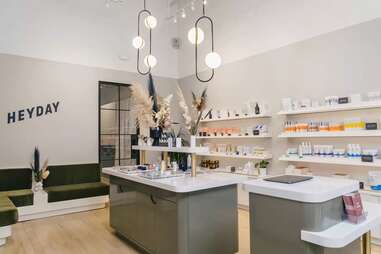 Multiple locations
The newest buzzy spa on the block is Heyday, a national chain that's touched down in Atlanta with locations at Krog Street, Dunwoody, and Buckhead. Heyday's offerings are simple. All guests get a personalized, 50-minute facial from an expert, who will diagnose skin issues and recommend products to help. Tack on treatments like LED light therapy, peels, and microdermabrasion for an extra cost, or take advantage of membership options that make the $135 treatment even more affordable.
Grant Park
Kicking back in a room made of salt may have more healing benefits than you would think. At Intown Salt Room, you can dive into the world of halotherapy with Himalayan pink salt rooms for dry salt therapy, infrared saunas, and meditation and sound bath offerings. Treatments start at just $40, making this one of the most affordable ways to unwind in Atlanta.
Multiple locations
For those looking to indulge in self care while keeping the environment in mind, Iwi Fresh is the place to go. The spa focused on providing high-quality skincare using vegan and natural ingredients, including facials that take advantage of all the health benefits found in locally grown and harvested vegetables. The treatments start at $65, and there are additional discounts available on certain days of the week and for children and teens.
Duluth
Named for the spa town in South Korea, Jeju Spa is a beloved traditional spa that's open 24 hours a day for 'round-the-clock relaxation. Entry into the sprawling complex is just $35 and gets you access to coed saunas, a swimming pool, a fitness center, single gender pools, and even a restaurant. Treatments, including scrubs and hip baths, are available for an additional cost.
Multiple locations
This minimalist, massage-only spa launched in California before expanding to two Atlanta locations in Buckhead and Roswell. Guests at The NOW are brought into a large room with curtains, dim lights and ocean waves on loop to get you ready for your massage. From traditional Swedish massages to therapy that's focused on athletes and energy balancing massage, there is something for everyone.
Little Five Points
This all-encompassing wellness center offers massages, facials, and even chiropractic sessions so you can leave feeling relaxed and better than ever. Phoenix Wellness' 60- and 90-minute massages start at $115 and cover specialties like lymphatic drainage, hot stone, and prenatal massages.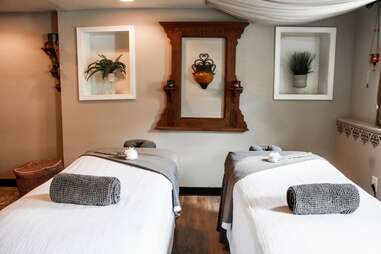 Blandtown
Taking its name from the Sanskrit word for "air," Vayu Spa sits in a cozy blue home on the westside of the city. The spa's signature massage starts at $75 for 30 minutes of rejuvenation, but guests can opt to extend their treatment or upgrade the service with enhancements like CBD balms and hot stones. Other services include facials and full-on renewal rituals that include foot soaks, superfood tea, exfoliations, and more all in one package.
Caroline Eubanks
is an award-winning writer and author of
This Is My South: The Essential Travel Guide to the Southern States
. You can find her work in
Garden & Gun, Hemispheres, and Architectural Digest
, as well as at
carolineeubanks.com
.