Travel
Sponsored by
8 Local-Approved Spots to Visit in Atlanta
Sponsored by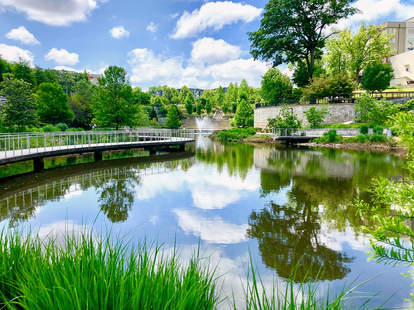 Everybody's "discovering" Atlanta these days, and we get why. The cost of living is still relatively low, there are direct flights pretty much everywhere, you can experience four actual seasons, and it boasts a culture that influences the entire planet. You may not be ready to move to Atlanta, but even if you visit here, it'd be a damn shame if you didn't take advantage of being in the American South's most global city. This in-the-know guide is all you need to get out in ATL and enjoy yourself fully.
EAT
Busy Bee Cafe
If you want to see how ATL someone is, ask them how they feel about the Busy Bee Cafe (the most ATL answer is "it's the best in town," with a dap-hug to punctuate it). The iconic soul food restaurant, where civil rights movement icons met for meals while planning their actions, has been around since 1947 and was listed in the now-famous "Green Book" traveler's guide as a safe space for African-Americans passing through on road trips. All this makes it a historic gem and worth visiting. TIP: Order the fried half chicken. It's just $2 more than the two-piece, and you'll kick yourself for not splurging once you've wolfed it down and want more. 
Slutty Vegan
Inside intel for visitors: Atlanta has always quietly had a strong vegetarian and vegan community. Combine that with Slutty Vegan founder Pinky Cole's ties to the Atlanta University Center, and social media posts of celebrities and politicians eating burgers like the jalapeno-topped "Sloppy Toppy" or the New-Orleans-inspired "Heaux Boy" vegan shrimp sandwich, and you have a meatless recipe for success. If you're in town with at least two hours to spare, hit the Ralph David Abernathy brick and mortar, or find the bright yellow truck demanding that you "EAT PLANTS B**CH." Get there early and you might get lucky with a 30-minute wait; otherwise, expect to spend an hour in line among other awesome vegan-committed/-curious Atlantans.
 
Andrew Thomas Lee
Lazy Betty
Though it started as a pop-up dinner series, Lazy Betty has all the makings of a game-changing Atlanta restaurant, particularly if you, like locals, have been told that Atlanta's food scene can't compete with bigger cities. Named after the late Betty Hsu, the Candler Park restaurant is run by Betty's son Ron Hsu and partner/chef de cuisine Aaron Phillips, both of whom worked together at three-Michelin-starred NYC restaurant Le Bernardin. The pair's talents lie in creating exquisite tasting menus, which come in seven or 10 courses, and include a vegetarian option. The influences reach from far and wide, too: think a mix of French, Asian, and New American. The tasting menus aren't cheap (nor should they be), but we can't recommend enough that you spring for the 10-course option. Trust us.
Tiny Lou's
Everyone in Atlanta knows the Clermont Lounge is a can't-miss ATL landmark, and we know if you're coming to town you're gonna ask us to go to this historic, ahem, "adult club." But that's a scene you've gotta take in moderation. Instead, a compromise: Tiny Lou's, a French restaurant making a serious case for best restaurant in town, even as it sits (twerks?) just above the infamous venue. The food, from the impeccable bread service (just peep the quality of the sprinkled salt for proof) to the Tennessee rabbit cassoulet, octopus niçoise, or the popular whole roasted loup de mer, shows that there's solid technique at play in the kitchen. If nothing else, order a pastry. Chef Claudia Martinez is a star when it comes to complex sweets like her daily-made, 32-layer crêpes Suzette.
Advertisement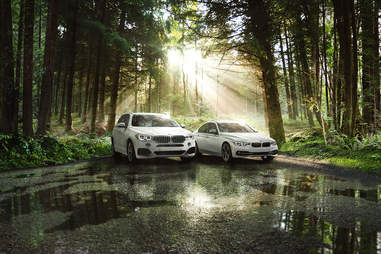 BMW
However you explore a city, the way you get there matters. Our vote: Do it from behind the wheel of a BMW. Right now you can buy your own luxury ride for an accessible price with a factory-backed warranty and 24/7 roadside assistance. Plus, every BMW Certified model is less than four years old and has been reconditioned by trained BMW technicians. So hurry in for exceptional offers on 2015-2017 BMW Certified models, and get where you're going the right way. Because good things come to those in the know.
DO
Walk the BeltLine
There's always something new on the city's fast-growing, walkable, in-town trail. Whether you want to patio it up in SPK Alley or grab Asian street food at Hawker's, or are seeking a less-trafficked experience with more natural beauty on the West End side at Lee + White, the BeltLine is a great way to get to know the city from the ground up. Pro tip: Everybody walks the Eastside Trail, and it's crowded with pedestrians, hoverboarders, cyclists, e-scooters, and baby strollers. Do the Southwest Trail, where parking is still (currently) free at Lee + White, and there's a MARTA train station in walking distance.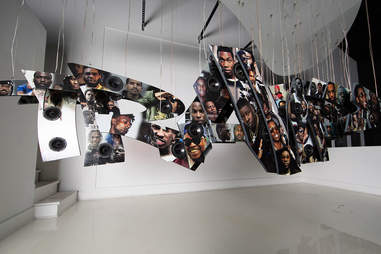 Mr. Wattson
Visit the Trap Music Museum
Started as a creative marketing idea to promote Atlanta rapper T.I.'s 10th album Dime Trap, the Trap Music Museum was originally supposed to be open for a couple of months. Instead, this westside art house, curated by former LaFace Records creative director DL Warfield, has become a must-visit tourist attraction, drawing more than 6,000 visitors every weekend. Inside you'll find paintings, artifacts, and exhibits dedicated to the "Rubberband Man" himself, along with Gucci Mane, 2 Chainz, Killer Mike, Pusha T, Rick Ross (yep, they're trap, too), Migos, Future, and other street rappers from Atlanta and beyond. There's also a recently added section honoring the late Nipsey Hussle, and while you can splurge on an escape room session for $30, the $10 museum ticket is really all you need.
Play historic golf in the middle of town 
Reopened in November 2018 after an epic $23 million redesign and renovation, Bobby Jones Golf Course is something of a redemption story. At one point in its life, the legendary golf champion for whom it is named was actually ashamed of its condition. But with the removal of hundreds of decrepit trees, lots of landscaping and repair, and a new reversible nine-hole design that switches every other day (the only such design in the US), it's now undoubtedly worthy of its namesake. The 130-acre public course, beautifully expansive and surrounded by the midtown skyline, is just a 15-minute drive from downtown. Tee times vary in price between $45 to $85, fluctuating daily based on demand. So if you can, tee off on a weekday for a better deal.
Go skating at Cascade
You probably don't think of the movie ATL as a classic, but the way it used the city as a character is unmatched. Even when cameras aren't rolling, Cascade's grounds are full of skaters doing synchronized dances. It's one of Atlanta's most culturally significant places, where "Old Atlanta" enthusiastically welcomes newbies, as long as those of you who need help staying upright stay out of the way as the rolling human trains come through. Pro tip: Wednesday is adult night (Saturdays are for teens, and more expensive anyway), and it's just an $8 cover with $4 skate rentals.
Mike Jordan wasn't born or raised in Atlanta but arrived here in the mid-'90s to attend Morehouse, which makes him "Pre-Olympics-ATL," so even if you're a Grady Baby you can believe these recommendations. Follow him on Instagram at @MikeJordanATL, and on Twitter at @MichaelBJordan.