How One Roller Coaster Put a Small Suburban Amusement Park on the Map
ArieForce One is luring thrill seekers to its home outside of Atlanta.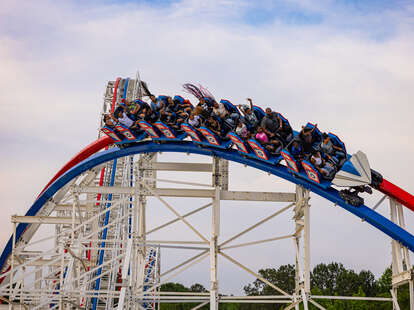 Photo courtesy of Fun Spot America Atlanta
Photo courtesy of Fun Spot America Atlanta
Fun Spot America Atlanta is having quite the year. Before the peak season for twirls around the ferris wheel and eating cotton candy hit, the family-run park located 30 minutes south of Downtown Atlanta installed a new roller coaster called ArieForce One.
It wasn't just any roller coaster. The newest ride in the park's lineup has trailblazing flips and historic stalls that leave you hanging upside down—and all that innovation has been drawing a steady stream of theme park influencers and roller coaster enthusiasts from all over to its home in the quiet suburb of Fayetteville all summer long.
"It's a game-changer for Fun Spot America Atlanta and has undoubtedly put it on enthusiasts' radars," says John Stevenson, founder of Coaster101.com.
The coaster that is inspiring cross-country flights is special for a number of reasons. First, it carries quite the pedigree, as it was built by Rocky Mountain Construction (RMC). Widely recognized as an industry leader in roller coaster design, the Idaho-based company is renowned for creating the kind of fun, aggressive, and fast-paced rides that warrant repeat visits.
"Anytime Rocky Mountain Construction builds a coaster, it's a big deal for fans. RMC's creations are almost always the top ride in their respective parks," notes John Gregory, owner and editor of the Theme Park Tribune.
The ride makes history right from the start, as it takes off on a steep, 83-degree first drop down a 154-foot lift hill, which creates the longest zero-gravity stall in the US (for the uninitiated, a "zero-G stall" brings riders upside down to feel like they are floating).
The ride then takes passengers through four inversions, including a first-ever Raven Truss dive in which the track flips passengers over and sends them propelling in the opposite direction. There are also a pair of zero-gravity rolls and a 180-degree stall—not to mention that all of this occurs in just 100 seconds of ride time while reaching hair-raising speeds up to 64 miles per hour.
"The coaster's pacing is relentless—it's blazing-fast from the moment it leaves the lift hill all the way until it reaches the brake run," says Stevenson, who went on the ride around 10 times during a preview event in March. "No inch of track is wasted. Riders experience back-to-back elements with no reprieve in between."
All that thrill costs a pretty penny. At a cost of $13 million, ArieForce One is the largest single investment Fun Spot has ever made, but the returns have been immediate—so far this year, the park reports it has seen a 33% attendance increase.
"We knew ArieForce One would appeal to our season passholders, coaster enthusiasts, and thrillseekers alike. It's a fast, powerfully smooth coaster experience unlike any other," says John Arie Jr., owner and CEO of Fun Spot America Theme Parks. The company, which has two Florida locations in Orlando and Kissimmee, is celebrating its 25th anniversary this year.
Aside from the twists and turns that are putting this coaster on the map as one of the best in the country, those who have experienced the ride say one of its biggest selling points is likely to disappear as word spreads and it becomes a magnet for enthusiasts.
"The fact that you can ride it so many times in a row with almost no wait makes it especially appealing to the hardcore coaster fan," says Gregory. "Fans are riding it dozens of times in a row thanks to the park usually having very short waits—you can't do that at other coaster destinations like Cedar Point or Kings Island."
After just a few months in operation, ArieForce One has already marked a couple of milestones. In June, the park hosted a coaster enthusiast event called HUGEapalooza that drew attendees from 35 states and two Canadian provinces, and by the middle of the month a local resident, James Fordham, became the first fan to ride the coaster 1,000 rides.
"Before ArieForce One, most coaster fans saw no reason to visit Fun Spot Atlanta unless you were just hunting for extra coaster 'credits' by riding its two small coasters," explains Gregory. "It turned Fun Spot Atlanta from a skippable park to one that coaster enthusiasts can't miss. Now, it's like a coaster enthusiast magnet, and I wouldn't dream of going to Atlanta without visiting."