How to Celebrate St. Patrick's Day in Atlanta This Year
Drink green beer, try some corned beef, and take in one of the country's best St. Patrick's Day parades.
Atlanta St. Patrick's Day Parade

| alans1948/Flickr
Atlanta St. Patrick's Day Parade

| alans1948/Flickr
Break out those green threads and eat a full breakfast—it's time to celebrate St. Patrick's Day in Atlanta. Atlanta's Irish community dates back to the earliest days of the city, making our celebrations some of the best in the country. The parade and some parties have become more of a rowdy affair, but you can still find a wide variety of activities including beer specials, traditional Irish fare, and live music both ITP and OTP. No matter how you want to honor the holiday, here are eight ways to do St. Patrick's Day, Atlanta-style.
Saturday, March 11
Midtown
Founded by the Hibernian Benevolent Society in 1858, the Atlanta St. Patrick's Day Parade is a staple of the spring season and one of the city's oldest events. Running from Arts Center to Cypress Street through Midtown, along the way you'll see floats, dancers, and drum and bagpipe corps, all led by the grand marshals, who are usually Irish dignitaries or local figures. Head over there early to grab a spot with a view or go straight to the after party at Fado Irish Pub, which opens at 8 am.
Cost: Free
Saturday, March 11
Midtown
Park Tavern in Piedmont Park is an essential part of most Atlanta holidays, so you won't want to miss Shamrock Fest. The beloved watering hole will have a DJ and dancing, as well as food and drink specials. Purchase tickets to fill up on fried oysters and shrimp to go with your beer and cocktails.
Cost: Tickets start at $20
Drink the quintessential green beer
Ongoing
Various locations
Let's be honest: This isn't exactly authentic, but you can find green beer at most bars around town on St. Patrick's Day. Reformation Brewing's locations in Woodstock, Canton, and Smyrna will have a Kiwi Strawberry Kool Aid Sour for an upscale take on the hued brew. You'll also find green-dyed craft beer at the Wild Leap taproom in South Downtown, Red Hare Brewing in Marietta, Eventide Brewing in Grant Park, and Fire Maker Brewing on the Westside.
Cost: Varies
Sample Ireland's finest whiskeys
Saturday, March 11–Saturday, March 18
Buckhead
If you'd rather celebrate the Irish holiday sans beer, head to The Americano, the Italian steakhouse at the Intercontinental Hotel Buckhead helmed by Chef Scott Conant. The restaurant is bringing the best spirits from the Emerald Isle. Diners will be able to enjoy a New York Strip with two sides and a flight of carefully selected Irish whiskeys, perfectly paired.
Cost: $75 for dinner, $125 with flight
Friday, March 17
Midtown
Colony Square will be transformed for St. Patrick's Day with a wild Friday night block party around the trendy Politan Row food hall and surrounding businesses. More than 25 participating bars will offer themed Irish beverages and shots, food and drink specials, and live music and DJs. Don't miss the fish and chips at McCray's Tavern and the $4 Guinness pints at Taco Mac.
Cost: Tickets start at $17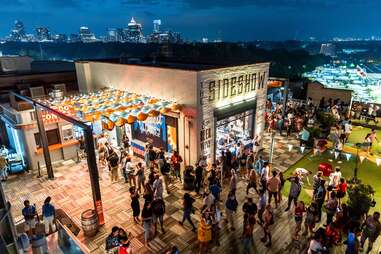 Friday, March 17
Old Fourth Ward
The Roof at Ponce City Market will host a St. Patrick's Day party complete with epic views of the city. Enjoy a DJ spinning tunes alongside specialty cocktails, Irish beers, and pub bites. Admission will include access to the roof's games and rides at Skyline Park. Nine Mile Station will also offer an Irish-inspired menu for dinner, with Irish whiskey cocktails and entrees like Corned Beef Hash and Shepherd's Pie.
Cost: Tickets start at $30
Saturday, March 18
Virginia Highland
Start St. Patrick's Day off early (and right!) at the annual Kegs and Eggs Block Party at seven of VaHi's most beloved bars, including Neighbor's Pub, Dark Horse Tavern, and Moe's & Joe's. Tickets include Irish-inspired dishes like corned beef sliders and drink specials on pints, shots, and cocktails to keep you in the festive spirit all day long.
Cost: Tickets start at $15
Ongoing
Savannah
There's a reason Savannah has one of the country's biggest St. Patrick's Day celebrations, when the river is dyed green and the revelry spills out of the River Street bars. You'll probably wish you'd booked your hotel and travel earlier, but making the impromptu four-hour trip for a top-notch parade and Irish pubs aplenty is possible—just remember to find a designated driver!
Cost: Varies
Caroline Eubanks is an award-winning writer and author of
This Is My South: The Essential Travel Guide to the Southern States
. You can find her work in
Garden & Gun, Hemispheres, and Architectural Digest
, as well as at
carolineeubanks.com
.