Ponce City Market

| John Greim/LightRocket/Getty Images
Ponce City Market

| John Greim/LightRocket/Getty Images
Ponce City Market is what locals call "new Atlanta." In 2014, when it opened in the historic Sears, Roebuck & Co. building, there was a lot of excitement around what this ambitious development could become: a food hall, office space, mall -- and the start of a new chapter for the city.
It's been five years and change since the grand opening, and we can now fairly assess what Ponce City Market is (and isn't): a must-visit dining and entertainment destination with some very impressive restaurant concepts -- perhaps even a city landmark, but one whose place in Atlanta's history we're all still figuring out.
"Old Atlanta" is a loaded term but one that's critical to understanding this city.
Ponce City Market may be "new Atlanta," but the building it inhabits certainly isn't, and the street on which it sits is about as "Old Atlanta" as you can get. The towering brick structure at 675 Ponce de Leon Avenue NE has been around since the early 20th century. Before the bricks were laid, it was an amusement park with a baseball field across the street ("Poncey," as it was called by ATLiens of that era), where both the minor league Atlanta Crackers and the Negro leagues' Atlanta Black Crackers wowed crowds.
The original building was the former southeast headquarters of Sears, Roebuck & Co. After the city purchased it, it was City Hall East, mostly unused save for hosting the annual Southeastern Flower Show and administering licenses to exotic dancers. A couple miles northeast is Callanwolde, the estate of the Coca-Cola-rich Candler family; just a few blocks east is Clermont Lounge, where for decades ladies of a certain age have amassed smaller fortunes crushing beer cans between their breasts.
There's all sorts of history around this part of town, which is why it was so important that the folks at Jamestown, the developer of Ponce City Market, got it right. For the most part, they did.
Like other places in Atlanta -- say, the monument at Stone Mountain -- Ponce City Market is an imperfect place that offers visitors a piece of Atlanta's story, from a certain vantage point. By the curation of who gets to do business there, the development is telling you what it thinks Atlanta should be when it grows up. One way Atlantans have joined that conversation is by supporting, or not, what's there today. With the closure of mid-century-modern restaurant and bar The Mercury, we were shown that the tenants of Ponce City Market aren't as permanent as the brick exterior.
Honestly, there are restaurants in the Central Food Hall that could try a lot harder. There are shops upstairs selling lots of things nobody's asking for. A store called Higher Standards sells everything that goes with weed, with the exception of actual weed. Hell, there's even a Williams-Sonoma, which is interesting, to say the least, to have just a short walk from a subsidized housing community. It's one thing to talk about income inequality in America; it's another to see it so starkly.
But consider this: Less than 10 years ago, visitors to Atlanta were likely to end up at Lenox Mall, World of Coca-Cola, The Varsity, Underground Atlanta, or just "Buckhead," if left to the wrong sources of information. Now they have Ponce City Market. It's got some great places to eat, drink, work, shop, and hang, and the building itself is a slice of our history.
However you feel about "old Atlanta" vs. "new Atlanta," and whether you're a fan of Ponce City Market, a holdout, or something between, there may be no place that more clearly exemplifies this dynamic and that confusing, frustrating, and necessary change in Atlanta culture. So yes, you should definitely go to Ponce City Market, because there's a lot more going right than wrong.
Just make sure you head across the street to Eats, where you can still taste "old Atlanta" at its best.
Here are our favorite places to eat, drink, and shop in Ponce City Market: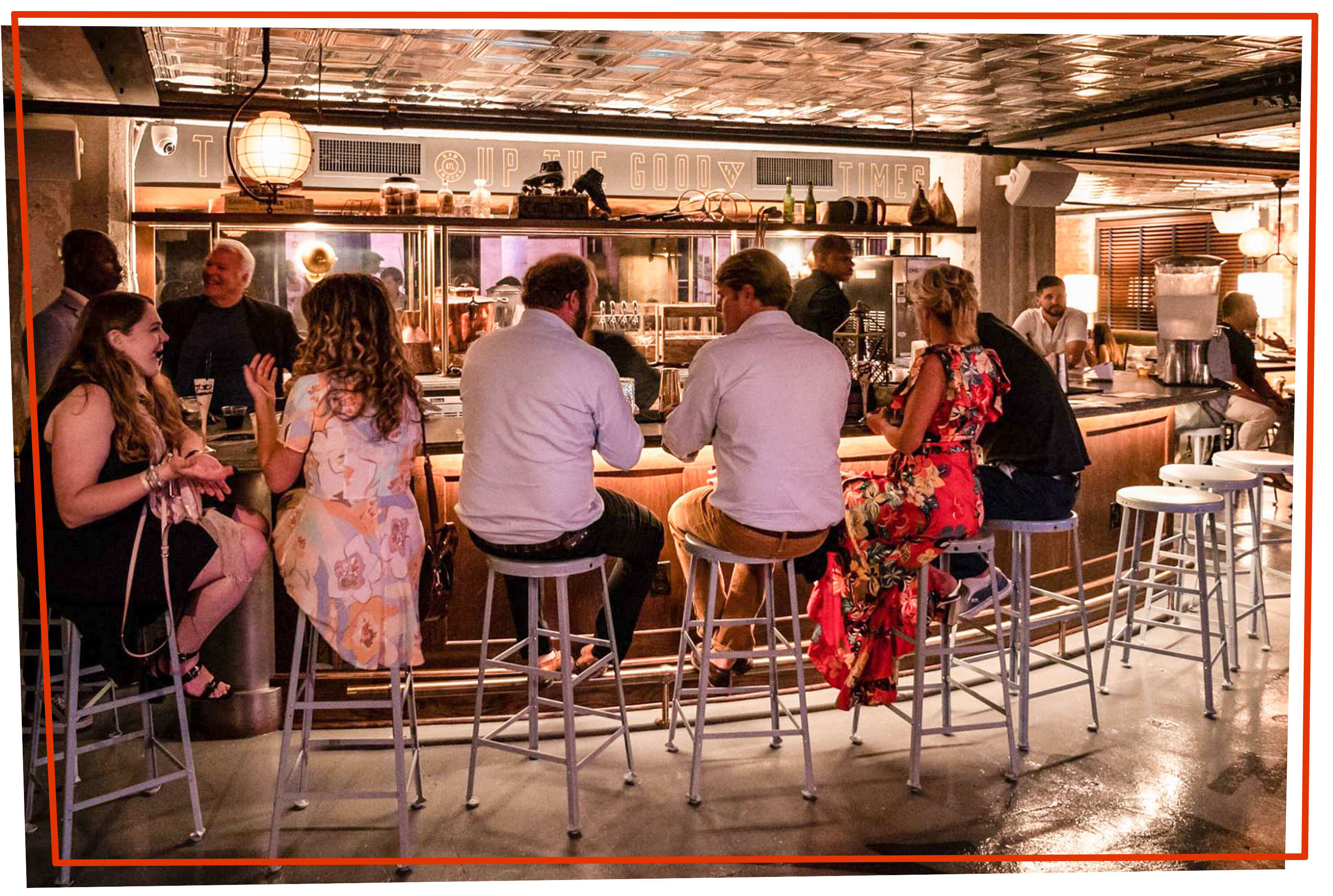 A highly secretive rooftop bar where membership has privileges
Named for a WSB radio program beamed from Ponce's 11th floor tower in the 1920s, RFD Social is part private event space and part public roof drinking den. The latter you see directly across the hall when you step out of The Roof's freight elevator. The Parlour, its public bar, has a sleek, silver-and-wood setup and seems like a place where tycoons, captains of industry, and the like would drink if they were alive today.
But the real money is upstairs in 12, the secret rooftop bar most folks don't even know exists. Drinking here means paying a $50-per-person reservation fee, or getting an annual membership, which in addition to your application being approved also requires thousands of dollars. It's the kind of place with a separate elevator and a private security guard who checks your eligibility to enter at the bottom of a secret staircase. It's also the kind of place where you can drink an old fashioned made with brown-butter-washed bourbon with your favorite actor, or maybe a few Atlanta United players celebrating a birthday. And it comes with Ponce's highest public view of the Atlanta skyline.
A Charleston-born bakery to hideaway in
Though it's not the only place in the Market for pastries and baked goods, Root has a down-to-earth appeal that's not just apparent in the quality of its breads. But since bread is one of civilization's greatest inventions, it's worth mentioning how good it is here, especially if you want something hearth-based and artisanal, such as Charleston Gold rice and benne bread, or a nice thick country sourdough. It opens daily at 8am and serves sturdy day-starters like toasted grit bread with labneh and seasonal jam.
They have baking classes on Wednesdays, and a rotating selection of red and white sauced pizza is available exclusively on Fridays. The brightness of the sunlit space makes for a wonderful hideaway if you're just in need of a cup of coffee and a large cookie or chocolate croissant.
A bar inside a clothing store that's... actually good?
Sometimes shopping makes you want to drink. Maybe that's what the folks at apparel shop Citizens Supply realized when they decided to clear out a central space in the store and open a bar and light bites restaurant called Likewise, which is actually better at getting you moderately lit than some much more visible bars in Atlanta.
Not only do they have cocktail standards like the paper plane and the old pal, but there are also signature buzzers like the "Heat Check," which is like a spicy cherry/lime/falernum margarita, and a selection of draft and canned/bottled brews, wines, and even no-proof mixed drinks. There's also everything from marinated olives and burrata (with bread from Root Baking Co. down the hall) to prosciutto flatbreads and nachos with coconut milk queso.
Maybe the best restaurant in PCM, certainly some of ATL's best Italian
The pasta is unbelievably good (which is why they host classes on how to make it, and why those classes sell out immediately). The meats and cheeses look better than candy, because they are. The selection of imported retail items, from jarred and bottles oils and sauces to authentic Italian sodas, vinegars, and more, is incredible. The bread will make you wonder if you've teleported to Italy. And the chocolate truffles, even at $6 for three, are ridiculously indulgent. Everything here, from paninis to the Georgia shrimp green onion tagliatelle, Italian coffee, carbonara, and so forth, makes it the most essential restaurant in the Central Food Hall.
A South African "beef jerky" den with some of Atlanta's top cocktails
Though it has now expanded into "real" restaurant territory in Buckhead, PCM Biltong remains as relevant as it was when it began serving in the Market, thanks in no small part to the work of Sean Gleason, who built a cocktail program worthy to be mentioned along with any of Atlanta's most celebrated places of serious whistle-whetting. Don't expect traditional American jerky if you order the biltong; it's a less-dry, less-salty bite of beef, spiced with peri-peri or other traditional seasonings, and it's known to throw people off at first. If you like filet mignon, you'll love it. Then order any adult beverage on the menu. It's hard to go wrong here, but the mai tai is always a good choice.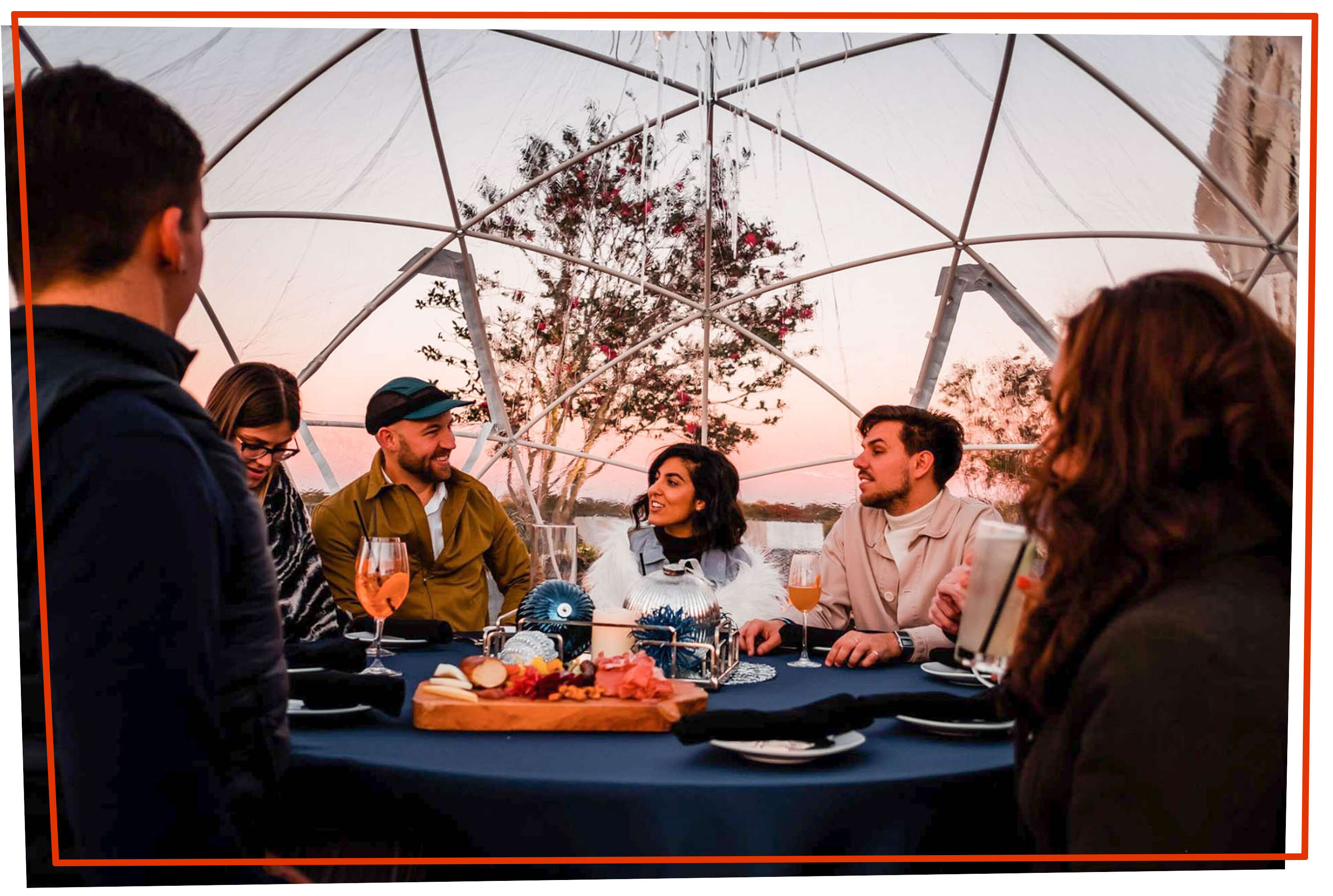 Taking drinking and brunching to a higher ground
Not many Atlanta buildings have a carnival, midway, miniature golf, and a giant slide on their rooftop -- actually only one does. But The Roof at Ponce City Market isn't the only reason to keep rising to the top of that big freight elevator with the cover charge. There's also an "elevated" beer garden where the brunch includes large sticky buns and three types of sausage you can order by the inch, the dinner menu has a fresh-catch cioppino stew (mixed seafood in white-wine-tomato broth), and there are barrel-aged boulevardiers if you're into drink options. And you're into all of this while you've got a view of ATL's skyline in front of you, and Skyline Park behind, with that giant slide just calling out for your happy, elevated butt.
All-day breakfast from an all-star team of restaurateurs
At press time, the newest entry to the Central Food Hall is another joint from an all-star lineup of founders, including Anne Quatrano (Bacchanalia), Steven Chan (Tin Drum), Dan Jacobson (Chick-Fil-A), and others, but this time it's daily breakfast at all times. Hopefully you like pancakes, because they serve seven styles, including pecan praline stacks, silver dollars, grain, and even ebelskivers (round, fruit-filled pancake balls), but you can also get a chicken sandwich with hot honey or even a cheeseburger on an English muffin if you prefer. They've also got a signature breakfast blend coffee (Octane founder Tony Riffel is also a partner), and other drinks in the cocktail, beer, wine, and brunch family.
CBD and more in a store that looks designed by Steve Jobs
Of all the stores in Ponce City Market, there's one on the ground floor that aims higher than all others. THC is not legal in Georgia, and who knows if and when that will change outside of "decriminalization." But walking into Higher Standards you could easily believe otherwise, because everything from Jonathan Adler ashtrays to blankets, candles, CBD massage oils, and all sorts of devices that help you turn your "dried herbs" into other things, including infusers for food, vaporizers, and more.
Because any self-respecting market food hall has great Indian street food
Chai Pani isn't as close as it should be, even if it's across the street from you (can't you just live there?), but because Decatur and the Old Fourth Ward are not known for easy traffic thoroughfares, this is your perfect alternative. Chef Meherwan Irani is the culinary brain behind both, but just like there are various styles of Southern food, the same is true for Indian street food. Here you have grab-and-go wraps, grilled meats, a lamb kabob roll marinated in soy/ginger/black pepper/curry seasoning, or an order of Desi-style, tamarind-glazed spare ribs. Get a few "extra" nibbles like the small but powerful mango pickle while you're there, but you might need a mango lassi chilled yogurt drink to counter the heat -- those little things are spicy as hell.
The Central Food Hall's ever-popular Szechuan joint from Peter Chang's gang
One of the most refreshing things about Jia is that it doesn't attempt to push some brand of fancy Chinese food on you. It feels like a normal place, the menu has a familiarity that leaves high-society flair at the door, but it does not disappoint, whether you're going with standard General Tso's or attempting to take on the challenge of the very spicy crispy quail ("Birds In Nest"). They've got other things to consider, like the deep-fried smoked duck, and braised fish in chili oil, and sweet soup dumplings for dessert. These recipes were developed in part by famously ghosting chef Peter Chang, who is legendary in Atlanta for being great at food and also hiding from everybody, so you're going to find something there you like -- just not Peter Chang.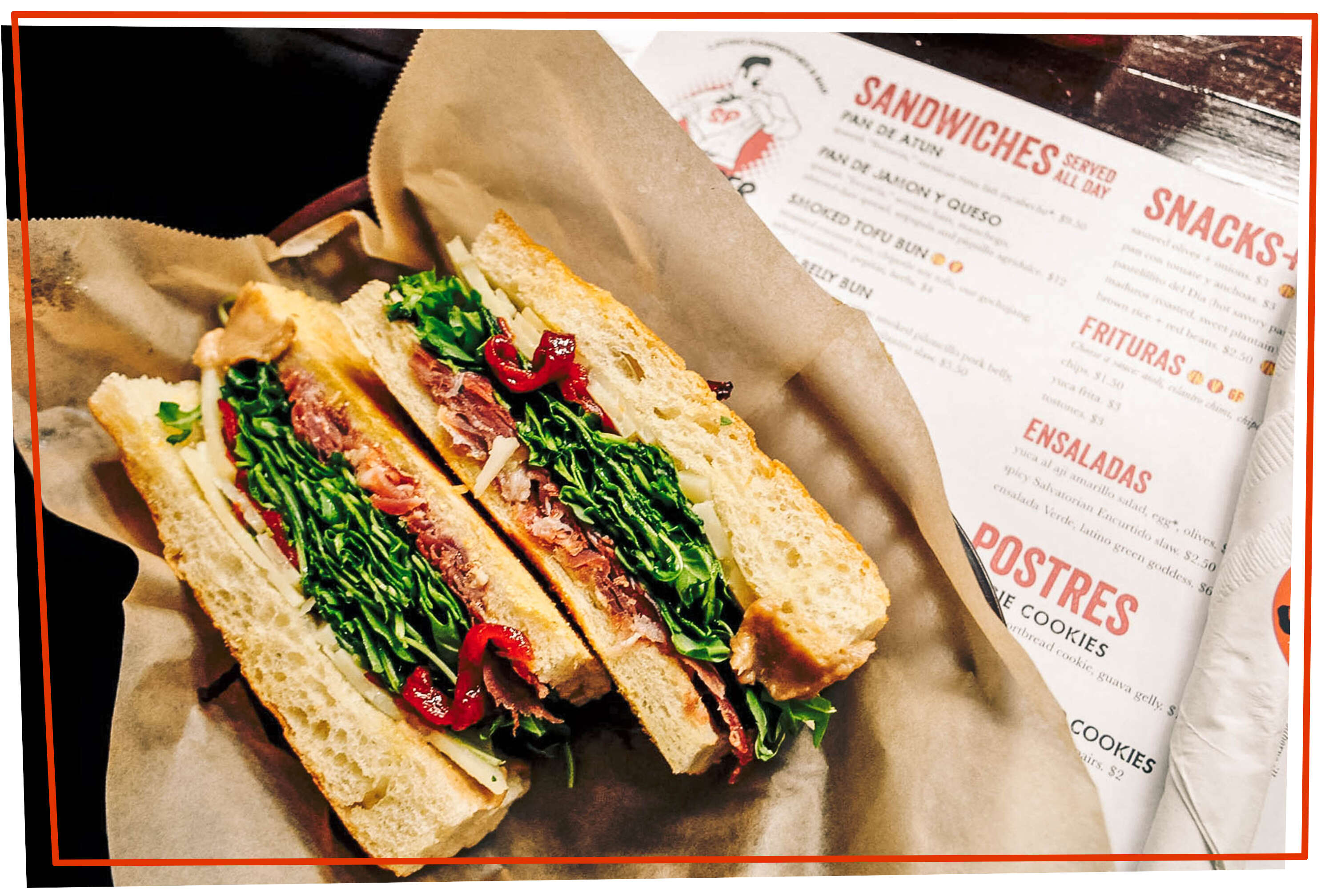 Look no further for a great Latin sandwich
Hector Santiago is a pretty cool guy, but that matters less than the fact that he's well-known for being able to make a masterful sandwich, which many Atlantans missed for years after he closed his small sandwich shop near the corner of North Highland. Whether you like steamed coconut buns or a Spanish version of focaccia, you'll know the value of fresh bread when it's used to expertly enclose serrano ham w/ manchego, or Cuban-roasted pork, or Mexican tuna fish escabeche. By the way, would you like a bacon fat cookie? Yes.
Hot noodles and soup, because of course there's ramen
The thing about Ton Ton is that it's not ramen for ramen's sake -- it's pretty damn good (for $12 I'm sure you're saying it damn-well better be). It's all pork unless you do the vegetarian yasai, but tonkotsu is the easy choice. They've also got it brothless, and their fried and glazed tebasaki wings are also popular. And there's something about those tall hanging drapes that makes it all feel even more soothing to the soul as you're slurping up your hipsterness. Yes, this is probably the most PCM thing you can possibly eat, but it's still good.
Sign up here for our daily Atlanta email and be the first to get all the food/drink/fun the ATL has to offer.
Mike Jordan frequents Ponce City Market and has mixed feelings about Sears because although his mother went to school funded by Sears' philanthropist former president she also bought some of his worst middle school outfits at Sears. Follow his tweets at @michaelbjordan or IG him at @mikejordanatl.