Eat and drink your way through old-school ATL
Pop quiz: what do Barry White, Neil Young, and Queen have in common? They all claimed to have "Staying Power". But when was the last time you bought one of their albums? No, staying power is hard-earned, which is why we're celebrating those Atlanta institutions that have stood the test of time with this epic, day-long crawl, winding you through the restaurants, bars, and attractions that continue to anchor the great ATL.
Stop One: Your journey starts in Kirkwood, where you'll find one of the best burgers you'll ever have in your life. Ann's Snack Bar is home of the "Ghetto Burger", a bacon chili doublestack that the Wall Street Journal once called the "Best Hamburger in America". Owned and operated by Ann Rice, the 8-stool storefront has been in operation for nearly 40 years, operating the entire time on eight simple rules that all patrons must abide by if they want to enter
Stop Two: Hop the Marta Blue line from Ann's and travel back in time to historic Oakland Cemetery in Grant Park. Originally designed in 1850 as a rural alternative to traditional graveyards -- whose downsides include overcrowding and a complete lack of nearby Waffle Houses -- it soon became a resting place for scores of Civil War casualties, as well as city mayors, poets and authors. Oakland's ornate architecture and impressive mausoleums helped land it on the National Register of Historic Places in 1976
Stop Three: Back to the Blue line and out to Five Points Station, where in 1969 Underground Atlanta made use of the viaducts over the city's railroad tracks, turning them into a shopping and entertainment district for Downtown. The hub of restaurants, clubs, street vendors, and live performers has survived over the years by offering a must-see glimpse of "old Atlanta"
Stop Four: Time to score the nearest taxi and head towards Midtown to The Varsity, whose capacity to accommodate 600 cars and 800 guests makes it the world's largest drive-in. Over the past 75 years, myriad athletes, actors, and presidents from Bush to Clinton have answered the carhops' siren call of "What'll ya have? What'll ya have?", mostly because doing so results in bucketloads of chili dogs, burgers, shakes, fries, and pies. Clinton looooves pies
Stop Five: Walk off that chilli dog by walking up North Ave, where the Fabulous Fox Theatre opened in 1929. Originally intended as a Shriners temple, the idea was scrapped when movie mogul William Fox bankrolled the completion of the building to expand his theater brand, and to this day it serves as a backdrop to major concerts, film series, national events, and stage productions. Having survived bouts with bankruptcy and possible demolition, the Fox was saved and added to the National Register of Historic Places in 1974
Stop Six: Now look both ways before crossing the street and stepping back in 1911, which is when Georgian Terrace Hotel was constructed. Renovated in 2000 and 2009 to respectively add Livingston's Restaurant and Bar and Mims Cafe (both named after early Atlanta Mayor Livingston Mims), the hotel shares an intimate history with Gone with the Wind -- the unfinished original draft was handed off in the lobby in 1936, and the hotel played host to movie's after party in 1939
Stop Seven: After taking down a few frosty bevs at the Georgian, it's over to Mary Mac's Tea Room. Opened in '45, Mac's is synonymous with authentic Southern cuisine in Atlanta. Get the fresh-shucked corn, hand washed collard greens, fried mudbugs (crawfish), and country-fried steak with giblet gravy
Stop Eight: Fat on fried foods, it's time to cab it up Ponce to Atlanta's first and longest operating strip club, the Clermont Lounge. Located in the basement of the Clermont Motor Hotel, the club has survived nearly fifty years of pending closures and condemnation to serve up cheap beers, karaoke, live music, and DJs spinning tunes that the "talent" (look, they don't quite meet the traditional physical standards set around these parts) has absolutely no chance of grooving to. You can't leave Atlanta without seeing Clermont's resident mascot Blondie
Stop Nine: You hungry, girl? Then head over a couple of blocks to Poncey-Highland's Majestic Diner for "Food That Pleases", though possibly not as much as the ladies at Clermont. Since 1929, the Majestic has been dishing out a true Southern diner experience in the form of their classic burger, vanilla milkshakes, and stacks of pancakes, all 24/7
Stop Ten: Walk across from the Majestic and you can hurtle into 1939 by stepping through the opening of the Plaza Theatre. Another art deco structure with a flair for neon lights, The Plaza was probably at its sideburnsiest in the '70s, when it was an x-rated film house, but it moved into indie-arthouse/foreign (a.k.a., soft core) flicks in the '80s. Nowadays it hosts the yearly Atlanta Film Festival, as well as weekly screenings of cult classic The Rocky Horror Picture Show
Stop Eleven: Hey, now that you have that "Time Warp" song stuck in your head, it's only appropriate that you skip up the street to 1956, the year that Manuel's Tavern opened its doors. Serving up ice cold brews and American eats, it immediately became a quintessential neighborhood watering hole, modeled after old WWII English country taverns and loaded with salvaged furnishings from pre-demolished homes. Over the years, Manuel's has expanded, serving as a popular hangout for lively politcal debates and hosting Jimmy Carter's initial announcement of his candidacy for governor in 1970. The original owner also served as CEO of Dekalb County
Stop Twelve: Foxtrot and Charleston your way back down N Highland into the 1920s, and grab a drink at Atlanta's oldest continuously-licensed tavern, Atkins Park. The VaHi restaurant began life as Atkins Park Delicatessen in 1922, and still stands as the go-to watering hole for great beers, family dining, and lively good times
Stop Thirteen: This is it, you're almost done! A mere one block north lies your finish line: Highland music house Blind Willie's. Round out your day with good booze, great blues, and fine cajun cuisine at a bar that opened twenty years ago in an effort to bring older working musicians to town. Sorry, Queen, but it looks like Blind Willie's has more Staying Power than even you.
Ann's Snack Bar
Oakland Cemetery
Underground Atlanta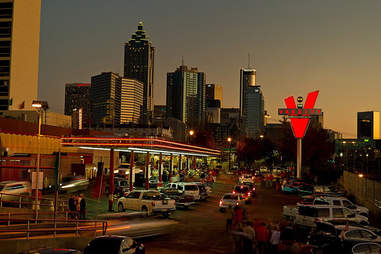 The Varsity
The Fox Theatre
Georgian Terrace Hotel
Clermont Lounge
Majestic Diner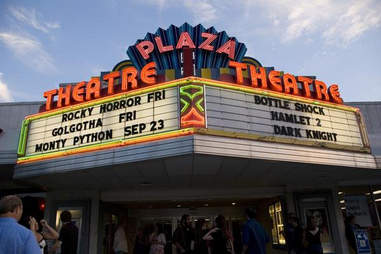 Plaza Theatre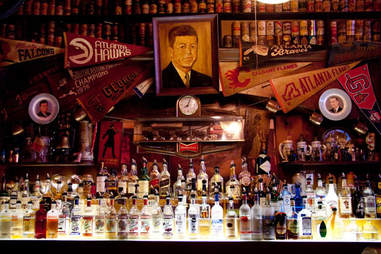 Manuel's Tavern
Atkins Park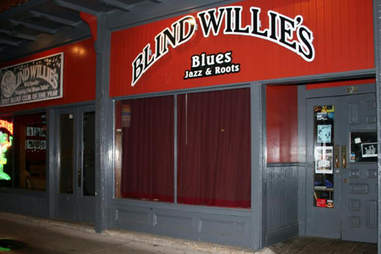 Blind Willie's