Athens may be the definition of a college town, but it's absolutely worth a visit for anyone -- student or not. The Classic City is home to a ton of things that have nothing to do with the University of Georgia, like the iconic Georgia Theatre where local and national artists perform almost every night, a truly ridiculous amount of dive bars (one of which is named Sister Louisa's Church, bless it), and one of the first US vaudeville theatres built, owned, and operated by an African-American. There's something for everyone in Athens, and we made this list to prove it. 
If the Dawgs are playing, put on your red-and-black finest and head to one of the many, many bars downtown to watch Coach Smart jump up and down on the sidelines. If you're lucky enough to actually have tickets, make sure you get to the stadium early to beat the rush of stumbling college students yelling "Go Dawgs!" at every possible moment.
Bar hop to your heart's content
Downtown
Did I mention Athens has a ton of bars? Because it does. More than any one person should reasonably have access to. Aside from huge football game nights, they typically don't have covers, so you can spend your money on what really matters. Highlights include Bar South, Flanagan's, 100 Proof (which serves up delicious "Red and Blackout" slushies on game days for $2), Silver Dollar, and Hedges on Broad. As I've said before, Athens is a college town, so on weekends expect to be surrounded by students, and sometimes their parents?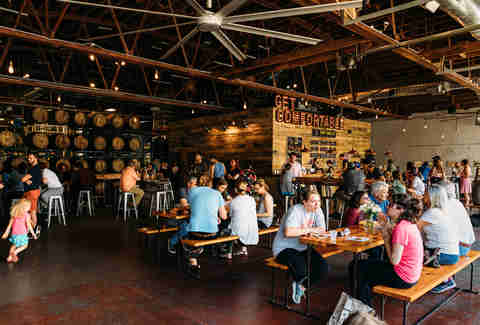 Tour the local breweries
Downtown
As you might expect from  a city with multiple blocks dedicated almost exclusively to bars, Athens also has incredible breweries. Creature Comforts and Terrapin are centrally located , while the Southern Brewing Company is more northeast, and Akademia is closer to Bogart. Take a tour of one -- or all of them.
Downtown
Some may think it's just a glorified concert hall, but the Georgia Theatre has hosted national stars like Wu-Tang Clan, Tyler, the Creator, The xx, and Drivin N Cryin. Decked with a stunning Broadway-inspired sign out front, the Georgia Theatre is a stunning venue that's definitely worth the price of admission (get your tickets in advance!). And if amazing music isn't enough to win you over, there's also a rooftop bar that serves up legitimely delicious snacks like BBQ sandwiches, peanut noodles, and Creature Comforts beer-battered onion rings.
Celebrate Taco Tuesday
Multiple locations
It's Tuesday. You just got off of work. You don't have anything to do. So make use of your time and inhale some tacos and margs at one of Athens' many Mexican restaurants, like Agua Linda, La Fiesta, Tlaloc, or Taqueria La Parrilla.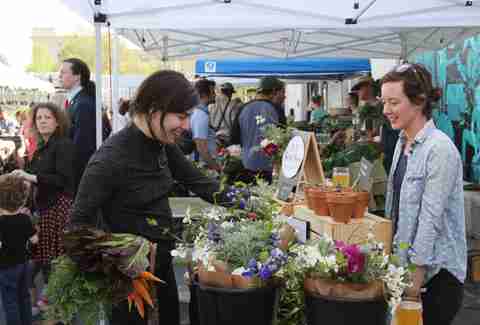 Bishop Park and Creature Comforts 
It may be getting colder, but that doesn't excuse you from buying sustainably in a delightful communal setting. The Athens Farmers' Market is open through November 27 on Wednesdays at Creature Comforts Brewery and through December 21 on Saturdays at Bishop Park. Vendors include Holy Crepe, 1000 Faces Coffee, 3 Porch Farm, and Journey Juice.
Up your Instagram game at the Botanical Gardens
University of Georgia
Although not as grand as the Atlanta Botanical Garden, the State Botanical Garden of Georgia still has plenty to offer -- like lighter crowds and free admission. Definitely force your friends to take pictures of you staring intensely into the camera with a field daffodils and peonies in the background. But there are other ways to spend your time here. See what events are coming up at the garden here.
Slowly nod your head at really old art
University of Georgia
If you're more the "I like art" type, then the Georgia Museum of Art is perfect for you. Yes, it's on UGA's campus (I'm sorry), but it's in East Campus where you'll really only see athletes, hyper middle schoolers on field trips, and the weary souls who have to trek from there to central campus where most classes are held. Plus, admission is free. Check out current and upcoming exhibits here. 
Downtown
Morton Theatre is a must-have on any Athens to-do list because it's one of the first and still active vaudeville theatres built, owned, and operated by an African-American in the United States. During its prime, its stage was graced by musical acts like Louis Armstrong, Duke Ellington, and Bessie Smith. Today it serves as not only a historical landmark, but also a venue for concerts, dance performances, and other community events. Check out the events calendar to see who will be performing while you're in town.
Citywide
Some of the fun stuff to do in Athens is related to UGA and well, this is one of those things. Riding or walking around town you may start to notice bulldog statues painted with different colors and designs. Each one is made of fiberglass and identical in height. These pups were first installed by the Athens-Oconee Junior Women's Club in 2003 and have been sites of many selfies since. Now it's your turn to find them all 30 of them, like Pokémon. You won't win a prize or anything, but you will gain the satisfaction of seeing some pretty darn cool pieces of art.
Bond with animals… from afar
Bear Hollow Zoo
Bear Hollow isn't your typical zoo. Many animals housed there are classified as non-releasable, meaning they have encountered physical or behavioral challenges and would be unable to survive by themselves in the wild. Some of the animals you'll see include three American Black Bears, bobcats, a Bald Eagle, and some pretty intense-looking owls. Just don't stare too hard. 
Sign up here for our daily Atlanta email and be the first to get all the food/drink/fun the ATL has to offer.