Don't say it, don't say it. OK fine, Hotlanta is really living up to its name lately. There's a reason we gained the terrible nickname that's been relegated to out-of-towners, and that's because summer in Atlanta sure is hot.
But even when the summer months roll around and we regularly push toward to triple-digit mark, there's no summer slump here. Atlanta is full of fun things to do to beat the heat, from sipping a cold drink or plunging into a pool to hiding away from the summer swelter in a local museum. The following activities are sure to keep you cool without letting the summer vibes slip away, so here's the ultimate guide to staying cool in Atlanta this summer.
Various locations
Thanks to public pools, hotels, and a little thing called ResortPass, you can cool off on a blissful daycation without leaving Atlanta. Day passes at public pools are pretty easy to come by and hotel options give you access to the pools, spas, and restaurants at some of the best resorts in town—and prices can start at just $5 per day.
Decatur
Museums offer perfect refuge from Atlanta's scorching summer temperatures, and a visit at night makes the experience that much more fun. The Fernbank Museum of Natural History hosts a popular event, Fernbank After Dark, the second Friday of every month throughout the summer. The adults-only event offers an after-hours look at museum exhibitions, live music, bars, a tapas menu, science demos, and more. Each night has a different theme, so grab a ticket for $17.95 for members and $22.96 for nonmembers and see what's in store.
Smyrna
Live! At the Battery, the oversized food and drink destination at The Battery, plays host to a handful of festivals throughout the summer to bring Atlantans together (without making you sweat). Marg & Taco Fest takes place on July 22, and the name really does say it all. Expect chilled margaritas and plenty of tacos served by local food trucks, booths, and restaurants, all while dancing to live music. The Atlanta Wine Walk on August 12 is the fourth annual event where you can taste through dozens of different wines in one place. Then Brew Fest takes over on August 26, offering a similar tasting extravaganza—this time with plenty of beer on site.
Kirkwood
Clay is a natural cooling element, so why not throw some around while making a piece of pottery this summer? Atlanta Clay Works in Kirkwood offers beginner, intermediate, and group party classes where you get to hand-make clay mugs, cups, bowls, and more with the help of professionals at the shop.
Midtown
Spend a summer afternoon or evening taking in the Broadway sensation, Wicked, at the Fox Theatre. Tickets start at $43, and you can also add Marquee Club Access, which is a must-do experience at least once before a show. The Marquee Club, next door to the Fox, is a '20s-inspired restaurant and venue with a stunning rooftop lookout. The add-on, for $55, gives you a 90-minute early access, special menus, and drinks at the Marquee Club.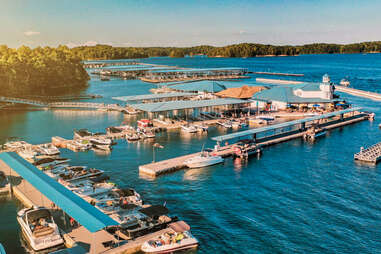 Buford
From double-decker pontoons to sleek yachts, you can rent them all on Lake Lanier. About an hour drive from the city will take you to Georgia's largest manmade lake, spread over 38,000 acres with more than 700 miles of shoreline. Boat rental companies like Paradise Rental Boats, Aqua Sports Adventures, and Lake Lanier Luxury Houseboats and Yacht Rentals all have packages at different price points. Most rentals provide four-hours on the water, beginning as early as 9 am. So, grab your cooler of snacks, a group of friends, and let the lake cool you off.
Smyrna
Whether you're a newbie or a certified wine geek, The Oenophile Institute offers detailed and affordable wine classes for every level. Chelsea Young, industry professional and DipWSET (fancy way of saying she holds a diploma in wine), runs the institute along with certified educators. Single classes cover topics like Unfamiliar France 101, a $20 Expand Your Palate series, Sunday Blind Tasting Groups open to all levels, and special winemaker visits. The indoor classes are an excellent way to learn something new, while staying cool.
Grab a scoop from a local ice cream shop
Various locations
Nothing says summer quite like ice cream, and there are plenty of amazing shops in Atlanta slinging scoops of good stuff. For classic flavors, head to Sweet-Stack Creamery downtown. Try their Basic Bish Vanilla, the Dirty Bird (which is vanilla with pecans), Birthday Cake, or go all out with one of the shop's donut ice cream sandwiches. Paolo's Gelato Italiano in Virginia Highlands has been a staple for more than 20 years. The shop is only open on the weekends, but it's worth a trip to try gelato flavors like almond, watermelon, lemon, and even savory options like basil, carrot, and rosemary. King of Pops serves the city's best handmade popsicles. The classics like Chocolate Sea Salt and Orange Cream are a hit. But also try their seasonal adventurous flavors like Mango Chile Lime. Did you know Sublime Doughnuts also serves ice cream? Try the doughnut ice cream burger for the best of both worlds.
West Midtown
You can cool-off in style at West Midtown's trendiest hang, Rooftop L.O.A. (short for Leave of Absence.) Perched on top of the Interlock building, the massive top floor houses a garden-inspired bar with sweeping views of the city, full-service restaurant, and glorious pool. You can purchase day and season passes to the pool, or simply lounge in the AC with a drink and some oysters.
Tybee Island, Georgia
One of Georgia's most beautiful coastlines is about a four-hour drive from the city and only 20 minutes from Savannah. Tybee Island is quaint and rustic, with plenty of beaches, waves, and sun to take in while you escape the city for a weekend getaway. Get out there with activities like paddle boarding, fishing, and bike riding—or opt to check out the city's diverse restaurant scene and cool vibes on the coast.
Various locations
Now, doesn't that sound nice? At Faced Facial Studio, you can book 30- or 50-minute treatments and let the estheticians create a custom facial for your skincare needs. They also offer the ever-popular hydrafacials, and you can add LED light therapy, lymphatic drainage, and a complimentary new high-frequency comb treatment to your package. The super chill vibes in the studios are sure to let you cool-off, relax, and get that summer glow.