7 Reasons to Drive to Blue Ridge, Georgia Right Now
From local vineyards to scenic waterfalls, these attractions will have you craving a day trip to Blue Ridge.
Sometimes, the best getaways are just a short drive away—so if you're in desperate need of a break from Atlanta, skip the expensive tropical vacation ideas and long-distance road trips and drive over to Blue Ridge, Georgia, instead. Originally established as a railroad town near the north Georgia border (you can still take a scenic ride on the local railway), Blue Ridge is now better known for being a charming mountain town with a sub-1,500 population and plenty of activities for visitors. It may be close to Tennessee and South Carolina, but Blue Ridge is a worthy weekend destination in its own right.
Nature lovers will appreciate the wildlife, gorgeous scenery, and outdoor recreation areas, while art enthusiasts will be surprised to learn that Blue Ridge has an impressive amount of arts attractions. Add in a wide variety of breweries, wineries, events, and festivals unique to the area, and Blue Ridge easily makes for one of the best getaways in Georgia. But perhaps the best part about Blue Ridge is that it's only 92 miles away from Downtown, so depending on traffic, you're looking at just an hour-and-a-half to two-hour commute to one of the most underrated getaways in the Peach State. Still need some more convincing before you start packing? Well, we've got you covered. Here are seven reasons why you should drive to Blue Ridge, Georgia in the very near future.
It has a rocking live music scene
You can tell a lot about the spirit of an area by hearing its music, and fortunately, there is no shortage of live music in Blue Ridge. Every Thursday evening between Memorial Day weekend and the end of September, there's a weekly outdoor jam session series called Pickin in the Park at Horseshoe Bend Park in McCaysville, making for a great free nearby activity if you visit during the late spring or the summer. And if you're hoping to make that drive to Blue Ridge sooner rather than later, you can find live music at The Dogwood on select dates until February 27, bin322 on select dates until March 26, and Misty Mountain Hops on select dates until April 30, among countless other breweries and wineries.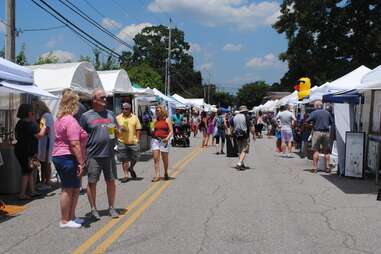 Even though Blue Ridge is a mountain town, the area still has plenty of exciting events happening year-round, from Presidents Day weekend festivities to holiday parades in December. This spring, however, Blue Ridge visitors can look forward to a myriad of annual festivals, including the Spring Plein Air Festival, Trout & Outdoor Adventures Festival on April 30, Spring Arts in the Park over Memorial Day weekend, and the Spring Old Farmers Market Craft Fair for the final two weekends of April. For an even more memorable trip to Blue Ridge, plan your trip around its popular annual festivities.
There's no shortage of waterfall viewing opportunities in the Blue Ridge area. You'll have to hike to get to many of them, but trust us, it's worth it! If you're not sure which one to start with, try Long Creek Falls, but there's also Fall Branch and Sea Creek Falls if one just isn't enough.
Mercier grows many fruits, but what matters most is that they grow apples, and you get to enjoy them. The orchard typically has a U-pick experience, but it is currently unavailable until further notice. That said, you can still don your finest sweater and boots — even though the temperature's finally starting to warm up, we won't judge)— and enjoy everything that Mercier Orchards has to offer, from fishing at its pond to strolling through the orchard. Mercier also sells boxed lunches if you wish to have a picnic. Take home some hard apple cider as a souvenir.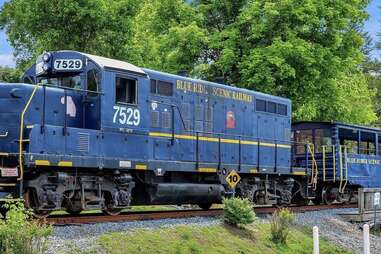 Come aboard the train… and ride down to McCaysville, Georgia and Copperhill, Tennessee (each on the state line). This historic line starts in Blue Ridge and heads down for one hour along the Toccoa River. When you reach the towns you'll have about two hours to explore the area before heading back. In addition to being a really great way to take in Georgia's springtime beauty, you'll be able to tell all your friends that you hit two different states in one weekend getaway.
Downtown has fantastic food and views
Downtown Blue Ridge is enough of a reason to make the trek. Harvest on Main offers seasonally driven fare in an atmospheric setting while Rum Cake Lady Cuban Food has Cuban sandwiches, empanadas, and more. Stroll around and check out the historic architecture as well as the sweeping views of the mountains.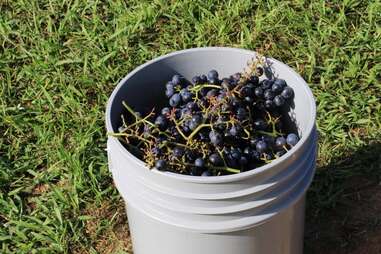 You can indulge in some local wine
Just a few miles from downtown Blue Ridge is Serenberry Vineyards. Catch some fresh air in the vineyard and sip some Georgia-grown wine. They have it all: dry white, reds, and sweet dessert wine. If you get hungry, they have some locally-produced snacks on hand (yum, cheese straws), but you can also bring your own food and enjoy an al fresco meal with your purchased wine.
Lia Picard is an Atlanta-based journalist writing about food, travel, and a variety of other topics. Her work appears in The New York Times, The Washington Post, Wine Enthusiast, and CNN Travel.

Joshua Robinson is an Atlanta-based contributor for Thrillist. Follow him on Instagram and Twitter at @roshrisky.