This Small Town in North Carolina Is the South's Most Charming Fall Getaway
Take off to Hendersonville for apple picking, foliage hikes, and more fall fun.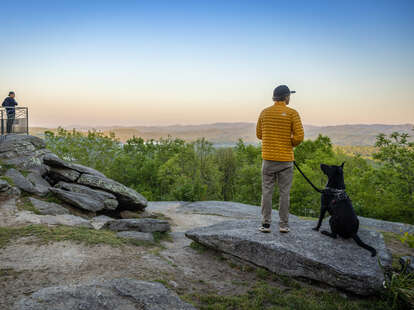 Jump Off Rock

| Photo by Jared Kay
Jump Off Rock

| Photo by Jared Kay
Asheville may get all the glory when it comes to picturesque mountain towns in North Carolina. But there's another spot in the state that beckons for a weekend getaway when fall rolls around.
Hendersonville, North Carolina is home to a charming downtown that keeps it picturesque with historic buildings, eclectic restaurants, and small boutiques. A stroll along tree-lined Main Street gives you a taste of southern charm, with restaurant patios inviting you to stay awhile. And with easy access to the Blue Ridge Mountains and bucolic countryside, Hendersonville is a fall-lover's paradise.
Located 178 miles north of Atlanta, the easiest way to get there is by car. If you go the most straightforward way, up I-85, with a mix of interstates and highways, it will only take about three hours. It's worth building in some extra time, however, for a drive through Dillard, Georgia and Highlands, North Carolina where the curvaceous mountain roads are fun to drive. Grab a sandwich and a coffee at Mountain Fresh Grocery in Highlands' cute downtown. Overlooks along the mountain route allow you to safely take in the mountain vistas before carrying on to your final destination: the epicenter of fall in the South.
Travel time:
3-4 hours by car from Atlanta
If you don't do anything else: Go apple picking
Hendersonville explodes with color in the fall, from the surrounding foliage to the colorful apples found in its orchards. Apple season in North Carolina runs from mid-August to early November and Henderson County—of which Hendersonville is the seat—is the state's largest apple producer. While cooler temps may not arrive until October, that shouldn't stop you from channeling those pumpkin spice vibes found in the u-pick orchards ensconced by mountain views.
At Jeter Mountain Farm, ride the wagon to the apple orchards packed with 25 varieties (the types you can pick varies throughout the season). Delicious treats await post-picking, from pulled pork sandwiches to freshly fried cider doughnuts and refreshing cider beverages both boozy and not (the cider slushy is a can't miss drink for kids and adults alike). McConnell Farms hides in a residential area of Hendersonville. Farmer Danny McConnell grew up on his parents' farm (you pass the house where he was raised when you enter the property) and now he grows apples, berries, figs, and ginger, among other crops sold at his farm stand. McConnell also makes and sells fruit-filled ice cream, doughnuts, and cider, all of which can be enjoyed on the property or taken to go.
The North Carolina Apple Festival is a fun way to usher in the unofficial start of fall. It runs September 1 through 4 in downtown Hendersonville where about 15 apple growers sell delicious treats including cider, fritters, doughnuts, and hand pies. Other festivities include live music, a carnival, pancake breakfasts, and the King Apple Parade.
Fill your days:
Things to do outdoors in Hendersonville
Whether you're mega outdoorsy or just want to take in a beautiful view without much effort, it's easy to get a nature fix in Hendersonville. Jump Off Rock, located just a few miles from downtown Hendersonville, offers a panoramic view of the Blue Ridge Mountains and nearby farmland. Take in the view from the top or hit one of the three trails.
Or hop in your car and hit the Pisgah National Forest, only a 30-minute drive away. You'll find numerous waterfalls, like Looking Glass and Sliding Rock (which you can actually slide on).
If you're game for a stroll through the woods with minimal inclines (ideal if you're traveling with young kids), hit the trail to Moore Cove Falls. The serene trail, lush with flora and streams aplenty, leads to a 50-foot free falling waterfall that you can get up close and personal with.
Shopping in Hendersonville
Horseshoe Gap Village is a folksy district with a quaint collection of shops—and it's a must-visit while in town. At Woodhaven Glass artsy types can create blown glass creations or simply purchase a professionally made piece. There's also a blacksmith that crafts knives and tools, a boutique specializing in handcrafted jewelry, an antique shop, and a coffee shop called Hidden Trails.
Head downtown for more shops worth visiting, including Just Ducky, a delightfully curated children's clothing boutique, and Carolina Mountain Artists Guild for handmade crafts, accessories, and decor. Nearby, Honeysuckle Hollow lures visitors and locals in with its eclectic mix of jewelry, clothing, and gifts.
Other entertainment in Hendersonville
Those traveling with young ones should visit Pisgah Gem Mining. The traditionally campy roadside experience gets the downtown treatment here in a souvenir shop with t-shirts and gifts. For the uninitiated, you choose a bucket containing a mixture of dirt and gems, which are revealed by running the mixture through moving water. Retro fun can also be had nearby at the Appalachian Pinball Museum. The museum has about 80 games stretching from classic pinball to other arcade gems to play—all of them are set to free play, so have at it.
Eat, drink, and sleep:
Restaurants and coffee shops in Hendersonville
For a light start to the day, Cognative Brew House sells locally roasted coffee and bites like overnight oats and smoothie bowls. The seating is spacious and the aesthetic hearkens to a log cabin with its cozy atmosphere. On the other hand, you are in the South, so loading up on a carb-heavy breakfast is simply good manners. HenDough offers the best of both worlds—fried chicken and doughnuts—in a cute-as-cluck atmosphere. Standouts include the fried chicken biscuit and any of the doughnuts available that morning. Meanwhile, lunch at Arabella in downtown Hendersonville prominently features items with house-made sausage and chorizo along with crafty brunch concoctions.
Take a drive to Flat Rock for dinner where just past an adorable run of local businesses dubbed the "Little Rainbow Row," you'll find Campfire Grill. You know it's going to be good when there's a smoker stationed in the parking lot. The elevated-yet-casual restaurant pays homage to the many sleep away camps in the area with vintage photos adorning the walls and a menu heavy on smoked and grilled items. Can't-miss dishes include the grilled chicken, fried catfish, spinach queso skillet, smoked fish dip, and, to round it all off, the s'mores skillet.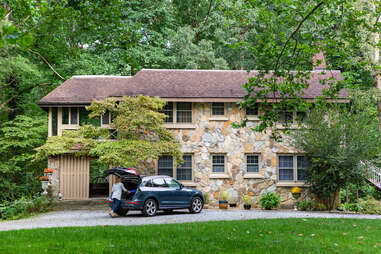 Where to stay in Hendersonville
If convenience is your top priority, opt for The Henderson, which happens to be the only inn located downtown. The 17-room historic property has architectural charm and you can't beat the proximity to Main Street. If rentals are more your speed, Brightwaters Vacation Rental's Verandah is a great jumping off point to all the fun things in Hendersonville including downtown and the orchards. Further out, luxe accommodations can be found at the Bed & Breakfast on Tiffany Hill. Staying here takes you further, but not too far, from Hendersonville, and still within reach of Asheville and the mountains.
Lia Picard is an Atlanta-based journalist writing about food, travel, and a variety of other topics. Her work appears in
The New York Times
,
The Washington Post
,
Wine Enthusiast
, and
CNN Travel
.