A travel app that doesn't make you sound stupid to the natives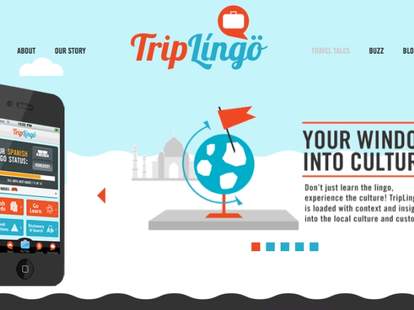 Translation guides can be handy, but too often the basic language leaves you sticking out like an obvious tourist, causing Angelina Jolie to ruin your life...by having insidious secret-agent sex with you!! Show foreigners you're not just another dumb, exceptionally chinstrap-bearded American, with TripLingo.
Lingo's a just-launched, ATL-founded mobile app with a variety of awesome tools to help you really talk like the locals when abroad, and hopefully score one yourself. Start with "Learning Mode" to familiarize yourself with over 2k words and phrases, along with pronunciation notes, cultural info relating to your search (e.g., when you say hello in France people kiss you on the cheek, but you probably shouldn't do it yourself), and over 4k audio translation files which can be played phonetically, normal, or slow, because you don't wanna say something wrong and end up screwed and chopped. The best function may be the "The Slang Slider", which helps you change your phrase between Formal, Casual, Slang, and Crazy, so if you want to say "hello beautiful, how are you?", you can pick the casual "what's up, beauty?", or just go for it with the "crazy" French term "Ca roule poulette?", which means "It rolls, chick?", also a handy question if you need help identifying croissants.
They're starting with German, Spanish, and French, and will soon roll out Portuguese and Italian, and plan to have the web version launched in a month, in case Angelina Jolie did the most devious thing a secret agent could possibly do...steal your cellphone!!!