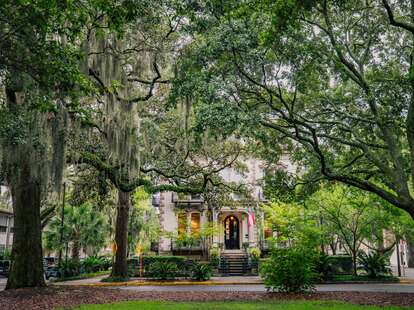 Savannah, Georgia

| Sunira Moses/Unplash
Savannah, Georgia

| Sunira Moses/Unplash
Savannah is one of the most beautiful places in the Peach State. In some spots, it's like you've exited a time capsule out into a nostalgic and charming town covered in Spanish Moss. The artsy neighborhoods scattered throughout the city's limits, plus SCAD and the African Art Museum, make it a creative hub, and the food is on-point, especially on the storied River Street. The boat tours and beaches on nearby Tybee Island are also comparable to many of the better known coastal towns. So if you haven't been yet (or even if you have), all of these are seriously great reasons to take a trip down to the oldest city in Georgia.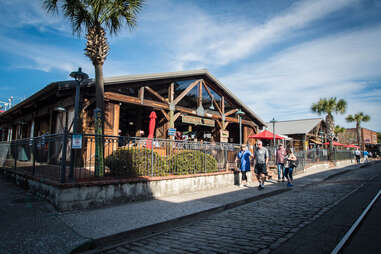 Fall in love with the nostalgia of River Street
If you've ever heard someone raving about Savannah, you've probably heard of them mention River Street. The beloved strip is a standout from the city's historic district, and River Street's centuries-old lodging and infrastructure, long list of noteworthy monuments, and lingering sense of nostalgia all combine to form its one-of-a-kind aesthetic. With so many must-visit restaurants and bars on River Street, rest assured knowing that you can't go wrong with grabbing some grub from Vic's on the River, Top Deck Bar, or Huey's. The two-mile stretch is home to a bevy of unique boutiques and galleries, including River Street Market Place, Mad Hatter, Gallery 209, River Street Sweets, and several others. Classic souvenir shops like Bob's Your Uncle and True Grits are also found on River Street, so be sure to grab a keepsake from one of them before you conclude your road trip and head back to Atlanta.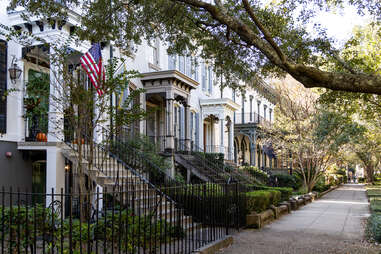 Bask in the beauty of the city's architecture
Savannah has long been a town with some amazing homes that just exude that Southern charm. Similar to San Francisco, the city is filled with Victorian-style domiciles, specifically on two streets - East Jones and Gaston. The former, known as the prettiest strip in Savannah, is filled with colorful houses and walking areas made of brick. It's the perfect place to go if you're trying to clear your mind during a midday stroll, or if you're looking to purchase a new place in a beautiful neighborhood.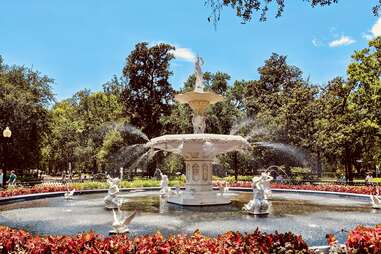 Find inspiration in the city's creative energy
Georgia's oldest city is also home to the highly regarded Savannah College of Art and Design. In contrast to Atlanta's SCAD campus, the private art school's original location boasts a much larger campus and leans on Savannah's Southern charm as a never-ending source of inspiration. In addition to the renowned art institution, the city itself oozes artistry and creativity. Strolling through Forsyth Park, you're liable to see local artisans making special creations while musicians set up shop for impromptu public performances. Many of the city's artists get their supplies at Starlandia Art Supply, and endearing attractions like the Savannah African Art Museum attract creatives who are in town visiting. If you've been searching for inspiration, you're bound to find it in Savannah.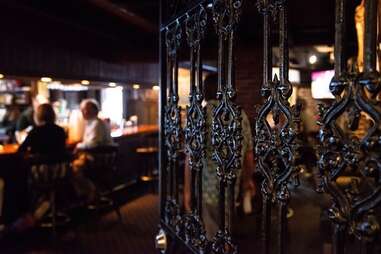 Explore some haunted attractions
As wild as it may sound, some people are drawn to the inexplicable, supernatural folklore of certain cities, and it just so happens that Savannah is widely regarded as one of the most haunted cities in America. Places like the Sorrel Weed House, Bonaventure Cemetery, and 17Hundred90 Inn & Restaurant have been highlighted on television and film on multiple occasions. If you find real-life ghost stories fascinated or are simply flabbergasted that such a beautiful city could be haunted, exploring Savannah's spirited landmarks will definitely interest you, so drive on down and sign up for one of the city's nighttime ghost tours.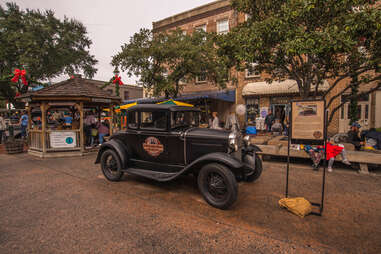 Relive the Roaring '20s at a Prohibition Museum
Even though the 2020s have gotten off to a roar of their own, the 1920s is still one of the most important decades in American history. Characterized by economic prosperity and significant culture change, the 1920s also marked the start of Prohibition in the United States. As we all know, the ban on liquor (thankfully) ceased in the '30s, but the American Prohibition Museum in Savannah is still dedicated to teaching visitors about that odd era in American history. What makes it even cooler—in true anti-prohibition fashion, patrons can enjoy cocktails while visiting the City Market attraction
Explore the history of the city's legendary landmarks
If you're looking for some exciting things to do in Savannah, checking out Old Fort Jackson should be at the top of your list. As Georgia's oldest standing brick fort, the artifacts inside gives attendees that wartime feel as soon as you enter the establishment. Another great spot is First African Baptist Church, which was first organized in 1773 - making it older than the country itself. The church exudes history, and contains decor that was built by enslaved Africans. For you movie buffs, The bench that Tom Hanks sat on throughout the bulk of Forrest Gump is housed in the Savannah Theatre, but making Chippewa Square one of the more popular spots in Savannah's downtown historic district.
Drive over to beautiful Tybee Island
Savannah's close proximity to the water makes it an essential spring and summertime getaway. Since the city is situated right on the Savannah River, visitors can enjoy a vast assortment of boat tours and experiences, from scanning the waters for Atlantic bottlenose dolphins to visiting the isolated island of Daufuskie. Savannah is also 25 minutes away from Tybee Island, so visiting the coastal city gets easy access to one of Georgia's favorite beaches. Sure, you could make a slightly longer drive to visit Hilton Head, but Tybee Island will give you all the vibes and beachfront photo-ops that you need. Plus, visiting the Tybee Island Lighthouse is a must.
Okla Jones
is an Atlanta-based journalist who writes about food, fine arts, and entertainment. His work also appears in
ESSENCE
,
Creative Loafing Atlanta
, and
Consequence of Sound
. Follow him on Instagram at
@coolhandoak
.