The Best Neighborhoods to Spend a Weekend in Atlanta
From Inman Park to Old Fourth Ward, these conveniently located neighborhoods are the best places to spend a weekend in Atlanta.
Shortly after your departure from Atlanta's massive Hartsfield-Jackson International Airport, you may be overwhelmed by all this "city in a forest" has to offer. Each neighborhood is like a mini metropolis, offering history, eclectic restaurants, and lively nightlife within mere feet of each other. This city has over 200 official neighborhoods, each with its own unique flair and aesthetic, and it's an overwhelming task to comb through them all. That's why we've simplified things for you. Whether you prefer to be bougie in Buckhead or channel your inner art critic in Midtown, these neighborhoods in Atlanta provide something for everyone.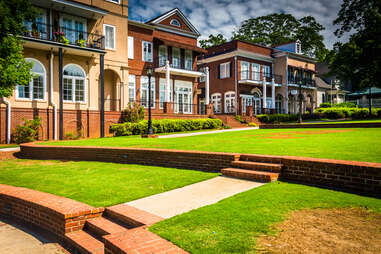 Downtown Duluth
Sometimes it feels good to get away without actually going far, and that's exactly what Atlanta's OTP suburbs—like Duluth, 25 to 35 minutes from the city—are for. Duluth boasts a tight-knit Downtown area that's too welcoming to resist, and thanks to Gas South Arena, some of Atlanta's biggest touring events end up taking place there.
Where to stay: For the most fulfilling Duluth experience, you're going to want to stay in the Downtown Duluth area, and there's no better lodging option than the local Marriott Courtyard. Overlook the fact that it's part of a major hotel chain for a second because the quaint property's damn-near immediate proximity to the best of Downtown Duluth—as well its complimentary parking and lowkey on-site bar—makes it the perfect staycation option. You can also book an entire Airbnb home for yourself in Downtown Duluth, and if you feel like exploring more of Duluth during your weekend stay, Airbnbs like this beautiful Lake House and this bright, wood-paneled private home are worth checking out too.
Things to do: In addition to its own calendar of local programming, Duluth regularly hosts some of Atlanta's most highly anticipated events at Gas South Arena—from family-friendly attractions like Monster Jam and Repticon to major concerts from touring artists like Panic! At The Disco, Carin León, Tyler, The Creator, and more. If you're someone who is always thrilled to embark on a self-guided history or arts and culture lesson, Duluth also boasts attractions like the Southeastern Railway Museum and the Hudgens Center for Art & Learning—which houses visual arts pieces, offers all-ages art classes, and boasts an impressive sculpture garden. And if all else fails, you can always unwind and enjoy some fresh air in the Duluth Town Green.
Best restaurants: Surprisingly, Duluth is an OTP getaway that actually has plenty of impressive food options. For starters, there is a wealth of elevated eateries, including the likes of The Cottage On Main, Noona Meat & Seafood, Local On North, and Falling Rabbit Restaurant. Visitors can also look forward to an array of diverse eats from spots such as Flying Roll, PURE Taqueria,Dreamland BBQ, Sweet Octopus, and O4W Pizza. Lastly, when you're getting ready to depart from Duluth, make sure you wake up early and treat yourself with a mouthwatering biscuit from Maple Street Biscuit Company or some coffee and breakfast empanadas from the Empanada House.
Bars and nightlife: Regardless of whether you're staying in Downtown Duluth to avoid post-concert traffic or you want to bar hop, the neighborhood's amazing nightlife scene is exactly why you should consider staying as close as possible when visiting. Although it's an admittedly small area, Downtown Duluth is absolutely loaded with late-night bars and breweries, including the phenomenal Good Word Brewing & Public House, 6S Brewing Company, the fledgling Gwen Tajz Wine Bar, and more. Then, there's Truck & Tap, which for all intents and purposes is neck-and-neck with Good Word for being Downtown Duluth's best late-night move because the ever-changing watering hole brings people a great rotating selection of food trucks and brews.
Public transit: As we already mentioned, Duluth is seriously OTP. Prepare to walk if you're strictly hanging out in the Downtown Duluth area, or go ahead and get your ride share app ready if you'll be hitting up different venues and shops in the city.
Old Fourth Ward
Heavy on "a little bit of this and a little bit of that," Old Fourth Ward is an Atlanta neighborhood with serious versatility. Not only is this historic neighborhood home to the childhood residence of Dr. King, but it's also home to two of the city's biggest attractions: Ponce City Market and the BeltLine.
Where to stay: Once home to infamous mob boss Al Capone, Hotel Clermont is now a chic boutique hotel that's heavy on the vintage aesthetics. Although getting out and exploring Old Fourth Ward is highly recommended, Hotel Clermont does conveniently happen to feature three of the neighborhood's most popular digs: Tiny Lou's, The Rooftop, and Clermont Lounge. If a hotel room just isn't cutting it for you and your crew, this spacious Airbnb has room for 12 people and it's conveniently located on the Atlanta BeltLine.
Things to do: Regardless of where you stay while in Atlanta, a visit to the birth home of Martin Luther King, Jr. and The King Center is a must. You can take part in a ranger-led tour of Dr. King's childhood home, but keep in mind that tours are on a first-come, first-served basis. And if you fancy a raucous round of Skee-Ball, you'll find just that and plenty more carnival-inspired games at Skyline Park. Located on the roof of Ponce City Market, Skyline Park features games, rides and some of the most stunning views of the city. Admission to this rooftop attraction is $10 per adult and $7 for kids.
Best restaurants: After exploring all that Old Fourth Ward has to offer, you're sure to work up a healthy appetite. For a meal that's sure to please, head to Noni's for a hearty bowl of fettuccine alfredo or Slutty Vegan for a One Night Stand (the burger, folks!). And if brunch is more your speed, Two Urban Licks' weekend brunch is sure to satisfy thanks to dishes that include Lemon Ricotta Pancakes and Nola Shrimp & Grits.
Bars and nightlife: Ask any local about MJQ and you're sure to be met with many colorful stories about this underground dance club that is hands-down an Atlanta staple. But if you're more of a pinkies up kind of gal or guy, there are plenty of elevated options for that nightcap. If you're in the mood for a carefully curated sip, 12 Cocktail Bar mixes up stellar cocktails created by an award-winning lineup of mixologists.
Public transit: Apart from King Memorial Station's proximity to the MLK attractions, Old Fourth Ward isn't quite within walking distance to any MARTA station, but there are still various options you can take. The Atlanta Street Car can swiftly take you down both Edgewood Avenue and Auburn Avenue. And if you'd like to make your pedometer proud, you can walk The Beltline to access a number of bars, restaurants, and attractions in Old Fourth Ward.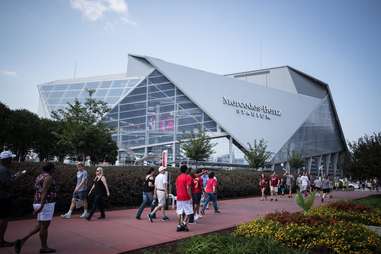 Downtown
Downtown is the heart of Atlanta. Not only is it home to Georgia's state capitol, it's also the ultimate destination for business and major events in the city. With the Five Points MARTA station running trains in all directions, setting up base Downtown means the city is at your fingertips.
Where to stay: High rises and hotels cover Downtown's skyline, so expect a more urban vibe in its lodging options. Conferences and events are always happening at the Atlanta Marriott Marquis, but a step inside the 52-story hotel shows why it's a perfect all-purpose destination. Not feeling the hotel vibe? Then renting out lofts, like this gorgeous minimalistic Airbnb, can save you money while still keeping you in the thick of things.
Things to do: You probably know about the Georgia Aquarium, the World of Coca-Cola, Centennial Park, CNN Center, and other insanely popular attractions that Downtown offers, but there's more to it. Explore the history of Underground Atlanta, catch a concert at the Tabernacle or Masquerade, or see one of Atlanta's sports teams in action at the Mercedes-Benz Stadium or State Farm Arena.
Best restaurants: Dos Bocas is one of the best restaurants in Atlanta right now, so stop by for their blend of Tex-Mex and Cajun dishes. If you're on the hunt for lunch, try exploring the Sweet Auburn Curb Market. A few blocks east of Hurt Park, the market has a little bit of everything, from Vietnamese food to South African-style pies. There's also the Peachtree Center, and although it houses chains that aren't necessarily unique to Atlanta, eating underground is pretty damn cool.
Bars and nightlife: For after-hours fun, you can go for a scenic ride on the SkyView Ferris wheel for a wondrous view of Atlanta at night. For more X-rated views, you can also stop by the legendary Magic City strip club, and you just might see your favorite rapper there. If nothing else, just take a night stroll down Peachtree Street -- you won't regret it.
Public Transit: Perhaps the most transit-friendly section of the city, Downtown has heavy MARTA Bus activity and access to the Atlanta Streetcar. MARTA stations in the area include Peachtree Center, Five Points, Garnett, Georgia State, and CNN Center.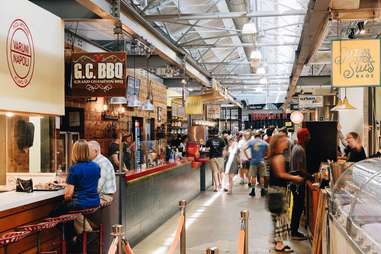 Little Five Points - Candler Park - Inman Park
On the east side of the city, Candler Park and Inman Park are joined together by the groovy little district called Little Five Points, forming an eclectic and historic conglomerate. A lot of personality bleeds over their borders, so it only makes sense for them to be grouped together. For artists and creatives who are looking to experience the Atlanta that doesn't get shown TV, these neighborhoods are for you.
Where to stay: In this part of Atlanta, there are fewer towering structures, which gives it a more open and spacious vibe. Airbnbs reign supreme here and consist mostly of guest areas like this cozy Candler Park cottage or this Little Five lair. Inman Park has Sugar Magnolia Bed & Breakfast, a bonafide b&b operating out of a gorgeous 1892 Queen Anne Victorian. Urban Oasis is situated right on the Atlanta Beltline, and it's perfect for experiencing the surrounding neighborhoods to the fullest.
Things to do: Together, Little Five Points, Candler Park, and Inman Park have the best IG-ops in the city. From the Krog Street Tunnels' iconic street art to the bike-clad Beltline, there are plenty of picture-worthy places to explore. What's more, Candler Park has its own 55-acre park, complete with a swimming pool, 9-hole golf course, soccer field, basketball court, tennis courts, and playground. For some atypical retail therapy, you can always peruse record stores and thrift/consignment shops in Little Five Points.
Best restaurants: The major tip for this group of neighborhoods is Inman Park's Krog Street Market, your source for everything from Spanish tapas to Asian steamed baos. With 15 eateries and a handful of retail spaces, you could spend a few days there without eating the same style of food. On the other hand, Candler Park has the OG Flying Biscuit -- definitely worth visiting. Lastly, Little Five Points has both The Vortex, a burger bar & grill inside the mouth of a giant skull, and Thai 5, a hole-in-the-wall that doubles as a Thai restaurant and sushi bar and doesn't disappoint.
Bars and nightlife: Ticonderoga Club, which is one of the best bars in Atlanta right now, rests in Inman Park, but the real fun after dark is happening at Little Five Points. You can get some new ink from one of the many tattoo parlors, catch live entertainment at clubs like Aisle 5, the Star Community Bar, and Variety Playhouse, or bar hop from Wrecking Bar Brewpub to the Corner Tavern.
Public transit: These neighborhoods fall between MARTA's Inman Park/Reynoldstown and the Edgewood/Candler Park train stations, but things are a little more spaced out than other areas. There is a nice amount of MARTA routes, so either riding the bus or catching an uber is recommended if walking isn't an option.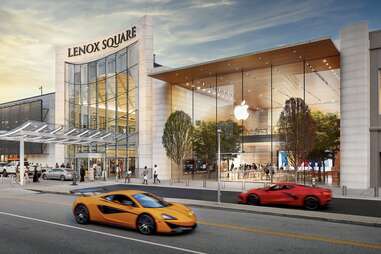 Buckhead
Some people need itineraries when traveling; others just need directions to the nearest shopping center. If you fall into the latter category, Buckhead is probably the destination for you. This uptown neighborhood is your spot for style and decadence.
Where to stay: Arguably the most lavish section of Atlanta, Buckhead has plenty of astounding places to stay. You've got plenty of chic hotel offerings, from the AC Hotel to The Whitley, but there's also the famous Secluded Tree House Airbnb. It's kind of ironic that this holistic retreat is located in such a commercial district, but if you want to go for something different, then test your luck and try to book a night at one of the most popular and unique Airbnbs.
Things to do: Plain and simple, the main attractions in Buckhead are the shoppes. Peep the fancy spelling, because that was intentional. Lenox Square is the quintessential mall stop for locals, tourists, and celebrities alike, with stores like Forever 21 and Cartier coexisting under one roof. However, you shouldn't overlook Phipps Plaza, an even fancier operation. In addition to the extensive selection of luxury brands, there is also a dine-in AMC in the mix, so don't sleep.
Best restaurants: For one of the best brunches in Atlanta right now, roll out of bed and stop by Local Three for an award-winning, all-you-can-eat brunch. Upscale, dress-code enforced spots like Le Colonial or The Garden Room are available, and you can also look forward to vegan-friendly and plant-based dining options from Café Sunflower,True Food Kitchen, and R. Thomas' Deluxe Grill.
Bars and nightlife: They're practically polar opposites, but Hole in the Wall and Himitsu are two spots crucial to Buckhead's nightlife. Hole in the Wall is an extremely popular club for a younger crowd, and Himitsu, a reservation-only Japanese craft cocktail lounge, literally translates to "secret" from Japanese.
Public transit: The Buckhead and Lenox MARTA stations will put you right by Lenox Mall and fancy eateries like Maggiano's, but getting to Phipps and other hot spots may prove to be more difficult. Nothing is spread too far apart, but Buckhead traffic makes walking a bit unnerving, so be willing to rideshare as well.
Cobb - Cumberland
While technically a suburb of Metro Atlanta, Cobb straddles the perimeter and boasts an impressive amount of things to do. A stay at the outskirts of Cobb County puts you 12 miles away from Downtown, so it's a destination that you should definitely consider.
Where to stay: Cobb's quaint mix of the urban and suburban developments will give your stay the best of both worlds -- a city feel with fewer parking hassles. This townhouse Airbnb, for example, has modern design sensibilities without losing the easygoing vibe of the suburbs. However, if you want to dive head-first into everything that Cobb has to offer, you should reserve a room at the Omni Hotel, which is literally at The Battery and feet away from the Atlanta Braves stadium.
Things to do: First off, Cobb has a whole amusement park. Six Flags Over Georgia is a great attraction for anyone looking for thrills, and it even re-opens in the fall for Fright Fest and in the winter for Holiday in the Park. For a spot that supplies the eats and the entertainment, check out The Battery, one of the city's coolest new developments. Cumberland Mall, the Main Event arcade, and an indoor skydiving center right at the I-285 perimeter.
Best restaurants: Even in the shadows of such endless entertainment, Cobb's food scene holds its own. Brick oven pizzeria MTH Pizza makes some of the best pizza in Atlanta, and The Battery offers a nice selection of eats all by itself, including H&F Burger, Superica, and the Garden and Gun Club.
Bars and nightlife: Just like how it has all the food, The Battery has all the booze too. Liquor selections from Yard House and Cru Wine Bar coupled with a club atmosphere at Live! at The Battery, the venue keeps the party going even after dark.
Public transit: The only downside to Cobb is that it's simply not public transit-friendly. Lyft or Uber will be your best friend if you're flying into the city. However, if you travel by car, this is one destination in Atlanta that wouldn't be bogged down by having a vehicle with you.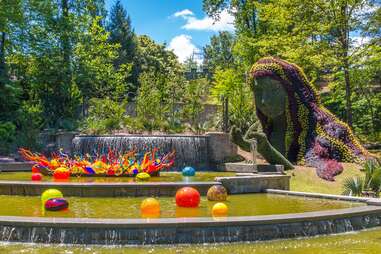 Midtown
If Downtown is the heart of Atlanta, then Midtown is its soul. Culture and arts run rampant, and there's a perfect balance of places to shop and things to do. The rainbow crosswalks are a trademark of the neighborhood and a representation of the inclusive spirit that runs from North Avenue to 17th Street.
Where to stay: Midtown is characterized by elegance, luxury, and beautiful designs, and those elements are seen in everything from modern five-star hotels to 20th-century Victorian apartments. You'll be impressed whether you go the hotel or Airbnb route. If you're looking to spoil yourself, Four Seasons and the Loews Hotel are two great options that support a wide range of budgets. Convenience is key, so opt for spots like this gorgeous townhouse Airbnb that's within walking distance of Atlantic Station.
Things to do: Midtown honestly has it all. The High Museum of Art and the Atlanta Symphony Orchestra provide creative outlets for the artsiest of us all, and Piedmont Park and the Botanical Gardens bring you closer to nature, even within the confines of a city as busy as Atlanta. Atlantic Station rounds it all out with an appealing outdoor shopping strip.
Best restaurants: Near the AUC, you can grab hip-hop-themed pizza with big puns for names, and if you caught that one, Slim & Husky's belongs on your radar. If you're up for a more elevated (both literally and figuratively) dining experience, head over to the Interlock and enjoy a lavish meal at Restaurant L.O.A. or hop across the street and dine in at Cooks & Soldiers. Midtown also boasts Aziza, Politan Row, 5Church, Redbird, Sukoshi, and some of Atlanta's best new restaurants.
Bars and nightlife: The Vinyl/Loft/Center Stage trifecta should be your go-to for nighttime events in Midtown because the venue has hosted concerts of all genres, live podcasts, and even wrestling matches. The bars aren't lacking, either—check out Blake's On The Park, Little Trouble, or JoJo's Beloved Cocktail Lounge and see for yourself.
Public transit: Getting around Midtown is a breeze with public transportation. Connected with the North Avenue, Midtown, and Arts Center train stations, Midtown is extremely accessible. The area is pretty walkable in comparison to other parts of the city, which really comes in handy when rideshare surges get nasty.