Two nights. One city. Zero sleep.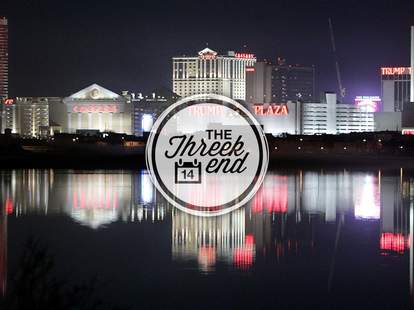 Headed to Atlantic City for a few nights? Congratulations on choosing the most exciting travel destination in the world! Of course, with so much to offer, there's no way you can expect to squeeze in everything if you spend time doing something as trivial as sleeping. That's why we created The Threekend: the only city guide for the discerning traveler who's low on time and high on amphetamines. We have every minute totally planned for you, so sit back and relax... or don't, because clearly that isn't your style.
Friday, 10:37a: Spirit Airlines #788 lands at ACY International
10:38a: As soon as you can legally use a cellphone again, make a reservation at Chef Vola's. Don't worry, they'll call you back. 11:05: Wish you could've eaten every breakfast on the plane? Land at Teplitzky's, the Chelsea's off-boardwalk coffee shop for a Big Teplitzky: two pancakes, French toast, 3 eggs, a bagel, hash browns, bacon, pork roll, turkey sausage, a glass of OJ, and more coffee than your stewardess pours in a week
11:51a: Next check into the Borgata's gilded Water Club Hotel. There're five adults-only indoor and outdoor heated pools downstairs plus a panoramic two-story penthouse spa up top. Your room has a shower stall. Drop your bags, rinse, and don't look back
11:59a: Kick back at the Borgata's Barbershop, enjoying some adults-only pool table action before a professional lesson in smoothness: a 1hr lotion-towel-and-repeat Whole Nine Yards hot shave. Gotta look fresh for the weekend, son
1:17p: Now put some color in your newly-shorn cheeks (the ones on your face, dude, come on!) after shuttling to the hotel's private guests-only beach in Brigantine
3:56p: After you soak up some rays, soak up some booze at Revel Beach's Mussel Bar where you can wash down bowls of truffle-bacon mussels and mussel-syruped tequila 'tails with more than 150 craft brews
5:21p: Lost your sea legs? Let a Pedicab roll you down the boardwalk past the world's highest concentration of #YOLO paraphernalia and the ladies who love it on your way to the Pier Shops at Caesars
5:50p: Turn your shirt into the "shirt before the shirt" with an ocean-view shopping spree across three floors of velvet rope-parting Burberry, Gucci, and Louis Vuitton
6:45p: Before you tuck into Preview Bar's prime and short rib smothered 40oz Kobe cheeseburger, tuck in some napkins or your new buy'll be forever known as the "shirt after the burger.
8:43p: Watch the sunset before you turn around to see the facade of Boardwalk Hall transform into a three-dimensional optical illusion
9:00p: Don't be fooled by the light magic too long. There's still a concert hall, boxing ring, and basketball court through those doors, and you've got front row seats
11:59p: Forget the "official" afterparty and grease your way into Royal Jelly, the Revel burlesque club where bands spend their own money to party with tableside pole dancers and live rock strip shows starring ex-NFL cheerleaders and Beyonce dancers
Saturday, 1:51a: Attempt to leave. Get 30ft across the casino floor before spotting AC's only go-go-topped blackjack tables. Occasionally look down at your cards
2:40a: Demonstrate everything you now know about gambling without distraction at the poker room in the Trump Taj Mahal. Realize it's the same poker room that was in Rounders and get out while you can
4:40a: Proceed to the poker room back at your hotel. Take the escalator descending to the left and start the morning with a health shake at the Borgata food court's 24/7 Fatburger
6:10a: Watch the sunrise over the windmills from the Water Club's penthouse Immersion Spa. Shame the windmills by yelling out how much faster you can spin
7:05a: Prove it, rent a bike, and race down four miles of still-too-early-for-a-pedicab-of-shame boardwalk
10:01a: Add a wheel... of breakfast pizza... in combos like cheesesteak-and-eggs, or the 10-meat (!) and scrambled Rise & Die at Tony Boloney's
10:50a: Pedal on to Ocean City for a dozen frosted 'nuts from Fractured Prune with custom non-pizza toppings like PB&J-glazed coffee crumb Oreo. You're going to need them..
12:44p: ...if you want to roll like the Governor surveying the shore from a Steel Pier helicopter tour
1:45p: Not thrilling enough? Ride the pier's Rocket coaster up 225ft in less than two seconds
1:49p: Ride it again!
1:53p: One more time
2:31p: Refill your now-empty stomach at Arctic Ave landmark White House Sub Shop with the house special salami-prov-cap-and-ham-piled footlong. The line's longer than the Rockettes, so if you want three, buy 'em all at once
3:01p: Breathe in the salty rim of your cup air at Margaritaville's Landshark Bar. Completely misinterpret Jimmy Buffett's lyrics, realize how much you need a brand new tattoo to show
4:48p: Needle your way in to Hot Rod Tattoo, ask for Drew, and score some custom ink as you attempt to describe that go-go girl from last night
6:29p:Chef Vola's called you back, Google Maps found their James Beard-winning unmarked basement dining room, and you're sitting down to a Flinstone-sized bone-in veal parm
9:07p: While your eyes are still glazed over from dinner and your tells aren't showing, hold your own in Harrah'sWorld Series of Poker room
9:37p: That didn't work. Order up a plate of fried pickle chips from Bill's Bar & Burger, which the poker room serves tableside. Convince everyone they're poker chips
10:30p: You're on a roll. Palm the doorman at The Pool at After Dark a couple pickle chips and reap the rewards of hot tub bottle service beneath a palm tree-filled party biodome
Sunday, 1:10a: Cab it across the marina and dry off on the Veranda outside the Golden Nugget's Haven nightclub, home to the only open-air gaming in town
2:30a: Cash out and keep those singles handy at the Diving Horse, a first class non-airport lounge where you can buy the kind of pat-down a TSA agent could learn a thing or two from
4:55a: Wheels up and a safe landing on Red 25, come on Red 25! awaits. Congratulations, you played AC before AC played you.