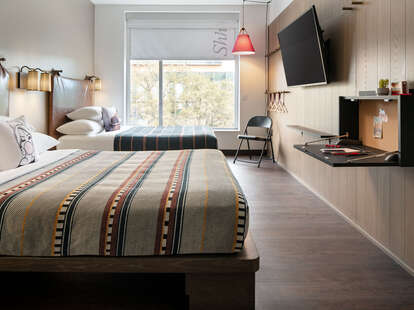 Moxy Hotel Austin

| Photo courtesy of Moxy Hotel Austin
Moxy Hotel Austin

| Photo courtesy of Moxy Hotel Austin
New hotels are awesome, aren't they? Sparkling showers, bouncy beds with crisp, freshly-pressed sheets, and eye-catching design elements that haven't yet been exploited on the Gram—the early bird always gets the hotspot worm, especially in Austin. And as the Lone Star capital's population swells, so too has its hotel options. Despite an economy in flux and out-of-state travel at a standstill, this past year has seen a fleet of buzzy newcomers emerge onto the local hospitality scene, with even more on the horizon. Here are some of Austin's best and brightest hotel debuts, just in time for that Summer Friday staycation.
Re-opened: February 2021
It was a tough start for The Otis, which originally launched in February 2020 but was quickly forced to close for an entire calendar year due to you-know-what. Still sparklingly new, however, their boutique guest rooms and social spaces are a nod to the city's musical history. Expect in-room vinyl record players, a very happening rooftop pool and lounge, and walking-distance proximity to all the college-centric musical festivities the city has to offer.
Cost: Rooms start at ~$185 per night.
Opened: January 2021
College kids are congregating over at this flashy new Marriott Bonvoy spinoff, drawn by the notion of all-week hangouts at the vibrant cocktail bar and 24-hour taco counter. Upstairs, rooms err on the side of industrial-chic and feature platform beds, pop-down work desks, and hooks for hanging your threads. Look out for promotional discounts and party-hearty events like the aptly-named Fraternity Fridays and Sorority Saturdays.
Cost: Rooms start at ~$100 per night.
Opened: January 2021
The plush all-suite accommodations at this innovative stay blur the line between upmarket residence and boutique hotel. Expect creature comforts like kitchen and laundry access alongside sexy hotel perks. There are a total of 80 suites ranging from 460 to 1,170 square feet in size and the snazzy onsite fitness center houses Peloton bikes and a yoga studio.
Cost: Rooms start at ~$230 per night.
Opened: September 2020
This 89-room escape on Music Lane is arguably the hippest new stay of the bunch. It's made up of four buildings, connected by a maze of exposed elevated walkways and courtyards which make for scenic evening strolling. The interiors are big and bright, sporting Spanish-tiles in four colorways (red, blue, yellow, or green) and awash in charming retro decor that can only be described as lake house chic.
Cost: Rooms start at ~$170 per night.
Opened: June 2020
California-based hospitality group Auberge Resorts Collection have transformed this 1928 mansion into a glamorous boutique resort. The architectural landmark sits on ten secluded acres in the Hancock neighborhood, surrounded by lush European-style greenery. Rooms are a little on the pricey side, but you can still experience those Pride and Prejudice vibes by snagging a table at their ultra cute onsite restaurant, Lutie's.
Cost: Rooms start at ~$580 per night.