The Best Airbnbs for Your Next Austin Area Staycation
Ready to skip town for a weekend or longer? These gorgeous Airbnbs and hotels are well worth the trip themselves.
The Bloomhouse by Lodgewell | Fairy Tale Escape

| Courtesy of Airbnb
The Bloomhouse by Lodgewell | Fairy Tale Escape

| Courtesy of Airbnb
From eggs to concert tickets, it seems like price increases are popping up everywhere—and plundering our checking accounts in the process. This raid on the wallet is especially noticeable when it comes to airline travel. Whether you're buying tickets to India or Indiana, you better expect to drop some serious dough. Amidst this budgeting nightmare, the chance to discover the city in a different way—through a staycation—feels more appealing than ever. And, boy, does the Airbnb selection in Austin deliver the chance to break away from the usual. You can spend a holiday surrounded by nature in a country-side yurt or soaking in the hut tub of a luxe mansion without ever waiting in a TSA line. Check out our list to discover the amazing local rentals worthy of your precious PTO. While your apartment may be within a ten-mile radius, these spots will still evoke a blissful distance from the day-to-day.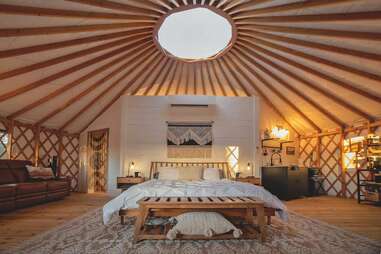 2 guests, $154 per night
Distance from downtown Austin: 29 minutes
Unless you've spent time in the steppes of Mongolia or obsessively follow traveler influencers on social media, you may not have heard of a yurt. The tented, wood-framed dwellings have provided shelter for various nomadic tribes in Central Asia for centuries. But this particular cozy Airbnb oasis, located on a 15-acre farm in Dripping Springs, was built to deliver the perfect glamping experience. In other words, you get all the benefits of camping, such as waking up to the sound of birds chirping and stargazing the night away, with the additional bonus of being able to sleep in an actual bed. However, that's far from this spot's only perk—you can also lounge by a fire pit, soak in an outdoor tub, and cook delicious food on a propane grill. Just be warned, after spending time here, you might forgo your sleeping bag forever.
Things to do nearby: The only thing that makes beholding the gorgeous Hill Country scenery even better is doing so with beer in-hand. And, fortunately for you, renowned brewery, Jester King, is only a quick drive away.

15 guests, $139 per night
Distance from downtown Austin: 13 minutes
While we're unsure if this home's decorated fence is a nod to the Lone Star state's love of donuts, a record-shaped homage to the Live Music Capital of the World, or just a randomly chosen artistic backsplash, it certainly reflects the fun, modern vibes of this place as a whole. With eight beds and an outdoor area that simply begs to host a pool party, it feels like the ideal spot for a getaway with your gang. The crew can also enjoy dinner and a glass or two of rosé outside at the massive, string-lit backyard table. Whether the food is cooked in the house's pristine kitchen or ordered from Torchy's, the setting will make for a memorable meal. Or since this property is well-located within trendy East Austin, you'll have more than a handful of delicious dining options to choose from.
Things to do nearby: From this Airbnb, it's only a five-minute Uber ride to the nightlife mecca of East Sixth Street. Start your night there with a meal at Licha's Cantina, before bar hopping through the many dives, including The Liberty and Violet Crown Social Club, that line the blocks. Finish up the night with a show at Hotel Vegas, where the music's always good and the pours are always heavy.
8 guests, $2750 per night
Distance from Downtown Austin: 18 minutes
This "Airbnb Luxe" (a category the company uses to denote only the plushest rentals) lives up to such a distinction. Located on the shores of Lake Austin, it feels like the kind of prime property owned by a Housewife on Bravo. The interior highlight of this four-bed, 4.5-bath estate would have to be the two living rooms. Each features a fireplace, as well as plenty of wall-sized windows that let you gaze out on the splendor of the lake. But, the real draw here has to be the exterior, which includes multiple decks with plenty of seating, a fireplace, a hot tub, and the ultimate pièce de résistance, a pool with a swim-up bar. However, should you get tired of playing resort bartender, you can get the low-down on other activities from the house's concierge service—yet another one of the bougie amenities included in your stay.
Things to do nearby: Balance out all the decadence of your lodgings by grabbing a burger and a beer at casual, long-running local hang, Ski Shores Cafe. Since 1954, this water-side joint has reenergized generations of water skiers with its signature patties, which are best eaten alongside a cold can of Lone Star.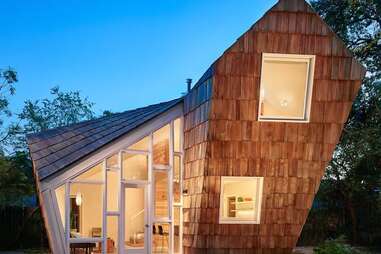 2 guests, $250 per night
Distance from downtown Austin: 9 minutes
For a staycation spot that oozes aesthetic appeal, fly on over to the cozy East Austin residence known as "The Beehive." The insect-inspired nickname comes from the cedar shingles that cover part of the exterior and create a striking honeycomb-like effect. The other half of the exterior is equally remarkable—a multitude of rectangular windows, which not only add distinction to the building's composition, but ensure you'll stay basking in the glow of natural light. The interior of this tiny home gives off peaceful, zen vibes and does not have a single television, encouraging visitors to disconnect from the hustle. Don't just take our word for it though. The Beehive's notable design has garnered it an architectural award, a magazine spread, and even a featured spot in an international ad campaign by Airbnb itself.
Things to do nearby: Stop by the famous "You're My Butter Half" mural, where you can pretend to be an actual tourist by snapping a selfie. Afterward, walk a block over to Sour Duck Market for a refreshing cocktail and some of the best baked goods in the city.
2 guests, $238 per night
Distance from downtown Austin: 4 minutes
If you want to "Keep Austin Weird" with gusto, why not sign up for a romantic staycation in a classic 1971 Airstream trailer? And don't think for a second that kicking back in a tiny space means missing out on great amenities. There's a private backyard, barbecue grill, and sweet outdoor hang space complete with funky blue couch and hanging cocoon chair—not to mention the ultimate Airbnb accessory, a hot tub.
Things to do nearby: Explore the shops of bustling South Congress before grabbing dinner and drinks at Mediterranean hotspot Aba.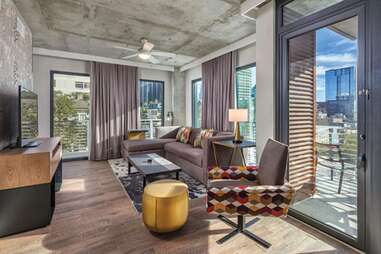 6 guests, $213 per night
Distance from downtown Austin: 0 minutes!
From the get-go, this place seems like the perfect bachelor pad. Case in point? The foosball table in the dining room. And for those searching for the full downtown experience, no better location exists than this Club Wyndham Austin condo, smack-dab in the center of the urban hustle and bustle. That means a short walk (or scooter, if you will) to more places to down a Lone Star then you can count. However, with the stunning skyline views from the rooftop swimming pool, you won't even have to step outside the building to soak up the city.
Things to do nearby: Keep the party going with a pub crawl along West Sixth Street where go-to stops like Rustic Tap and Irene's fuel the fun.
8 guests, $1279 per night
Distance from downtown Austin: 15 - 20 minutes
There's no getting around it: this place is a literal dream house. The modern digs offer everything you'd possibly need for a big crew, including plenty of space for everyone to feel like they have their own private area plus a gourmet kitchen and tranquil backyard complete with a pool and hot tub. Best of all, it's just a short drive to the big hotspots downtown and steps from Lake Austin.
Things to do nearby: If you need a break from hanging lakeside, check out Tarrytown. There, you can pet some puppies at Austin Pets Alive!'s Tarrytown Dog Adoption Center before sitting down for a stellar plant-based spread at The Beer Plant.
4 guests, $498 per night
Distance from downtown Austin: 20 minutes
Visually, this space is an absolute knock-out. Built by two UT architecture students in the 1970s, the Bloomhouse, as it is called, looks like a palace sculpted out of meringue. And if the eye-catching design wasn't enough, the patio looks out over a secluded part of West Austin—in other words, you'll feel like you're far from the city without actually being far from the city. As the description on Airbnb reads, "Do it for the 'Gram, but also for your soul."
Things to do nearby: Visiting Laguna Gloria, an outdoor contemporary art museum stationed a 15 minute drive away, acts as a double-dose of thought-provoking beauty.
4 guests, $135 per night
Distance from downtown Austin: 9 minutes
While we don't recommend testing out the old saying about throwing stones at glass houses, we do recommend checking out this breathtaking glass-walled house, voted the #1 Airbnb in Austin according to Architectural Digest. If the beautiful aesthetics, fire pit, and picnic-worthy yard doesn't win you over, the master bathroom is bound to. The wood-paneled hideaway boasts a top-of-the-line bubble bath tailor made for fantasizing about owning your own private spa.
Things to do nearby: Grab some cold brew at Halcyon before strolling around scenic Mueller Lake Park, a prime location for people (and dog) watching, if there ever was one.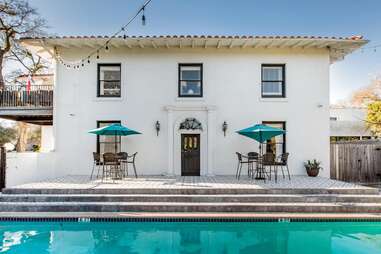 10 guests, $2113 per night
Distance from downtown Austin: 6 minutes
Miriam "Ma" Ferguson made waves as the first female governor of Texas in the 1920s and 1930s and, even more so, as one of the first of two women governors in the entire country. Channel some serious girl power with a stay in this trailblazer's home, once a hub for many traveling dignitaries. Of course, the house has undergone a few updates since Ma's era, including decor hand-picked by renowned local interior designer Joel Mozersky and an outdoor expanse complete with a pool (and, more importantly, a poolside bar).
Things to do nearby: Stick with the old-school Lone Star theme by nabbing a dinner reservation at legendary Austin steakhouse Jeffery's.
Want to know more about our favorite products, the most worthwhile sales, and exclusive deals on cool stuff? Sign up for our weekly newsletter, The Get.