The Best Airbnbs for Your Next Austin Area Staycation
Ready to skip town for a weekend or longer? These gorgeous Airbnbs and hotels are well worth the trip themselves.
Let's face it—you need a vacation. And we're not talking about the kind where you lounge around in sweatpants for a week watching Netflix (although, no judgement on our end when it comes to that). With the beautiful spring weather cloaking Austin in sunshine, what could be better (and more COVID-conscious) than a staycation in your very own city's backyard? We've picked a variety of the best Airbnb has to offer, whether you are looking for a romantic getaway for two or somewhere to bring the whole crew. Oh, and there are plenty of pools—because nothing says "Out of Office" like chilling on a flamingo floatie.
2 guests, $221 per night
Distance from downtown Austin: 4 minutes
If you want to "Keep Austin Weird" with gusto, why not sign up for a romantic staycation in a classic 1971 Airstream trailer? And don't think for a second that kicking back in a tiny space means missing out on great amenities. There's a private backyard, barbecue grill, and sweet outdoor hang space complete with funky blue couch and hanging cocoon chair—not to mention the ultimate Airbnb accessory, a hot tub.
Things to do nearby: Explore the shops of bustling South Congress before grabbing dinner and drinks at Mediterranean hotspot Aba.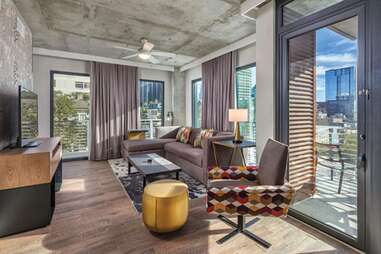 6 guests, $237 per night
Distance from downtown Austin: 0 minutes!
From the get-go, this place seems like the perfect bachelor pad. Case in point? The foosball table in the dining room. And for those searching for the full downtown experience, no better location exists than this Club Wyndham Austin condo, smack-dab in the center of the urban hustle and bustle. That means a short walk (or scooter, if you will) to more places to down a Lone Star then you can count. However, with the stunning skyline views from the rooftop swimming pool, you won't even have to step outside the building to soak up the city.
Things to do nearby: Keep the party going with a pub crawl along West 6th Street where go-to stops like Rustic Tap and Irene's fuel the fun.
14 guests, $457 per night
Distance from downtown Austin: 15 - 20 minutes
There's no getting around it: This place is a literal dream house. The modern digs offer everything you'd possibly need for a big crew, including plenty of space for everyone to feel like they have their own private area plus a gourmet kitchen and tranquil backyard complete with a pool and hot tub. Best of all, it's just a short drive to the big hotspots downtown and steps from Lake Austin.
Things to do nearby: If you need a break from hanging lakeside, check out Tarrytown. There, you can pet some puppies at Austin Pets Alive!'s Tarrytown Dog Adoption Center before sitting down for a stellar plant-based spread at The Beer Plant.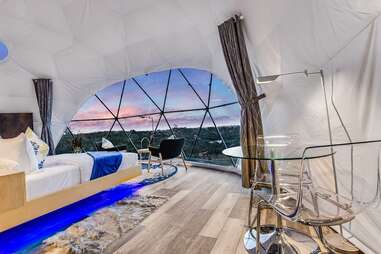 2 guests, $315 per night
Distance from downtown Austin: 1 hour
For those desiring the experience of camping minus the actual lack of plumbing and heating found in the great outdoors, these unique, adult-only pod-shaped retreats in gorgeous Hill Country is the answer. This property comes with a special star-gazing bubble tent—complete with telescope, beanbags, and stowaway chairs—where you and someone special can spot the Big Dipper in style.
Things to do nearby: Can't get enough of the Hill Country nature scene? Head over to Pace Bend Park and relax by the water with a couple of drinks.
4 guests, $656 per night
Distance from downtown Austin: 20 minutes
Visually, this space is an absolute knock-out. Built by two UT architecture students in the 1970s, the Bloomhouse, as it is called, looks like a palace sculpted out of meringue. And if the eye-catching design wasn't enough, the patio looks out over a secluded part of West Austin—in other words, you'll feel like you're far from the city without actually being far from the city. As their description on Airbnb reads, "Do it for the 'Gram, but also for your soul."
Things to do nearby: Visiting Laguna Gloria, an outdoor contemporary art museum stationed a 15 minute drive away, acts as a double-dose of thought-provoking beauty.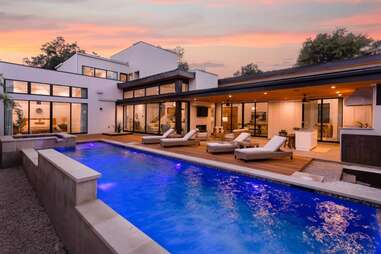 10 guests, $2,514 per night
Distance from downtown Austin: 5 minutes
This swanky estate is decked out with a suite of elite comforts and amenities—including a dream kitchen with a gargantuan island—that'll make ever leaving the house a tough call. The sprawling, modern layout makes it feel like you're lounging in an exotic villa and nearly every room has windows or sliding doors opening onto the back patio and its 35-foot pool, sizable hot tub, and indoor-outdoor fireplace. There's also a terrific roof deck complete with its own bar and outdoor sofa setup with killer sunset and skyline views.
Things to do nearby: For a fancy dinner worthy of your palatial digs, head to Uchi. The award-winning restaurant is consistently voted as one of the country's best spots for sushi.
4 guests, $181 per night
Distance from downtown Austin: 9 minutes
While we don't recommend testing out the old saying about throwing stones at glass houses, we do recommend checking out this breathtaking glass-walled house, voted the #1 Airbnb in Austin according to Architectural Digest. If the beautiful aesthetics, fire pit, and picnic-worthy yard doesn't win you over, the master bathroom is bound to: The wood-paneled hideaway boasts a top-of-the-line bubble bath tailor made for fantasizing about owning your own private spa.
Things to do nearby: Grab some cold brew at Halcyon before strolling around scenic Mueller Lake Park, a prime location for people (and dog) watching, if there ever was one.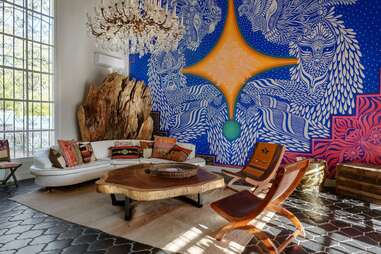 16 guests, $1030 per night
Distance from downtown Austin: 11 minutes
From the moment you enter this home, it's a psychedelic knock-out: rainbow-colored furniture, tiled walls, a bathtub with angel wing decals, and a gigantic blue mural certain to mesmerize your Instagram followers. And that doesn't even cover the outside, which has a heated courtyard pool, BBQ grill, and wicker egg-shaped chairs for all your al fresco margarita-sipping needs.
Things to do nearby: Take in some nature by heading over to the Ann and Roy Butler Hike-and-Bike Trail at Lady Bird Lake, where, as the name implies, you can walk, bike, or even rent a canoe or paddle board and embark on the water.
8 guests, $660 per night
Distance from downtown Austin: 10 minutes
This home is straight out of one of those Diane Keaton romantic-comedies—we're talking stark white furniture, open floor plans with sweeping windows, and, of course, the kind of kitchen that could make even the most ardent Postmates-devotee want to roll up their sleeves and slip on an apron. That doesn't mean it's a firm "adults only" space, though. Between the Addams Family pinball machine and cannon ball-worthy pool out back, there's plenty here to keep the kids (and kids at heart) entertained.
Things to do nearby: Walk over and grab some fresh baked goods at ThoroughBred. Don't worry, we won't judge you if you end up eating three of Banana Nutella cookies in one sitting (been there, done that).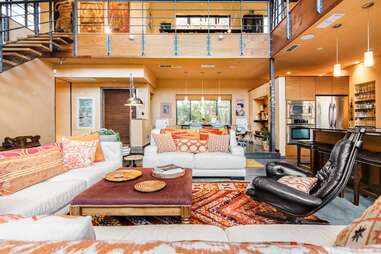 9 guests, $441 per night
Distance from downtown Austin: 14 minutes
Your passport probably hasn't gotten much traction in the past year, which makes this Bali-inspired retreat sound even dreamier. Lounge outside near the pool under a large oak tree, enjoy a soak in the vintage bathtub, or fix yourself an espresso in the state-of-the-art kitchen. Even the bedrooms, with their memory foam mattress and blackout shades so you can snooze well into the afternoon, scream pure honeymoon luxury. For those looking to really treat themselves, the host also offers the chance to book a private chef, yoga class, tarot reading, cooking class, and more.
Things to do nearby: Pamper yourself with a deep-tissue massage or a HydraFacial at the nearby South Lamar location of the SALON by milk + honey.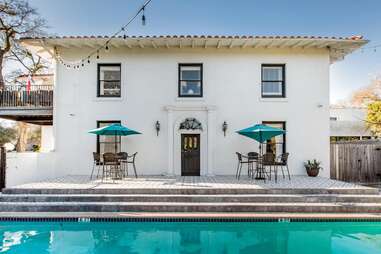 10 guests, $957 per night
Distance from downtown Austin: 6 minutes
Miriam "Ma" Ferguson made waves as the first female governor of Texas in the 1920s and 1930s and, even more so, as one of the first of two women governors in the entire country. Channel some serious girl power with a stay in this trailblazer's home, once a hub for many traveling dignitaries. Of course, the house has undergone a few updates since Ma's era, including decor hand-picked by renowned local interior designer Joel Mozersky and an outdoor expanse compete with a pool (and, more importantly, a poolside bar).
Things to do nearby: Stick with the old-school Lone Star theme by nabbing a dinner reservation at legendary Austin steakhouse Jeffery's.
Want to know more about our favorite products, the most worthwhile sales, and exclusive deals on cool stuff? Sign up for our weekly newsletter, The Get.