T
exas is dry. And hot. We know this. But Austin's got one thing going for it that you won't find in other big Texas cities (OK, it's got
a lot going for it
). The mighty Colorado River, which feeds Lake Travis to the northwest and Ladybird Lake in the center of town, has graced our fair capital with oak-shaded river banks, secret coves and beaches, lush spring-fed pools and plenty of opportunities to get wet. Swimming holes are an essential part of
the Austin experience
: they bring locals together in the sweltering summers, help us forestall death by sunstroke, and offer a much-needed opportunity to kick back and relax. Heck, the fact that there are so damn many within city limits is why a lot of folks love living here in the first place.
Every swimming hole is unique, with its own atmosphere and energy. Our historic municipal pools are an invaluable part of Austin's heritage.
The Greenbelt
offers an 800-acre respite from the daily grind smack dab in the middle of the city, with hiking trails and limestone cliffs and swimming holes that feel a little wilder than you'd expect. Lake Travis can feel like a gulf-coast beach that was dropped into the Hill Country. And then there's the magic of the spring-fed swimming hole: a rare and precious gem in our sweltering Lone Star state, more valuable than gold once the rivers dry up.
Sure, you could head to one of
our great state's coastal beaches
-- but why not stick around and tap into Austin's most precious natural resource? If you're
visiting from out of town
, take a break from
shopping on South Congress
and
stuffing your face with BBQ
to get a real taste of Austin life. If you're a local, you don't need any more convincing; grab your river shoes and a sixer of Lone Star and get on out there.
Recommended Video
Please Don't Hang Up: The Best Things to See, Eat, and Do in Seattle, WA
Zilker Park
Ice-cold, spring-fed, and a stone's throw from Downtown
They don't call Barton Springs "Austin's Crown Jewel" for nothing: This historic pool sits just across Lady Bird Lake from downtown Austin, fed by the fourth-largest spring in the state and glittering like a sapphire in the midday sun. Cold-water swimming supposedly makes you live longer, and you'll believe it when you see the old timers who swim laps here every morning. 
Legend says that Barton Springs was used by the Tonkawa tribe for sacred purification rituals, and if it worked for the Tonkawa, it can probably cure whatever devilwater you imbibed last night. Atone for your sins in the cool spring waters that hover between 68 and 74 degrees year-round, or feel free to relax, read, and sleep it off under the big ol' shade trees on the grassy hillside next to the pool. Keep your ears peeled for the inevitable smack of some kid's belly flop off the diving board.
 
Know before you go: No outside food or drink is allowed, and the lifeguards will not hesitate to save you from drowning, snacking, drinking, or smoking. The pool's natural, algae-slick bottom means water shoes are a great idea. Open every day from 5am-10pm, the pool closes on Thursdays from 9am to 7pm for cleaning. Entrance is free when the lifeguards are off-duty, before 8am or after 8pm; otherwise, it's $9 for non-residents and $5 for locals (but if you get your ticket from the automated kiosk, you'll just get the local price). If the pool is closed or you'd rather skip the entry free, head to the natural pool on the eastern side of the Barton Springs dam; it's a chill hangout where you'll find kayakers, beer-drinkers, and off-leash dogs playing fetch. 
Where to eat/drink: Do as the locals do and grab a cheap, delicious cheeseburger and a lemonade from P. Terry's on Barton Springs Road, on your way to or from the pool. If burgers aren't your bag you can grab some killer smoked meats at Terry Black's Barbecue, just a couple minutes further down Barton Springs Road.
Westfield
The oldest swimming pool in Texas is also one of the classiest
Less crowded and more family friendly than Barton Springs, Deep Eddy sits just across MoPac from Downtown. It began as a large, deep whirlpool (aka an eddy) nearby in the Colorado River, which inspired A.J. Eilers Sr. to buy up the surrounding land in 1915 and build Deep Eddy Bathing Beach, a private resort that included the 600,000 gallon fresh water pool you see today. Recreational swimmers will enjoy the swim lanes. Families will enjoy the serenity and ample shade. You can even change into your swimsuit in a Depression-era bathhouse.
Know before you go: Deep Eddy is open from 8am to 8pm daily, with lap swim from 8am to 10am weekdays. Entrance is $5 for residents and $9 for non-residents.
Where to eat/drink: Walk your soggy self up the hill to Austin's second-best dive bar, Deep Eddy Cabaret (the first best is La Perla, obviously). It's cash-only, but they will (begrudgingly) accept moistened currency. Get a delicious burger and a tiki-themed cocktail at Pool Burger next door -- or, if you're aiming more upscale, Fabi + Rosi is a short walk away for modern European cuisine, and their happy hour is the real deal (try the PEI Mussels). If you're up early and looking for a classic Austin breakfast, get the T. Rex Omelette from Magnolia Cafe.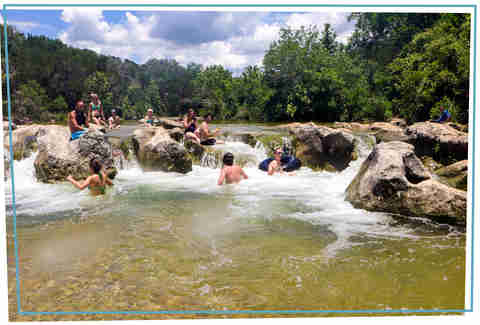 Sculpture Falls
Barton Creek Wilderness Park
Cool off like a local in the natural splendor of the Barton Creek Greenbelt
The 30-minute hike down to Sculpture Falls is probably why it remains one of the less-crowded swimming spots in the Greenbelt -- which is good, because it's absolutely beautiful and rewards those willing to make the trek. Sculpture Falls offers plenty of limestone real estate for laying out a towel and lounging, as well as a small cliff to jump off of and some nice jacuzzi-sized rock formations you can relax in. People love to bring their dogs, so be prepared to meet some furry friends while you're here. This spot really shines after a recent rain, but you'll want to wait a day for the bacteria levels to return to normal. Aim for spring or early summer, because Barton Creek will inevitably dry up in the dead of summer when rainfall is scant. 
Know before you go: To find the entrance, plug the address 1706 Camp Craft Rd. into your GPS. Parking is in a residential area, so be courteous and try not to block anyone's driveway. On the way down, the path splits -- you want the wide, less wooded trail to the right. If you continue going straight you're going to have a bad time. There are no bathrooms, and it's a long hike in and out. Don't be the person that tries to hike down in sandals and has to turn back; sneakers for the hike and water shoes for the river rocks will serve you well. Bring enough snacks, beverages, and water to stay out for a few hours. Always pack out your trash, and leave it nice for others to enjoy!
Where to eat/drink: No trip to Sculpture Falls would be complete without a trip to Rudy's Country Store & BBQ on Loop 360 for the brisket or breakfast tacos -- but, if you're feeling classy, head over to The Grove Wine Bar & Kitchen. If you're making your swimming excursion early enough for brunch, you could get some amazing Thai food at Sway or hit up local cafe favorite Blue Dahlia Bistro.
Southeast Austin
Dual waterfalls and a 500-year-old Cypress tree make for a perfect day trip 
McKinney Falls State Park is a little oasis just 16 miles from downtown Austin, offering nine miles of hiking and mountain biking trails, some very difficult bouldering walls, an ancient rock shelter, and two lovely waterfalls where (weather permitting) you'll be doing your actual swimming. Upper Falls and Lower Falls both have nice swimming holes, but Upper Falls has the deeper water -- very important if you're planning to dive in. That said, Lower Falls still offers a great alternative when Upper Falls gets too crowded.
 
A short hike down the Rockshelter Interpretive Trail you'll find "Old Baldy," a 500-year-old Cypress tree that, at 103 feet tall and 60 inches in diameter, is one of the biggest trees in the state. Pay arboreal tribute, then head back to the falls and take the plunge.
Know before you go: If you're going to be jumping off the rocks with the teenagers, just make sure to locate the underwater boulders before you jump. Cash only! $6 per person, kids under 12 are free. Also note that camping includes a bunch of confusing fees: You'll be paying per vehicle, an entrance fee, and a camping fee. No fires allowed!
 
Where to eat/drink: Tasty libations can be found at the nearby St. Elmo Brewery, with pan-Asian fare from Soursop food truck out front, or you can kick it up a notch at the Still Austin whiskey distillery next door. There's always classic Tex-Mex and margs at Trudy's, or if a backyard dog-friendly hang out is more your speed, head over to the South Austin hipster/biker haunt Little Darlin.
Lago Vista
Let it all hang out at the only clothing-optional beach in the state
They'll tell you that Hippie Hollow is a nude beach, but don't expect any sand. In fact, you'll probably want to bring a towel or a chair of some kind so that you don't scrape your delicates on the rocks. They'll also tell you that the weirdness wears off after a while, but I've never stayed long enough to find out. Water shoes or hiking sandals will do you good here, as will snacks and floatation devices. Supposedly the morning is a nice time to relax with the real hippies because things can get "a little wild" in the afternoons. Whatever you're into, man.
Know before you go: It costs $15 to enter, so you'll probably want to ensure you're comfortable with the naked human body before showing up here. Beer is allowed, but must be in a plastic container or koozie. No lewd behavior or pets allowed -- though you may bump into the Texas Puppy Club, depending on when you go.
 
Where to eat/drink: The Oasis is just down the road, but it's a bit of a tourist trap -- then again, there isn't a better place to drink a margarita overlooking Lake Travis, and the Oasis Brewing Company upstairs is actually quite solid. Hit up locally sourced gastropub Oasthouse nearby, or spend your hard-earned money on a damn-good steak at Steiner Ranch Steakhouse.
Lago Vista
Camping, hiking, swimming, and cliff jumping, all less than an hour away
45 minutes northwest of Austin, Pace Bend Park offers 1,368 acres of hiking, camping, and swimming opportunities. The park occupies a peninsula formed by a bend in Lake Travis, and because it's surrounded by water, you'll always be able to find a nice spot to swim somewhere along the park's bountiful 9 miles of shoreline. The cliffs on the west side offer some of the best cliff diving in Central Texas, whereas the eastern side has a more gentle slope into the water. Designated swimming-only areas are Mudd Cove, Kates Cove, and Gracy Cove, but there are a number of other great coves to swim in if these are crowded. Feel free to moon the water skiers as they pass. 
Know before you go: There's a $10-per-vehicle day use fee, and additional fees apply if you're looking to camp out (make sure to bring cash). No glass containers, public display of consumption of alcohol, or tobacco products are allowed. I'm under the impression that as long as you are respectful and not doing anything stupid, the Park Rangers will leave you be -- but I have heard of tickets being issued for open containers. If you do plan to drink, just remember: Always pack out your trash, and keep your head on a swivel. 
Where to eat/drink: A trip into the hill country is not complete until you meet Beaver, the hilarious bartender at local legendary dive establishment Poodie's Roadhouse. If you're nice, he'll pour you a strong one. Many folks stop off for a delicious, no-frills burger, hotdog, or pizza at Lee's Almost by the Lake. A little closer to town are delicious brunch and breakfast spot Wild, and the incredible, authentic Texas BBQ at It's All Good.
Spicewood
A spring-fed, hill country oasis with a rope swing to boot
There are a whopping 32 springs in the privately owned Krause Springs park, most of which flow into a man-made pool and the natural pool below, before continuing on into Lake Travis. As you enter, take a look at the Butterfly Garden near the entrance for lush plants, fountains, a hammock, and wind chimes (all tuned to A, the most serene of keys). You won't want to get out of that hammock, but you should, because the best is yet to come. 
Head past the man-made swimming pool (which is great in its own right), and down the staircase: here you will find the gorgeous main pool of Krause Springs, surrounded by huge Cypress trees and slippery limestone outcroppings. Thou shalt have brought water shoes, and thus shalt thou not bust thine ass. Hit up that rope swing and show 'em what you're made of! 
Know before you go: There's no smoking allowed, but beers are OK as long as they aren't in glass. Word to the wise: This place is not a secret, and the crowds can transform Krause Springs from awesome to awful in no time. Fortunately, if you get there early (it opens at 9am), you can avoid the dubstep aficionados altogether. Avoid this place on the weekend if at all possible. Admission is $8 for adults, $5 for kids, and it's cash only.
Where to eat/drink: Opie's BBQ is just down the street and is finger lickin' good. At the same intersection is Spicewood General Store, which is worth a visit for the cultural experience alone, not to mention they sell every swimming accessory you could imagine (and some you couldn't). The food here is actually better than you would expect from a glorified convenience store; breakfast tacos are on point and the fried chicken is made in-house and delicious. If authentic Mexican cuisine is what you're after, you'll want to hit up Beto's Tacos y Mas a little further down Highway 71. Mexican style tacos and burritos and the salsa is delicious; tread carefully with the green sauce.
Jacob's Well
Wimberley
A spring-fed artesian spring that looks like a mystical portal to Atlantis
If you ask a Wimberley resident for directions to Jacob's Well, they might play dumb. Unfortunately for those who'd like to keep this gem under wraps, the proverbial cat is out of the bag. Jacob's Well truly feels like something out of science fiction: a cylindrical water-filled cavern, 12 feet across, descending into darkness. What's down there? Apart from the Kraken, probably, there's a cave system at the bottom of the main shaft that continues another 4,400 feet at various angles and levels of terrifying pitch-black narrowness. At least eight divers have perished exploring these caves, the deepest of which are 14 stories underground. 
Just because you know better than to descend 14 stories into a pitch-black underwater death trap, that doesn't mean you can't still embrace your inner daredevil. Join the local youths as they scale huge boulders and leap with the arrogant fearlessness of youth into the crystalline chasm -- or, just splash around the shallows with the toddlers. You do you. 
Texas settlers who stumbled upon Jacob's Well in the 1850s reported a fountain that sometimes erupted six feet in the air after local rains. In recent years, development in the area as well as several prolonged droughts depleted the Trinity Aquifer which feeds Jacob's Well, and it ceased flowing altogether in 2000, 2008, and 2011. A number of initiatives are under way to protect this natural wonder, but it may not be around forever. Nowadays, recent heavy rains have the spring a'flowing good and strong, so get it while it's cold!
Know before you go: Swimming is allowed from 10am to 6pm, but reservations are required. All swimmers get two hours per reservation, so don't be late.
What to eat/drink: Walk around downtown Wimberley and check out the Texas memorabilia. Once you've worked up an appetite, hop into the historic Ino'z Brew and Chew for a burger and a cold beer overlooking the very scenic Cypress Creek. Locals love the breakfast tacos at Mima's; if you're looking to get fancy, head over to The Leaning Pear on River Road for the best upscale American fare in Wimberley.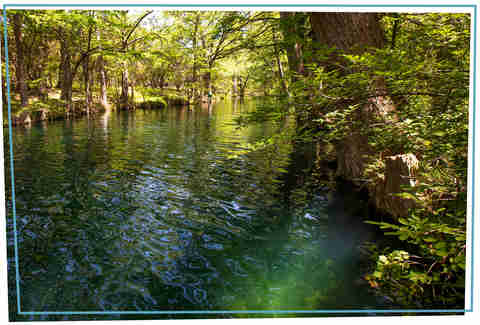 Blue Hole
Wimberley
Drop into a lush lagoon in this beautiful wooded park, also near Wimberley
It's unclear why they call it Blue Hole: the water here is crystal clear and, from a distance, actually looks a little green thanks to a lush, grassy creek bottom. Huge, ancient Cypress trees line both banks of this public stretch of Cypress Creek, offering both shade and scenery. Blue Hole is not just an amazing park, but a testament to the townspeople of Wimberley: in 2005, townspeople got together to save the dilapidated but beloved piece of privately owned land from almost becoming a massive subdivision. 
Thanks to one hell of a Master Plan from the Lady Bird Johnson Wildflower Center and a few million dollars worth of improvements, the 126-acre Blue Hole Regional Park now includes 4.5 miles of trails, picnic areas, a basketball and sand volleyball court, amphitheater, pavilion, and playscape. And then there's the swimming hole itself. Sprawling lawns sport picnicking families and sunbathing teenagers. High-pitched squeals drift through the air as children take turns jumping in, with the brave ones taking turns catapulting themselves into 8 feet of cold water from one of two rope swings. On a hot summer day, this is just about the most relaxing place within a hundred miles in any direction.
Know before you go: The park is open year-round from 8am to dusk, but the swimming hole only operates from May 1st to the end of September, from 9am to 6pm daily. Reservations are required to swim! Time slots are either for the morning (9am to 1pm) or afternoon (2pm to 6pm), and morning slots will always be less crowded. Daily admission is $10 for adults, $6 for seniors, military, and kids under 12. Since it fills up fast, you'll be wise to plan your day around being here when the park opens. No alcohol, glass containers, or smoking is allowed anywhere in the park. Pets are not allowed in the swimming hole. 
Where to eat/drink: You'd be smart to get here early and bring a picnic. At the very least, bring some snacks and then head into Wimberley for lunch once you're all swimmed out. See the Jacob's Well recommendations for the best dining locales in downtown Wimberley. Once you've had a few, buy yourself that perfect pair of vintage cowboy boots you've been dreaming about at Wall Street Western next to Ino'z. 
Dripping Springs
The secret's out on this jaw-dropping geological wonder
Hamilton Pool may be the most alien and visually stunning destination on this list. A 50-foot waterfall, cascading over mossy rocks into the jade-green pool of a collapsed grotto? What is this, Patagonia? Not quite: Hamilton Pool is near Dripping Springs, about 25 miles west of Austin, where nature enthusiasts can enjoy native grasses and wildflowers, bats, catfish, even an occasional Golden-Cheeked Warbler. Floating in the pool, watching tiny droplets fall from the rocks overhead is incredibly peaceful -- that is, until the hordes arrive and your Zen moment is overcome by inflatable toys full of children or bachelorettes. Enjoy it while you can.
Know before you go: Due to overwhelming demand, the county limits visitors to 70 per day. Reservations usually fill up months in advance, so you'll want to book one right now -- and even then, swimming isn't necessarily guaranteed. There's an $11 reservation fee per car of up to six people, on top of a $15 park entrance fee (cash only). You'll want to wear water shoes, as the rocks are sharp and the footing is rarely even. Time slots are four hours long, and the morning slots will always be less crowded. 
Where to eat/drink: You're just a hop skip and a jump from Salt Lick BBQ, and you've earned it. Vodka enthusiasts can tour the nearby Deep Eddy vodka distillery, while your more adventurous friends hike or climb at Reimer's Ranch Park. There's some very delicious cajun/creole fare at Jep's Southern Roots food truck, or cocktails and fried chicken (and homemade coleslaw!) at Proof and Copper.
Sign up here for our daily Austin email and be the first to get all the food/drink/fun in town.