The temperatures are high, the swimwear is on show, and the drinks are flowing big time (especially now that alcohol to-go is here to stay). Doesn't it feel like life is finally back to 'normal' in Austin? Summer, at least, has well and truly kicked off, giving locals permission to have fun under the sun again after a year of on-and-off everything.
Love or loathe the scorching heat, the best way to do summer in Austin is outside and immersed in a cool body of water. And as an outdoorsy metropolis, Austin is flush with wide open spaces filled with refreshing natural dips, most of which have reopened and are in better shape than ever.
For those ready to jump back in head first, here are Austin's most beloved swimming spots for a killer summer season.
Dripping Springs
Find us a Texan who hasn't posted about this place on social media and we'll show you someone who can't tell their Instagram from their Instacart. Few can rival this majestic swimming pool, which is fed by a natural spring and sits below a 50 foot waterfall. Lie down and watch the waters trickle over dramatic limestone outcrops or treat yourself to a dip in the turquoise expanse—that is, if you can bag a spot. Hamilton Pool has gotten so popular that a reservation system had to be introduced five years ago, and slots book up crazy fast in the summer. Sadly, because of February's freeze, swimming and walking under the waterfall area has been temporarily banned due to falling rocks, but you can still come and enjoy the natural wonders from a safe distance.
Know before you go: Reservations are required, with slots opening one month at a time. There's a morning time slot (9 am - 12:30 pm) and an afternoon time slot (2 pm - 5:30 pm). Cash-only reservations run $8 per adult and $3 per senior (children under 12 swim free). Pets, overnight camping, and glass containers are prohibited.
Where to eat/drink: You're in Hill Country, so make the most of it. Hamilton Pool Vineyards is a family-owned and operated winery just up the road. They sell boutique wines processed in a French style, and there's a fabulous tasting room to round out a lazy weekend afternoon.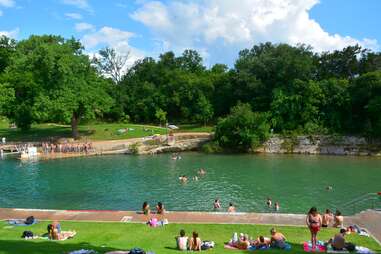 Zilker Park
Arguably the most famous swimming hole in all of Texas, this Lone State treasure is filled entirely with water from nearby natural springs and temperatures hovering between 68 to 70 degrees allow for optimum year-round swimming. It draws both a local and visiting crowd, with its accessibility making it particularly popular with downtowners. The pool itself spans three acres and there's a wealth of space on the sloped banks to dry off, sunbathe, or catch up with pals. Put your partying in context with a pre-swim visit to Splash!, a family-friendly educational exhibit where patrons can learn about the history and biology of the springs and the aquifer that feeds it.
Know before you go: Daily reservations ($5 for residents, $9 for non-residents) are available in two-hour increments from 8 am until 10 pm. Coolers, food, pets, smoking, and alcohol are prohibited.
Where to eat/drink: You can still enjoy a picnic on the grounds before entering the pool—Whole Foods' flagship is on North Lamar and has plenty of ready-made options. El Alma, downtown's most popular Mexican restaurant patio for over a decade, is a short walk away for delicious enchiladas, rellenos, and tacos.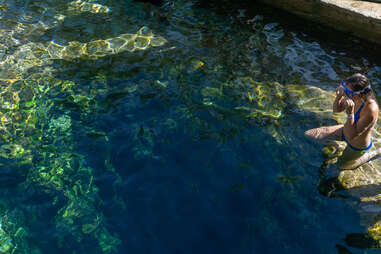 Wimberley
An artesian spring housed in the (allegedly) longest underwater cave in Texas, Jacob's Well might be the most unique destination on this list. Admiring the magical opening from above, you'll see bubbles rising and a swirl of colors, and if you're feeling daring you can join the line to jump into it. Year-round the water temperature remains at a constant 68 degrees, so it's a guaranteed blast of cool. Note that the larger cave system below is extremely dangerous and only permitted cave diving research professionals allowed down, so though tempting, leave the scuba gear at home.
Know before you go: Swimming is available in two-hour time slots from 8 am to 6 pm by online reservation only ($9 for non-residents, $5 for residents). There's no fee to park or enter the natural area, but during weekends the parking lot may reach capacity. Dogs, camping, glass containers, and alcohol are prohibited.
Where to eat/drink: Family-run Jobell Café & Bistro is a great spot for enjoying a Texas-sized sandwich out on the patio. Packing a picnic is also a popular option—there's sure to be at least one H-E-B supermarket stocked and ready to provide along your drive there.
Barton Creek Greenbelt
The 30-minute hike down to Sculpture Falls is probably why it remains one of the less-crowded swimming spots in the Greenbelt—which is a good thing, because it's absolutely beautiful and rewards those willing to make the trek. Sculpture Falls offers plenty of limestone real estate for laying out a towel and lounging, as well as a small cliff to jump off of and some nice Jacuzzi-sized rock formations tailor-made for relaxing. People love to bring their dogs, so be prepared to meet some furry friends.
Know before you go: Reservations are no longer required. Prepare ahead for your visit: There are no bathrooms, and it's a long hike in and out. Sneakers for the hike and water shoes for the river rocks will serve you well and make sure to bring along enough snacks, beverages, and water to last you a few hours. Always pack out your trash, and leave it nice for others to enjoy.
Where to eat/drink: Rudy's Country Store & BBQ on Loop 360 is the hiker's choice for refuel. The popular BBQ chain is open for both indoor dining and take-out. And if you're feeling fancy, spring for a picnic to-go from The Grove Wine Bar & Kitchen.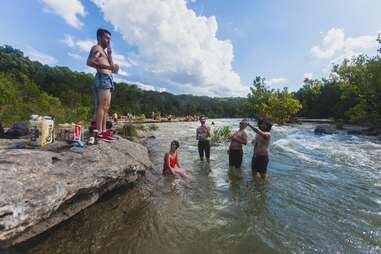 Barton Creek Greenbelt
Texas is notoriously dry during the summer months, a fact that can be evidenced by many of the Barton Creek Greenbelt's most iconic spots right when you need a swimming spot the most. But Campbell's Hole always comes through for a satisfying dip, even in the most arid of heat waves. The water is about a mile's trek from the Barton Springs entrance and just a half-mile off of the Spyglass trailhead.
Know before you go: Reservations are no longer required. Unless you're hiking in off the trail, the swimming hole can be accessed via a residential neighborhood with limited parking.
Where to eat/drink: At the Spyglass trailhead sits Austin institution Tacodeli, praised far and wide for founder Roberto's famous Brazo Fuerte Queso (gooey cheese layered with guacamole, pico de gallo, and beef picadillo). There's also a Thom's Market next door for picnic supplies and beverages.
Southeast Austin
McKinney Falls State Park is a little oasis a mere 16 miles from downtown Austin, offering nine miles of hiking and mountain biking trails, some very difficult bouldering walls, an ancient rock shelter, and two waterfalls where (weather permitting) you'll be doing your splashing. Upper Falls and Lower Falls both sport nice swimming holes, but Upper Falls has the deeper water—a very important factor if you're planning to dive in. That said, Lower Falls still offers a great alternative when Upper Falls gets too crowded. You can also fish and swim in Onion Creek for a change of pace.
Know before you go: Open daily 8 am to 10 pm. Reservations must be made online or by calling 512-389-8900 and run $6 per adult (children under 12 go free) Check the website for planned closures.
Where to eat/drink: Food and drink is allowed, so you'll see plenty of YETI coolers and tumblers throughout the park. Tasty libations nearby include St. Elmo Brewery, which currently offers pan-Asian fried chicken sandwiches from the Spicy Boys food truck out front. There's also Still Austin for all your whiskey needs (sipped in the garden or taken to-go), Trudy's for Tex-Mex and margs, and Little Darlin, a hipster biker haunt that's dog-friendly.
Lago Vista
45-minutes northwest of Austin, Pace Bend Park offers 1,368 acres for your hiking, camping, and swimming pleasure. The park occupies a peninsula formed by a bend in Lake Travis, and because it's surrounded by water, you'll always be able to find a nice spot to swim somewhere along the space's bountiful nine miles of shoreline. Boating is popular here, with two main boat ramps located at Collier Cove on the west side and Tatum Cove on the east side.
Know before you go: The park is open every day, sunrise to twilight, but arrive early on weekends in the summer to guarantee admittance. Bring cash for the $5 adult entry fee ($3 for seniors, free for children under 12). Reservations are advised for camping.
Where to eat/drink: Lee's Almost by the Lake is back for indoor dining, so be sure to stop off for a tasty no-frills burger, hotdog, or pizza after your outdoor adventure. A little closer to town is can't-miss Texas BBQ at It's All Good.
Spicewood
There are a whopping 32 springs in the privately-owned Krause Springs park, most of which flow into both a man-made pool and the natural basin below before continuing on into Lake Travis. As you enter, scope out the Butterfly Garden near the entrance for lush plants, fountains, a hammock, and wind chimes (all tuned to A, the most serene of keys). You won't want to get out of that hammock, but you should, because the best is yet to come. Head past the man-made swimming pool (which is great in its own right), and down the staircase: Here you'll find the gorgeous main pool surrounded by huge Cypress trees and slippery limestone outcroppings. Hit up that rope swing and show 'em what you're made of.
Know before you go: The gates open at 9 am and close at 8 pm, but get there as early and avoid the weekend crowd if you can. Admission is $9 for adults ($15 to camp overnight), $5 for kids ($10 to camp), and everything's cash only. There's no smoking, no glass containers, and no pets permitted. Tent camping is first come, first serve, and RV reservations are accepted.
Where to eat/drink: Opie's BBQ is just down the street and is verifiably finger lickin' good. They close up shop when the meat runs out, so call ahead before you drop by. At the same intersection is Spicewood General Store—worth a visit for the cultural experience alone—a local icon that's outfitted with all the swimming gear you need plus food that far surpasses anything you'd expect from a glorified convenience store (including particularly tasty housemade fried chicken). If authentic Mexican cuisine is what you're after, make a beeline to Beto's Tacos y Mas a little further down Highway 71.