Austin's Essential (and Still Open) Swimming Holes
Cool off a bit.
Don't jinx it, but we've almost made it to the end of another scorching hot Austin summer. Recreation and leisure activities look a lot different this year thanks to the coronavirus pandemic, as many of Austin's iconic summer traditions and spots are canceled or closed -- i.e., Barton Springs Pool. If you're itching to get outside and take a break from endless Zoom meetings, here's a guide to local swimming holes that are still open to the public. Note that hours of operation may shift due to the pandemic, and always remember to wear a mask and observe social-distancing guidelines when going out in public.
Also note that camping at all Travis County parks is prohibited until further notice, and popular local spots Barton Springs, Deep Eddy Pool, Jacob's Well, Blue Hole, Hamilton Pool and Hippie Hollow are all currently closed or completely booked for the season.
Sculpture Falls

| Patrick Lewis/Flickr
Sculpture Falls
Barton Creek Greenbelt
The 30-minute hike down to Sculpture Falls is probably why it remains one of the less-crowded swimming spots in the Greenbelt -- which is good, because it's absolutely beautiful and rewards those willing to make the trek. Sculpture Falls offers plenty of limestone real estate for laying out a towel and lounging, as well as a small cliff to jump off of and some nice Jacuzzi-sized rock formations you can relax in. People love to bring their dogs, so be prepared to meet some furry friends while you're here. Barton Creek does inevitably dry up a bit this time of year, but the Falls could get a boost from the upcoming hurricane forecast.
Know before you go: Reservations are now required for entrance to the Barton Creek Greenbelt. Make a profile and reserve a timeslot at one of the park's many entrances here. You will need to wear a mask at the entrance in order to enter, and you may need to plan your trip at least a week in advance if you want to visit on a weekend morning. Prepare ahead for your visit: There are no bathrooms, and it's a long hike in and out. Don't be the person that tries to hike down in sandals and has to turn back; sneakers for the hike and water shoes for the river rocks will serve you well. Bring enough snacks, beverages, and water to stay out for a few hours. Always pack out your trash, and leave it nice for others to enjoy!
Where to eat/drink: No trip to Sculpture Falls would be complete without a trip to Rudy's Country Store & BBQ on Loop 360 for the brisket or breakfast tacos -- the popular chain is currently still open for curbside pickup and limited indoor dining. If you're feeling classy, order a picnic to-go from The Grove Wine Bar & Kitchen. Remember to wear a mask.
Campbell's Hole
Barton Creek Greenbelt
Texas is notoriously dry during the summer months, which can be reflected in many of the Barton Creek Greenbelt's most iconic spots right when you need a swimming hole the most. But Campbell's Hole always comes through for a satisfying dip, even in the driest heat waves. The water is about a mile hike from the Barton Springs entrance and just a half mile from the Spyglass trailhead.
Know before you go: Reservations are now required for entrance to the Barton Creek Greenbelt. Make a profile and reserve a timeslot at one of the park's many entrances here. You will need to wear a mask at the entrance in order to enter and you may need to plan your trip at least a week in advance if you want to visit on a weekend morning.
Where to eat/drink: Love it or hate it, Tacodeli is an Austin institution for a reason. Do yourself a favor and fuel up for your Greenbelt adventure at the Spyglass location with some of Roberto's brazo fuerte queso (queso with guacamole, pico de gallo, and beef picadillo) and don't forget the dona salsa. There's also a Thom's Market next door to pick up everything you need for a fancy picnic.
McKinney Falls State Park

| Philip Arno Photography/Shutterstock
Southeast Austin
McKinney Falls State Park is a little oasis just 16 miles from downtown Austin, offering nine miles of hiking and mountain biking trails, some very difficult bouldering walls, an ancient rock shelter, and two lovely waterfalls where (weather permitting) you'll be doing your actual swimming. Upper Falls and Lower Falls both have nice swimming holes, but Upper Falls has the deeper water -- very important if you're planning to dive in. That said, Lower Falls still offers a great alternative when Upper Falls gets too crowded.
A short hike down the Rockshelter Interpretive Trail you'll find "Old Baldy," a 500-year-old Cypress tree that, at 103 feet tall and 60 inches in diameter, is one of the biggest trees in the state. Pay arboreal tribute, then head back to the falls and take the plunge.
Know before you go: Like all state parks in Texas, McKinney Falls has reopened under a reservation system so make sure to book a timeslot for your party before you plan your trip.

Where to eat/drink: Tasty libations can be found at the nearby St. Elmo Brewery via beer-to-go or relax on the outdoor patio, which has recently reopened. Enjoy pan-Asian fried chicken sandwiches from the Spicy Boys food truck out front. Visit the Still Austin whiskey distillery next door for curbside pickup of bottles and craft cocktail kits. There's always classic Tex-Mex and margs available to-go or for patio dining at Trudy's, or if a backyard dog-friendly hang out is more your speed, head over to the South Austin hipster/biker haunt Little Darlin. Masks are required for entry to restaurants.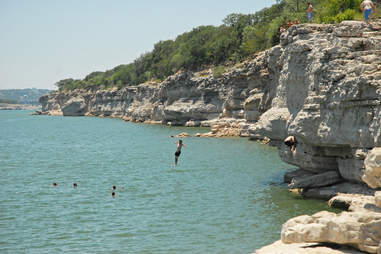 Pace Bend Park

| Randall Chancellor/Flickr
Lago Vista
45 minutes northwest of Austin, Pace Bend Park offers 1,368 acres of hiking, camping, and swimming opportunities. The park occupies a peninsula formed by a bend in Lake Travis, and because it's surrounded by water, you'll always be able to find a nice spot to swim somewhere along the park's bountiful 9 miles of shoreline.
Know before you go: The park is open from 8am to 8pm and you'll want to show up early to guarantee admittance, as summer crowds typically hit capacity on the weekends. Due to COVID-19, overnight camping is currently prohibited, as is the use of the west (cliff) side of the park, picnic tables, and BBQ pits. The use of rental watercrafts is not allowed but the Collier boat ramp is open if you have your own boat. Remember to bring cash to pay the $5-per-person entry fee ($3 for seniors and free for kids under the age of 12).
Where to eat/drink: Many folks stop off for a delicious, no-frills burger, hotdog, or pizza at Lee's Almost by the Lake, which is currently operating to-go service only due to the pandemic. A little closer to town is can't-miss Texas BBQ at It's All Good, which is offering pickup and limited outdoor seating.
Roy G. Guerrero Colorado River Metro Park
Secret Beach isn't so secret anymore, but it is one of the few places you can still count on to lay out in the water this summer. From South Pleasant Valley Road, turn into the Krieg Softball Complex and park towards the north of the facilities. You'll see a dirt trail outlining the parking lot; follow it into the woods and you'll find Secret Beach within half a mile. Pack chairs to sit in and a cooler filled with beverages. There aren't many rules down here.
Know before you go: This is definitely a go-at-your-own risk expedition. It's perfectly safe to wade around in the cool water, but swimming is technically banned, as the current can get pretty strong at certain times of day. The area can get pretty crowded on weekends, so you may want to be prepared to wade further downstream to set up your own area in order to social distance.
Where to eat/drink: Stop by Lustre Pearl East for chicken wings and loaded tots to-go, and the HEB-plus on Riverside to fill up your cooler with your favorite six-pack.
Krause Springs

| Fotoluminate LLC/Shutterstock
Spicewood
There are a whopping 32 springs in the privately owned Krause Springs park, most of which flow into a man-made pool and the natural pool below, before continuing on into Lake Travis. As you enter, take a look at the Butterfly Garden near the entrance for lush plants, fountains, a hammock, and wind chimes (all tuned to A, the most serene of keys). You won't want to get out of that hammock, but you should, because the best is yet to come.
Head past the man-made swimming pool (which is great in its own right), and down the staircase: Here you will find the gorgeous main pool of Krause Springs, surrounded by huge Cypress trees and slippery limestone outcroppings. Thou shalt have brought water shoes, and thus shalt thou not bust thine ass. Hit up that rope swing and show 'em what you're made of!
Know before you go: Word to the wise: This place is not a secret, so plan to get there as early as possible and avoid the weekend crowd if you can. The gates open at 9am and close at 8pm, and it's one of the few spots in the Austin area that still permits tent camping. Admission is $8 for adults ($15 to camp overnight), $5 for kids ($10 to camp), and it's cash only. There's no smoking allowed, but beers are OK as long as they aren't in glass. Social distancing will be enforced.
Where to eat/drink: Opie's BBQ is just down the street and is finger lickin' good. Pro tip: Call your order in ahead of time to ensure you get the meat you're craving. At the same intersection is Spicewood General Store, which is worth a visit for the cultural experience alone, not to mention they sell every swimming accessory you could imagine (and some you couldn't). The food here is actually better than you would expect from a glorified convenience store; breakfast tacos are on point and the fried chicken is made in-house and delicious. If authentic Mexican cuisine is what you're after, you'll want to hit up Beto's Tacos y Mas a little further down Highway 71. Mexican style tacos and burritos and the salsa is delicious; tread carefully with the green sauce.
Sign up here for our daily Austin email and be the first to get all the food/drink/fun in town.
Thomas Allison is a photographer and writer from Austin, TX. When he's not riding a bicycle for two years from Alaska to Argentina, you'll find him in Austin eating breakfast tacos and enjoying the sunshine. On Instagram @thomasryanallison
Johanna Gretschel is a Thrillist contributor.