Everywhere You Should Go During A Layover At Austin-Bergstrom International Airport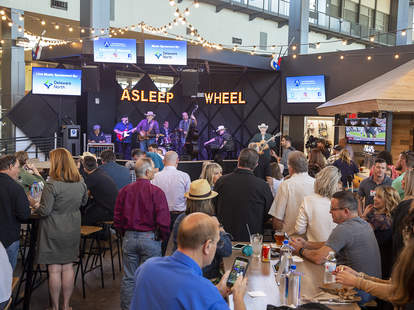 Sandy Stevens, City of Austin, Department of Aviation
Layovers are the ultimate tease. More often than not, you're close enough to see the city, but too far away to enjoy anything it has to offer in time for your next flight. But in Austin, they don't want you to miss out just because you can't leave the airport.
Normally, you wouldn't expect a city as quirky as Austin to have an airport that even comes close to reflecting its unique vibe. Fortunately, Austin is also quirky enough to have a super-weird airport, rife with those beloved Austinian vibes. Austin-Bergstrom Airport has narrowed down the best the city has to offer and brought it to your gate -- and we'll tell you everything worth checking out right here.
Live Music
When you think of Austin, you think of live music. Thanks to local radio station KUTX, you don't have to fight the crowds at South by Southwest to enjoy the vibrant music scene. With a changing roster of bands and venues within the airport, you can pass the time near the gate discovering your next favorite band.
Austin City Limits/Waterloo
If your hear something worth listening to again, take a few minutes (or hours) to browse the stacks at this offshoot of the local record giant located near gate 15. It's more than a record store: It's a vinyl destination.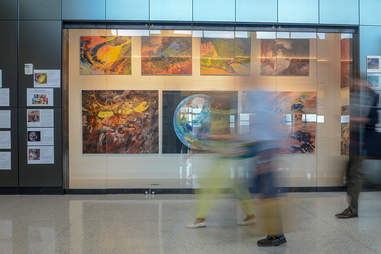 Bryce Dubee, City of Austin, Department of Aviation
Art Exhibits
Just because you're stuck between cities doesn't mean you can't take in some culture. It may seem odd to have an art gallery in the airport, but remember, the city motto is "Keep Austin Weird."
Book People
The culture trip continues with this local independent bookstore located where you'd usually find a wasteland of Hudson News kiosks. Swing by the south terminal and pick up some in-flight reading that has never made any of the big book lists.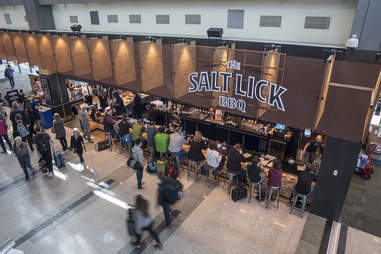 Sandy Stevens, City of Austin, Department of Aviation
Salt Lick BBQ
If you want your dining experience to be more curated, we suggest Texas BBQ located near gate 20. Salt Lick is open at 5am daily, so no matter what time your layover happens, there's a good chance you can pick up some smoked meats. We're not sure if you're actually allowed to board a plane out of Texas until you've consumed your weight in brisket, so make this a must-see stop.
Clearly, a trip to Austin's airport is a worthwhile trip in its own right. So use the time you have to your advantage. With the best to offer in local food, music, culture, and style, you don't have to leave the airport to enjoy a thoroughly Austin experience.
Barton Springs East
With all these amazing local finds in your carry-on, your outsides should match your insides. Mosey on over to gate 14 to find the place to pick up Western wear.
Food Truck Court
Once you've got your record, your book, and your boots, it's probably time you grabbed something to eat. There are a lot of great options to choose from at this unique food truck court located in the south terminal, so why not go Texas-big and have a heaping portion of everything?