Everywhere You Should Go During a Layover at Austin-Bergstrom International Airport
Here's how to kill time at AUS.
Sandy Stevens, City of Austin, Department of Aviation
Layovers are usually not fun, especially not when you have a lot of time to kill and an airport with nothing in it. Thankfully, when you have a layover in Austin, there's a way to get a taste of that ATX vibe without needing to leave the terminal. Fine, we're not Changi or Heathrow, but next time you see a stopover at AUS, look at it as an opportunity, rather than an inconvenience. In just a few hours, you'll experience local favorites, whether that's Austin-based businesses or delicious signature eats, and totally be able to tell all your friends back home about the time you 'ticked Austin off the travel bucket list' and savored the best the city has to offer. (Though, if you really want to live up to that claim, stay for a while and hit up these cool things to do.) Ready to do a connecting flight with an itinerary for the connection? Here's how to maximize your layover at Austin-Bergstrom.
When you think of Austin, you think of live music. Thanks to local radio station KUTX, you don't have to fight the crowds at South by Southwest to enjoy the vibrant music scene. With a changing roster of bands and venues within the airport, you can pass the time near the gate discovering your next favorite band. Check out the schedule here.
Austin born and bred, Tacodeli is what In-N-Out is to LA or what Nathan's is to NYC. The fast food eatery sits at gate 23 and always has quite a line. No need to rush though, since you have a long layover. Our faves are the Freakin' Vegan or any of the breakfast tacos.
Want to breathe ATX air without leaving the terminal? Great news: you can. Not-so-great news: you need to have access to some serious flier perks, i.e. be in first or business class on Delta or Virgin Atlantic (which now flies to Austin!) or have some snazzy credit card status. When you're in though, a myriad of treats awaits, including Texan beers that can be taken out and enjoyed on the year-round outdoor patio. You can almost breathe the boozy Sixth Street in the air.
With six million passengers treading these floors a year, how about a few hour's respite from the noise? Make like an Austin tech-geek and book one of the Escape Pods dotted around the airport. You can connect to fast free WiFi, work on your laptop, make phone calls, and charge up, all in the comfort of a sound-proofed glass box. Now you can totally post a story on IG that you were "in town to do business."
Just because you're stuck between cities doesn't mean you can't take in some culture. It may seem odd to have an art gallery in the airport, but remember, the city motto is "Keep Austin Weird."
The culture trip continues with this local independent bookstore located where you'd usually find a wasteland of Hudson News kiosks. Swing by the south terminal and pick up some in-flight reading that has never made any of the big book lists.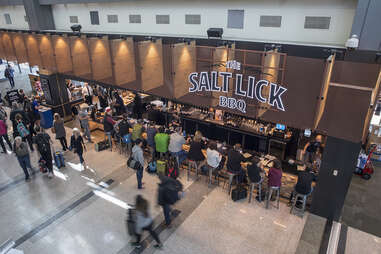 If you want your dining experience to be more curated, we suggest Texas BBQ located near gates 20 - 22. Salt Lick is open at 5 am daily, so no matter what time your layover happens, there's a good chance you can pick up some smoked meats. We're not sure if you're actually allowed to board a plane out of Texas until you've consumed your weight in brisket, so make this a must-visit stop.
With all these amazing local finds in your carry-on, your outsides should match your insides. Mosey on over to gate 14 to find the place to pick up Western wear and souvenirs.
Once you've got your record, your book, and your boots, it's probably time you grabbed some more to eat (it's never too much in Texas, y'all!). There are a lot of great options to choose from at this unique food truck dining court located in the south terminal, so why not go Texas big and have a heaping portion of everything? Local faves include Flyrite Chicken balanced out with JuiceLand. Oh, and Amy's Ice Cream to finish. Those will surely beat out whatever they're going to give you aboard.