A road trip that turns up the Heat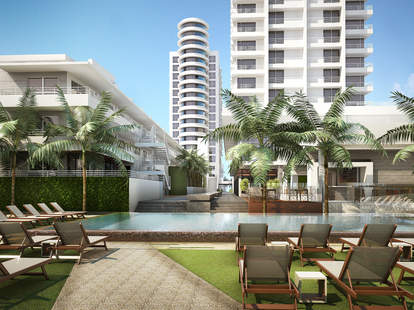 There's a reason nobody's ever sung "Bienvenido a Galveston", so road-trip to where the sands are white instead of stained black with a trip to Miami's James Royal Palm. Formerly just the Royal Palm, the just-renovated South Beach lodging was originally built in 1939, tenure the owners claim makes it Miami's first tourist accommodations -- so it makes sense they've renamed it after the city's highest paid tourist
Designed by a global architecture firm with Houston ties (they did the Toyota Center), the hotel's amenities include not one but two saltwater pools (yes, they both have bars + cabanas), a spa offering "man-specific" treatments (yes they do have... deep tissue bamboo roll?), a 24hr gym stocked with personal trainers, and 390 rooms designed to feel residential-chic, all overlooking either the beach or city skyline, and all room-serviced 24hrs a day, thus destroying all the good work you didn't do in that gym

The entertainment arm includes a pair of restos: the Top Chef-winner-helmed Catch (the Times described its NYC Meatpacking flagship as "if fish liked nightclubs", and of course fish in Miami do like nightclubs), and the Florida Cookery, whose menu was inspired by a James Beard-winner's grandmother's cookbook. There's also a 2000+ sqft nightclub called SL (also a Meatpacking offshoot), and the South Shore lounge, packing in a cigar humidor and an extensive regional rum selection, so it won't just be South Beach booty that makes you feel like a pirate.

Naturally, they've got private access to the water and beach-side food & drink service, so while you might not be LeBron, or even LeBosh, you'll still be treated like a King.