After two long years of this "new normal," we've finally come to terms with the fact that nothing's for certain anymore—especially when it comes to opening dates. The Thompson Austin was one of the many businesses caught up in the tug of stop and go. Slated to welcome guests at various points throughout 2021, the upmarket hotel complex was pummeled by a cluster of unforeseeable circumstances, from COVID-fueled supply chain backlogs to unprecedented ice storms.
"It's been a unique time for business owners—we've never had so many things pile up on us at one time before," says Thompson Austin managing director Nate Hardesty. "I've spent 20 years falling in love with hospitality and creating experiences for people to remember. Nothing against construction, but now that we're open, I can finally say I'm home again."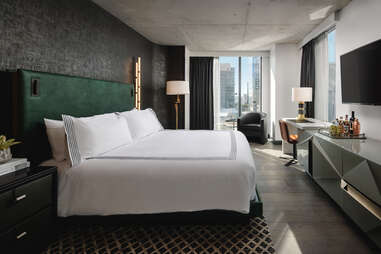 The debut, however, was gradual. In January 2022, the hotel unveiled 212 guestrooms and suites, alongside a plethora of coveted amenities. The following month, it was joined by Wax Myrtle's, the poolside rooftop bar and restaurant backed by Chicago-based Land and Sea Dept. This latest stage in development brings the hotly anticipated addition of The Grey Market, helmed by beloved James Beard Award-winning chef Mashama Bailey and partner Johno Morisano, as well as The Diner Bar, a relaxed fine dining restaurant, to the ever-growing establishment. We happened to be one of the first to get a good look at this multifaceted work-in-progress—here's everything you need to know about The Thompson Austin's illustrious arrival.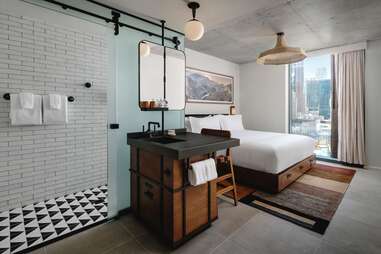 The hotel has a little sibling in tow
Well, kinda. While the Thompson and tommie Austin are joined side-by-side, they're considered separate entities and were built with different customer bases in mind. "tommie Austin is built for the spirited adventurer, the traveler that doesn't care to spend a ton of time luxuriating around their room, but is more focused on social interactions and discovering unknown parts of Austin," Hardesty explains. "Thompson Austin appeals to a traveler that is very specific in their needs—those that appreciate impressive architectural and design elements, onsite culinary offerings and luxury amenities." As such, tommie Austin sports smaller, more minimalist rooms, stocked with all of the essentials and none of the fuss.
The overall aesthetic is hipster-meets-modern with a thick layer of luxe
Noir-chic with patterned textures, industrial ceilings, and a touch of Texan twang, the Thompson's rooms come equipped with all the latest in tech. We're talking ultra-fast smart TVs, sleek little espresso machines, and light sensors. The deep dark hues are contrasted with ample natural light, flowing in from floor-to-ceiling windows with sweeping city views. Bathrooms are compact with eco-friendly containers of DS & Durga, and the closets are loaded with soft gray hooded robes and fluffy black slides for the ultimate cozy vibe.
Naturally, there's a huge outdoor pool
And that's not all—remember, everything's bigger in Texas. The hotel's 6,700-square-foot wellness center features a sports simulator programmed for golf, baseball, race car driving, and zombie dodgeball, private fitness rooms, and a fourth-floor pool deck surrounded by desert greens, cabanas, and al fresco dining just waiting for the party to start. "Austinites love a good time, and we were just getting back to that when Omicron hit us hard a few months ago," adds Hardesty. "Pent-up demand for fun remains strong, and we look forward to providing some of that to our guests in 2022."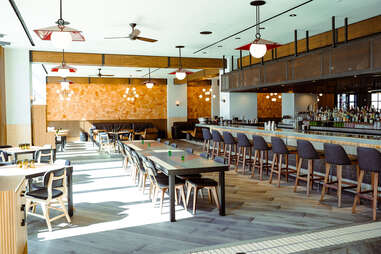 The hotel's culinary trifecta has you covered morning, noon, and night
Seasoned restaurateurs Mashama Bailey and Johno Maorisano bring Savannah flare to Austin by way of The Grey Market, serving as a community hangout with counter-service, grab-and-go items, and big plates of Sunday Fried Chicken accompanied by Pullman bread and bread and butter pickles. "Our menu for the markets in Austin and Savannah are very similar by design," says Mashama. "We want them to have the same feeling, and the plan is that the spaces and food reflect that perspective."
"For the Diner Bar, we're excited to expand on our brand of Port City Southern Food by exploring the seasonal bounties Texas has to offer," the celebrated chef continues, shifting her focus to the more refined, sit-down project onsite. "That ranges from produce like the beautiful peppers we see here as well as seafood from the Gulf. We're also adding subtle elements of smoke in our fish and some of our vegetables to remind you of eating barbecue."
Our tip? Hit up Wax Myrtle's and get your hands on the big ol' Beef Rib, doused with French onion gravy and roasted green onions. It's by far the best bone in town.
tommie's on hand to keep you caffeinated
Guests staying at the Thompson need only to walk through the passageway behind the lobby to discover tommie's buzzing coffee shop next door. Grab a seat at the bar to sample blends from Greater Goods Coffee Co., a local small-batch roastery that gives back to the community, alongside a choice pastry. Later, kick back on a plush sofa by the fireplace with a glass of wine at happy hour. This spot's as versatile as it is inviting.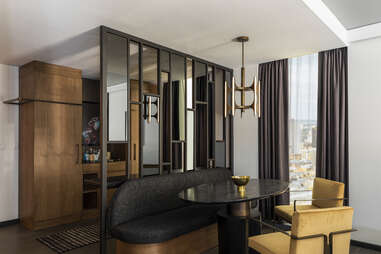 Can't get enough of the hotel? Go ahead and move in
The Thompson Austin boasts 17 long-term residences on the 16th floor, each armed with a kitchen, washer and dryer, floor-to-ceiling glass windows, and sleek furnishings a la Thompson, plus access to all the hotel's many amenities. "The location here on 5th and Brazos street can't be beaten," says Austin real estate professional Maria Francesca Repucci. "You're steps from nightlife and top restaurants yet just a few blocks from the Hike-and-Bike Trail at Lady Bird Lake. The heartbeat of downtown couldn't be more palpable with protected corridor views of the Texas Capital and longtime favorite music venues a stone's throw away."
The Thompson Austin and tommie Austin are both open for reservations via hyatt.com. Wax Myrtle's is open daily from 2pm to 11 pm (reserve via Resy). The Grey Market is open for walk-ins daily from 7 am to 7 pm. The Diner Bar is open for walk-ins daily for breakfast (7: 30 am to 10:30 am), happy hour (4 pm to 6 pm), and dinner (5 pm to 9 pm). The Coffee Bar at tommie is open for walk-ins daily from 6 am to 10 pm.

James Wong is a Libra who spends his time pretending to be a vegan, watching wildlife clips, and booking plane tickets. Born in London, lived in Tokyo, and now residing in Austin, his greatest achievement is giving Posh Spice a hug in 2016.